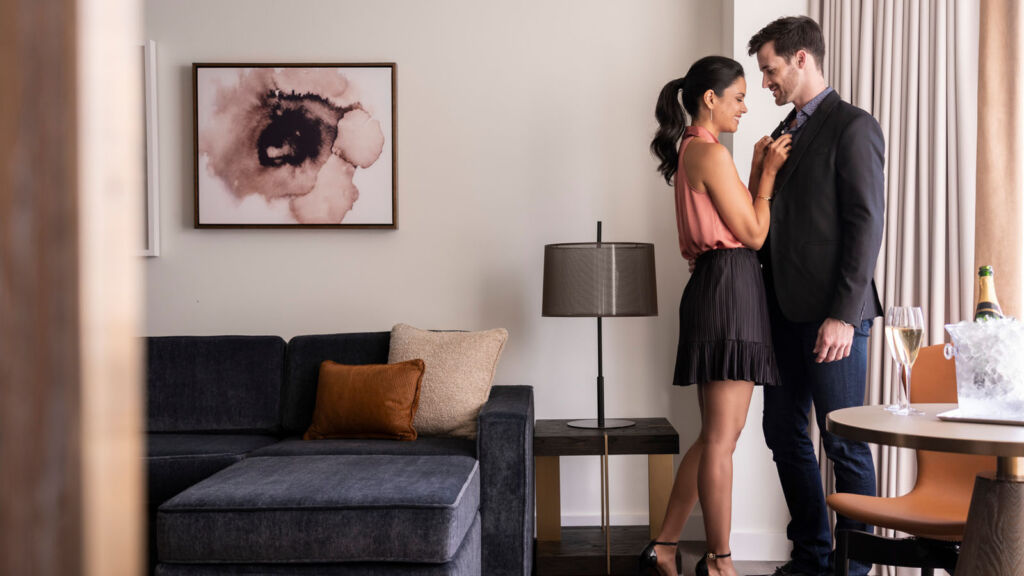 In advance of Valentine's Day, Four Seasons Hotel Houston announces its offerings for the holiday and beyond.
"We are big fans of celebrating romance, be it over Valentine's Day, or any other time of the year," says Tom Segesta, General Manager of Four Seasons Hotel Houston. "The stunning transformation of our Hotel has created some great new experiences for couples to enjoy, here at Houston's downtown destination."
The Hotel has introduced its Celebrate Romance Package, which includes a luxurious Premier Room or above, welcome bottle of Champagne and fresh strawberries, room service breakfast for two, and late-check out at 4:00 pm. This package is available year-round.
Toro Toro, the new pan-Latin steakhouse by world-renowned celebrity chef and restaurateur Richard Sandoval, presents a romantic multi-course prix-fixe dinner, featuring favourites such as Tuna Tiradito, Cusco Pork Empanada, Zareandado Sea Bass, Cowboy 20-ounce Ribeye, Crispy Brussels Sprouts, Potatoes Three Ways, and Chocolate Lavender Cremoso. This dinner is priced at USD 125 per person with course pairing of cocktail, wine, and dessert wine for an additional USD 35 per person, and is available February 12-14, 2022.
Bayou & Bottle, the acclaimed bourbon concept, is offering a four-course Valentine's menu, inspired by Bayou & Bottle's Garrison Brothers inventory. Selections include Gulf Oyster, Spiced Maple Pork Belly, Goat Cheese Arugula Salad, Smoked Short Ribs, Bourbon-Glazed Salmon, and Bourbon Mousse Cake. This dinner is priced at USD 75 per person with a course pairing of Garrison Brothers bourbons for an additional USD 35 per person, and is available February 12-14, 2022.
The Spa, a zen-like haven for relaxation and wellness, has introduced Night Spa, allowing guests private use of the entire Spa from 7:00 to 10:00 pm, beginning with 100 minutes of pampering with a Soothing Sugar Kiss Body Scrub, followed by a customized massage infused with rose, citrus, and vanilla. From there, they are able to explore and luxuriate throughout the Spa, then enjoy a delectable sampling of specialty dishes and desserts from Toro Toro and a bottle of Champagne in the tranquil reception room. Luxurious Four Seasons bathrobes are gifted as a remembrance of this most special experience, which is priced at USD 2,500. Additionally, the Spa is offering a Sugar Kiss Soothing Body Scrub (50 minutes USD 285), a Sugar Kiss Massage (50 minutes USD 200 / 80 minutes USD 275), and a Sugar Kiss Facial (50 minutes USD 200). Guests are able to enjoy their treatments together in the couple's suite for an additional USD 40.
At Krigler, guests can visit the famed perfumery's first Texas boutique, where two of their scents celebrating love and romance are being showcased for the holiday: Pleasure Gardenia 79, the romantic floral fragrance that Albert Krigler, founder of the famed fragrance house created in 1879 for his fiancée; and Extraordinaire Camelia 209, created in 1917, and combining fresh, clean, citrusy scents with camellia, the renowned flower of love. These scents are available for purchase as perfume or as a candle. Pleasure Gardenia 79 is available as a perfume starting at USD 355 or candle at USD 120. Extraordinaire Camelia 209 is available as a perfume starting at USD 445 or candle at USD 145.
Topgolf, the Hotel's Swing Suites, are available for private use by couples, small groups, or individuals, and offer a wide range of virtual entertainment experiences, from golf to baseball, football, hockey, soccer, carnival games, and more. The full food and drink menu from Bayou & Bottle, featuring inventive cocktails and a collection of 200 whiskies, is available to TopGolf Swing Suite guests.