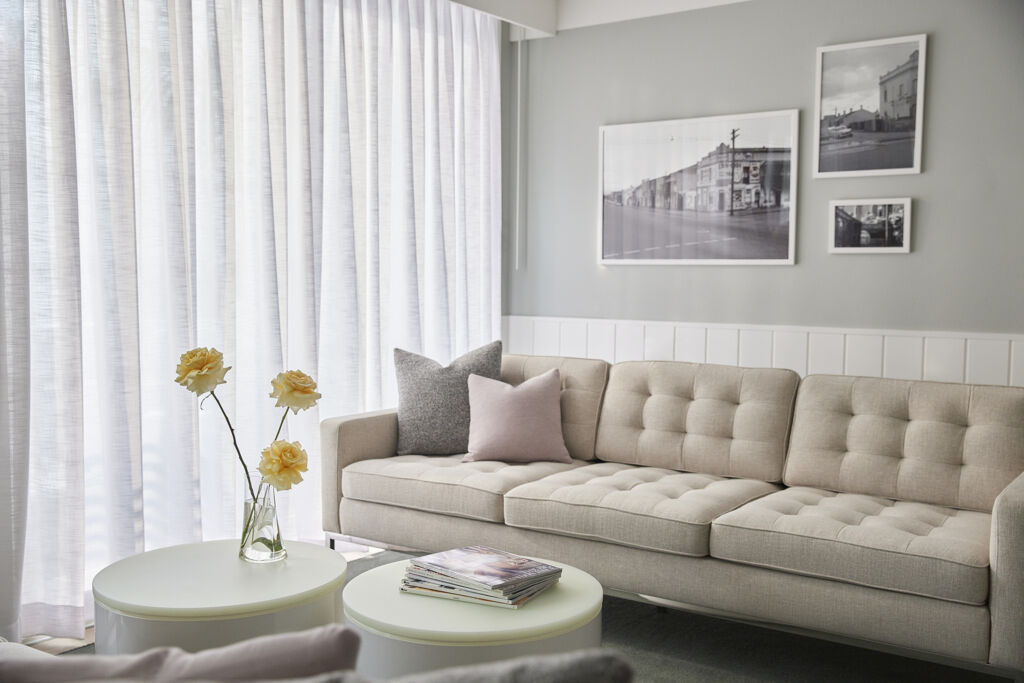 The interior design team for Adina Apartment Hotel Sydney Chippendale's multi-million refurbishment has described the inner-city hotel's dramatic transformation as a breath of fresh air in a gritty, urban context.
Sydney-based BKH who spearheaded the design, in this their first hotel project in more than a decade, say that the hotel's distinctive architecture and cute centralised courtyard and pool provided the inspiration for the retro-feel interior design.
Think calming sage greens, musky pinks, dove greys and an abundance of white paint which, when combined with the bold curtains, terrazzo in the bathrooms and kitchens, and retro-inspired furniture and fixtures, gives the hotel a bold, fresh feel.
"There were a lot of things that resonated about the freshness of space," says BKH's Director Iain Halliday. "The building was light and fresh in the urban context of Chippendale and, with its secluded courtyard and pool, had the potential to provide guests with something that felt more relaxed, with lots of natural materials and lots of white and bleached out colours, than an inner-city hotel."
"I had the style direction in mind the minute I say the building. It was built in the late 80s but reminded me of 70s architecture and communal courtyard, that became my point of reference."
The 42-key apartment style hotel, operated by TFE, Hotels, is located on Ivy Street on the southern edge of Sydney's CBD, amongst converted warehouses, cool cafes, hawker-style eateries, and galleries clustered between terraced houses and retail outlets.
According to TFE Hotels Senior Director of Sales, Shahnaz Bakhshay, the new and improved Adina is a hotel that corporate travellers have already embraced and that leisure travellers are going to have on their radar very soon.
"This urban lifestyle hotel has all the things you know and love about an Adina property including a kitchen and laundry that allow you stay your way and feel genuinely comfy in the space," she said. "Plus, it is superbly located near the Seymour Centre, Carriageworks, the Australian Technology Park, and close to the RPA and Redfern's nightlife and we can't wait to take it to market."