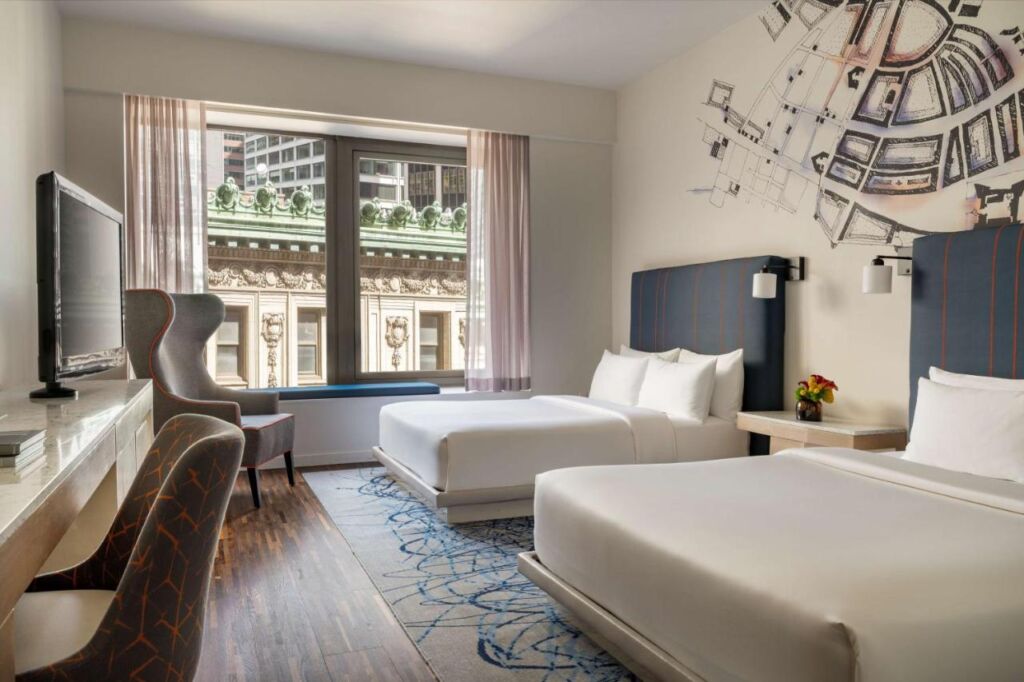 Hyatt Hotels Corporation announced today the rebrand of Andaz Wall Street to Hyatt Centric Wall Street New York. The hotel, which is expected to resume operations and begin welcoming guests on January 26, 2022, will be managed by Blue Sky Hospitality Solutions (BSHS). Bringing a modern lifestyle hotel experience to Lower Manhattan, the hotel features a design that offers a vibrant, playful interpretation of the iconic city in which it resides. The property's guestrooms were modernized in 2019, and the lobby was recently enhanced to reflect the contemporary design of the Hyatt Centric brand. The hotel's ownership group, Navika Group of Companies, plans to invest approximately $5 million to further reimagine the property over the next several years.
Rebranding Andaz Wall Street to Hyatt Centric Wall Street New York was a strategic decision based on the hotel's location in the heart of the world's most exciting city, a key brand differentiator for the Hyatt Centric brand, which is known to embrace the locale and inspire exploration. The hotel is ideally situated at 75 Wall Street and offers a premier location for savvy travelers to discover the best that New York City has to offer with premium lifestyle accommodations in the heart of Wall Street.
Upon entering the lobby, guests will be introduced to a modern design aesthetic where large scale artwork from local artists captures the essence of downtown New York City while textured layers with pops of color will offer points of interest throughout the public spaces. The 253 guestrooms combine upscale, modern comfort with layers of tactile discovery and offer walk-in rain showers, hardwood floors and 12' foot ceilings with oversized windows. In addition, guestrooms will feature shareworthy art and styling elements that celebrate the character of the destination and signature brand amenities including a cozy, Hyatt Centric bathrobes, exclusive Beekind® high-end, socially conscious bath amenities, and a Drybar® hair dryer in each guestroom.
On January 26, the hotel will also celebrate the re-opening of the Wall & Water restaurant, an open-air eatery concept serving breakfast and dinner, which will be led by New York chef and food and beverage director Alan Ashkinaze. Hyatt Centric Wall Street New York will also provide a new dining experience that will serve as the social center of the hotel and a destination that will meet every guest's needs. The property also offers more than 10,000 square feet of meeting event space to accommodate groups of all sizes.
Hyatt Centric Wall Street New York will be led by veteran industry expert, David Cohen, who has been named as the hotel's general manager. Cohen joins the property team having led luxury properties such as the Five-Star Hotel Plaza Athenee, and The Ritz-Carlton, Waldorf Astoria and Four Seasons in New York.