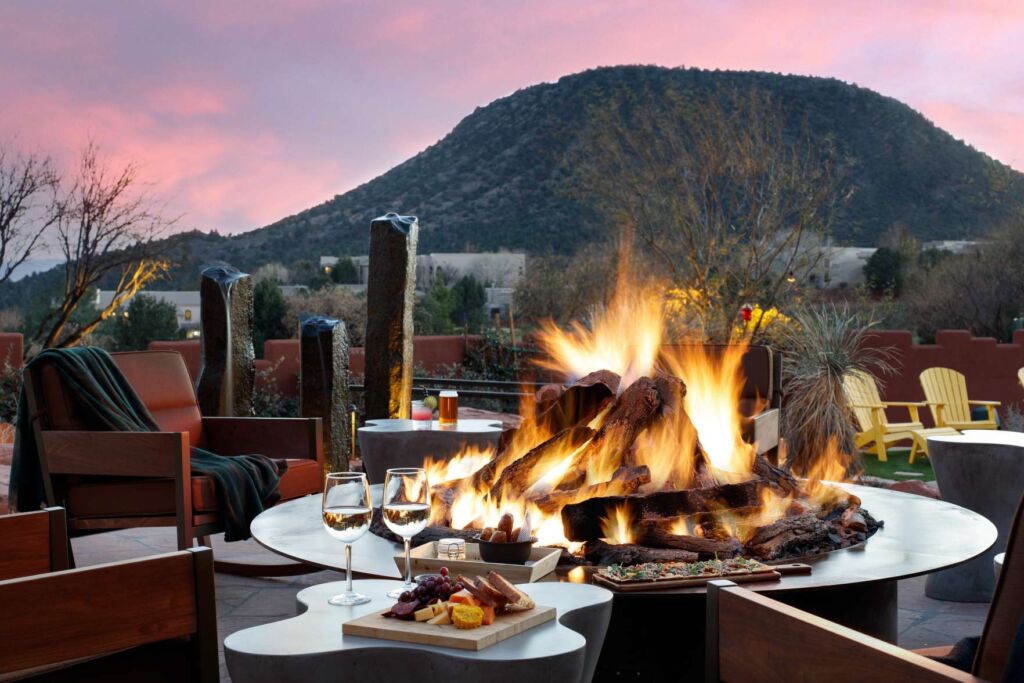 Is your next getaway written in the stars? If you love to consult your horoscope for career and relationship advice, it can also be your guide when planning a trip. Each of the 12 zodiac signs belongs to one of four elements — Air, Fire, Water, and Earth — and they can tell you a lot about your vacation personality.
To learn more about where to travel based on the four elements of the zodiac, we chatted with Maya White, an astrologer who is also certified in AstroCartoGraphy and astrological mapping. AstroCartoGraphy is a branch of astrology that shows people where they should live and travel to, based on the planets' positioning when they were born. So, if you're trying to decide between a relaxing beach week, big city excursion or rejuvenating nature trip, let White and your zodiac sign guide you to the ultimate getaway.
Earth (Taurus, Virgo and Capricorn)
"Earth signs are grounded people who relish quiet moments when they can truly connect with the soul of a place," White says. "Beautiful and majestic surroundings help them feel better inside and deepen their appreciation for all of life. A day spent in nature followed by a gourmet meal helps the Earth sign traveler feel right at home in any location."
Escape to Hilton Sedona Resort at Bell Rock, which is set amidst the beauty of magnificent red rock formations. Foodies can get acquainted with the region's rich flavors at ShadowRock Tap + Table or sip a prickly pear margarita while lounging poolside or around the fire pits in the outdoor garden porch. The allure of Arizona's high desert promises an unforgettable journey of discovery and recovery, as Sedona is considered the "Spiritual Mecca of the Southwest" with unique energy believed to come from red rocks, evergreens, and spectacular trails. Head to the spa to try the new Sedona Energy Vortex Treatment, which features a variety of energy therapies used to emanate sacred and powerful cosmic forces to heal body and soul.
It doesn't get much more verdant than Ireland — its nickname is "The Emerald Isle," after all. To plan a trip that's filled with both nature and city adventures, book a stay at Hilton Garden Inn Dublin Custom House, which is walking distance from the Temple Bar neighborhood and O'Connell Street. From there, you can take day trips to see the fishing village Howth, the forests and lakes of Glendalough, and bustling Belfast.
Water (Cancer, Scorpio and Pisces)
"Water signs are highly sensitive to their environment, and they tune into subtleties that other people miss," White says. "Because of this, they appreciate kindness and the extra attention that staff members at hotels like Hilton provide to all guests. A destination that is situated on or near water, whether beachfront or lakeside, is perfect for the Water sign traveler."
Portland, Maine is one of the coolest cities in New England, and Canopy by Hilton Portland Waterfront is a neighborhood-centric hotel that features gorgeous views and local artwork. Explore the waterfront on a Canopy bike or ask a Canopy enthusiast for recommendations on the best shops, restaurants, and galleries in the area. In the evening, check out Luna Rooftop Bar to catch the sunset while sipping a signature cocktail and sampling delicious snacks like raw oysters and lobster toast.
If you're looking for a warmer getaway, Miami has it all — including stunning beaches, a world-class culinary scene, art museums and galleries, and exceptional nightlife. The Gabriel Miami South Beach, Curio Collection by Hilton is at the center of the action on Ocean Drive, Miami Beach's most iconic street. Take a dip in the glass-bottom pool, indulge in Italian fare at Mia, and have a seat at Dalia's glamorous horseshoe bar and sip a Passionate in Every Way, made with vodka, apricot jam, and passion fruit.
Air (Gemini, Libra and Aquarius)
"Air signs thrive on conversation with a true exchange of ideas," White says. "The right destination for an Air sign offers a learning environment with opportunity for social exchange. Although they are natural communicators, there also comes a time in the day when they want to unwind and set their mind at ease."
History, culture, and a fabulous food and beverage scene come together in the nation's capital, so it's the perfect place for an Air sign to nourish both their cerebral and celebratory sides. Embassy Suites by Hilton Washington DC Georgetown is close to all the action, meaning national monuments, memorials, museums and excellent restaurants are all within three miles.
If you prefer a beachside locale, Hilton Cancun, an All-Inclusive Resort is set on a secluded stretch of Mayan coastline. The property features 12 elevated food and beverage options, and there are plenty of opportunities to socialize with other guests during nightly entertainment like themed parties and multi-sensory tasting experiences. Enjoy a group yoga class at the fitness center, and take in the sea breeze while relaxing at the two oceanfront pools.
Fire (Aries, Leo and Sagittarius)
"Fire signs are creative, and they thrive on inspiration," White says. "Artistry fuels their passion for life, and nothing excites them more than pageantry and a good show. They are quick to act and yearn to explore uncharted worlds. Life often rewards them with unexpected treasures. Destinations that ignite their vitality will make for a memorable trip for both Fire signs and their travel companions."
Highline Vail – a DoubleTree by Hilton puts the best of Colorado's most charming ski town in reach. Hop into "The Lift," the resort's door-to-mountain shuttle, for courtesy service to three lift access points in Vail Village. Fire signs will find plenty to do based on their personality — from enjoying a relaxing massage in one of the hotel's five treatment rooms to checking out Vail's vibrant bar and restaurant scene. Socialize with your travel companions and other guests over shared plates at on-site Pivot 62 or in front of the patio fireplace.
As the first completely new resort to open on the Las Vegas Strip in a decade, Las Vegas Hilton at Resorts World provides stylish accommodations and smart, elevated amenities in "The Entertainment Capital of the World" — where Fire signs can enjoy world-class dining, entertainment, nightlife and more. The hotel is part of the recently opened Resorts World Las Vegas, which integrates three of Hilton's premium brands into a resort campus that boasts stunning design, progressive technology and world-class guest service.