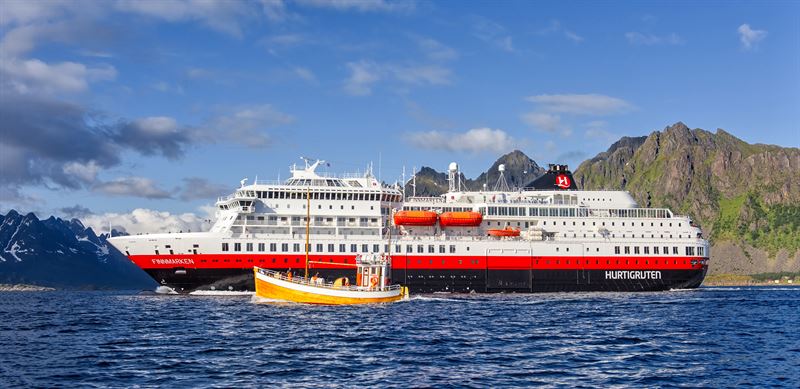 Hurtigruten Expeditions will launch expedition cruises to Russia's White Sea – combined with exploration of Murmansk, the UNESCO-listed Solovetsky Islands, and Norway's North Cape.
The world's leading expedition cruise line, Hurtigruten Expeditions, is adding another new region to its ever-growing list of destinations: Russia, and particularly the White Sea in Russia's far north. This unique itinerary follows the recent additions of expedition cruises to the Galapagos Islands, the Bissagos Islands and Cape Verde in Western Africa, and the Canary Islands and Madeira Islands, which will all launch in 2022.
"After a very challenging year for the entire travel industry, we are thrilled to finally return to cruising. 2022 is set to be our most exciting year ever, introducing a number of new exciting itineraries in three different continents. We see a huge pent-up demand for adventure travel, and much more to come still," said Hurtigruten Expeditions CEO Asta Lassesen.
Hurtigruten Expeditions founded expedition cruising in 1896, and did the first expedition cruises the Russian Arctic more than 100 years ago.
Hurtigruten Expeditions' new 17-day Expedition Cruise to the White Sea – Norway and Russia Adventure itinerary will depart Bergen, Norway, on October 6, 2022, and sail north along the Norwegian coast and include several of the country's highlights: stunning fjords, the mesmerizing Lofoten Islands, visiting settlements rich in fishing traditions and Sami history, and the North Cape, the northernmost point of the European mainland.
Then follows seven days in Russia, traveling to one of the least visited parts of the country. The itinerary combines modern-day Russian cities and historic ports with expedition landings, coming ashore at rarely visited and isolated villages on the shores of the White Sea. The trip also includes visiting the fascinating Solovetsky Islands, one of Northern Russia's iconic sights. As always, Hurtigruten Expeditions' onboard expert team will give guests an insight into the history and culture of the places they visit.