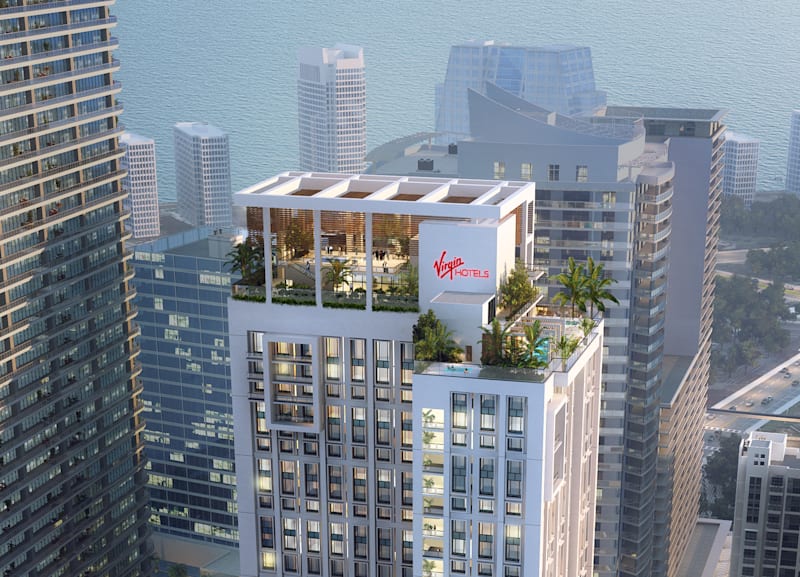 Virgin Hotels Miami is set to break ground in 2020 and is due to open in 2023. It will be managed by Virgin Hotels and developed by Blue Jay Capital with BLUR Workshop as the architect.
Located in the heart of Downtown Miami's Financial District, the new hotel will be in the Brickell neighbourhood – a hotspot for locals and visitors alike. Just steps away is Brickell City Centre, a brand new shopping, business and residential area that is currently being developed.
The 40-storey new-build hotel will feature nearly 250 chambers, a spa and more than 15,000 square feet of meeting and event space. There'll also be multiple dining and drinking outlets, including Virgin Hotels' signature culinary experience Commons Club, a restaurant, bar and modern social club, a beer garden live music venue and Funny Library Coffee Shop, a communal work space that will house an assortment of books and games.
The Miami hotel will feature a three-storey terraced rooftop with pool, lounge and event space designed to feel like a rooftop conservatory, perfect for chilling out and catching up with friends or partying until the sun comes up. Virgin Hotels Miami, like all Virgin Hotels, will implement the celebrated "No Nickel and Diming" policy, which includes street-priced minibars, free WiFi, and zero resort fees, urban fees or amenity fees.