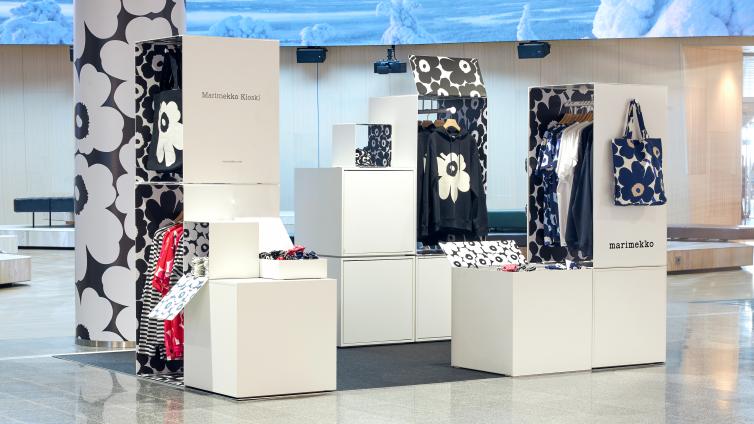 Finnish experiences and sustainability are emphasized when choosing new pop-ups at the airport. See the autumn's pop-up selection below.
During the summer, Helsinki Airport added two new Finnish brands to its selection. Private Case and Viaminnet, both of whose focus is on local craftsmanship and sustainable production, launched new pop-up stores at the airport. At the beginning of September, classic Finnish brand Marimekko also launches a new street fashion-focused concept store – first of its kind. In addition, Finnish designer bag brand Golla will continue in the pop-up space near the passport control of the long-haul gate area.
"Selecting the pop-ups, we want to focus on Finnish experiences and sustainability. Helsinki Airport offers spaces for pop-up stores in Terminal 2, before and after passport control. We choose the brands so that they add to our offering and serve passengers' shopping needs," says Nora Immonen, Vice President, Commercial Services at Finavia.
Finnish fashion classic Marimekko, known for its bold colours, patterns and prints, opens a new concept store at Helsinki Airport's central plaza, Aukio, near the long-haul gate area. Marimekko Kioski offers a selection of unisex street fashion in classic prints. The first Marimekko Kioski fashion line showcases, how the iconic Unikko floral pattern works on streetwear pieces like hoodies, T-shirts and caps.
The Private Case pop up space can also be found in the long-haul gate area. The Finnish family-owned business has produced hand-crafted ecological stationary since 1985. The brand's calendars, notebooks, passport cases, laptop bags and other goods are all made of certified recycled materials.
A pop-up store showcasing the lightweight leather jewellery by Viaminnet can be found at Gate 26 in the Schengen area of Terminal 2. The products are made of Nordic and Italian leather and produced in Finland using sustainable methods that minimise waste. The jewellery is finalised in Helsinki at Iiris Pro Center, which seeks to hire people in the hard-to-employ populations.
Both Private Case and Viaminnet pop-up stores serve passengers at Helsinki Airport until the end of October 2019.
Airport expansion brings more room for pop ups
The airport's small pop-up spaces that offer short-term rental contracts are a great way for brands to test international travel retail and reach new target groups. From Finavia's angle, pop-up stores are a way to broaden the airport's offering, react to changing passenger needs quickly and test the attractiveness of new brands and product groups for the future.
"The current airport expansion, which will be finished in the early 2020s, will bring more space for pop-up stores. This is a long-awaited improvement, as the spaces are in high demand," says Immonen.