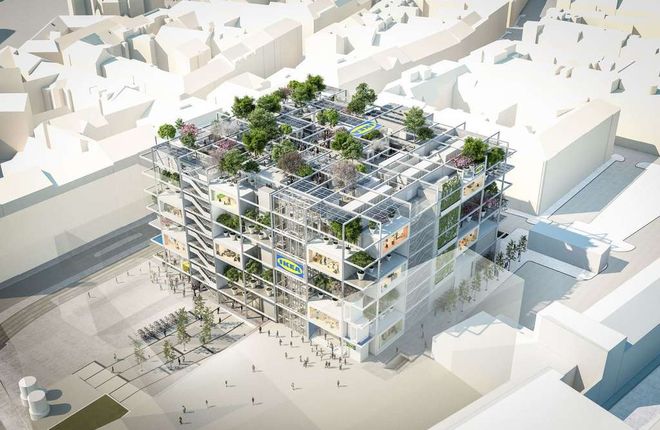 2 innovative concepts, 1 project: a JO&JOE Open House will arrive on the 2 upper floors of the future IKEA furnishing store at Westbahnhof in Vienna (Austria) by 2021. After Paris-Nation, Rome or Rio de Janeiro, it is now the Austrian capital's turn to offer the brand's lifestyle offer! Discover more about this new release.
Accor continues to develop its lifestyle footprint in order to offer more experiences and meet the needs of its guests and partners. After its 2016 official launch, JO&JOE surprises by opening a new address in the vibrant Austrian capital, near the Westbahnhof train station! A new lively place designed to meet the expectations of both millennials and anyone who embraces their attitude to sharing, spontaneity and experience. And guess what? For the occasion, JO&JOE has partnered with… IKEA! The city's new 7-storey store will host the new JO&JOE Open House in its 2 top floors. With its modern architecture and the innovative ideas for the interiors, the future IKEA City Vienna store will offer customers a unique shopping experience.
A bubbling living space, an open house welcoming the outside world, designed to meet the expectations of Millennials and anyone who embraces their attitude to sharing, spontaneity and experience… JO&JOE is a real living space with a unique design. With its surprising and innovative "Open House" concept, every host – whether "Townster" (local resident) or "Tripster" (explorer from out of town) – is welcome!
As for the famous Ikea – the Swedish furniture giant, its reputation is well established! With more than 300 shops around the world, the company is constantly innovating and offering products accessible to all.
"The 2 companies will create an inviting environment, which will be based on the lifestyle of an urban audience. The modern architecture and the unique location of the new City IKEA harmonize perfectly with the exciting new world offered by JO&JOE. We are working together to create an inviting, well-connected environment that reflects the lifestyle trends of a young, urban clientele. We are delighted with this strategic partnership with IKEA and welcome further cooperation in the future," said VOLKMAR PFAFF, Managing Director of Accor Austria.