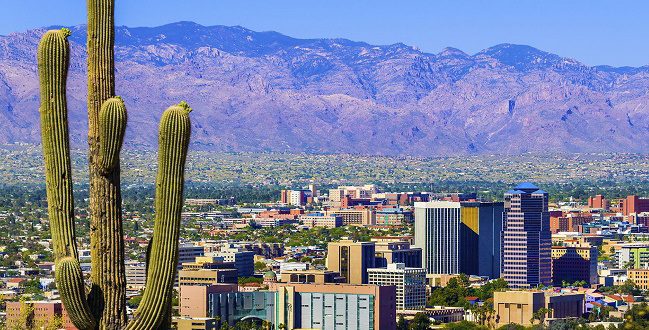 Hyatt Place Tucson-Central, the second Hyatt Place hotel in Tucson, is officially open. The new hotel features the Hyatt Place brand's intuitive design, casual atmosphere and practical amenities, such as free Wi-Fi and 24-hour food offerings. The property is owned by Zenith Asset Company, and managed by ZMC Hotels, LLC, of Walnut Creek CA.
With easy access to the I-10 Freeway, the hotel's location provides easy access to points of interest throughout the valley. The property is just a short distance from the University of Arizona, Tucson's vibrant downtown, Historic Fourth Avenue, Old Tucson, numerous golf courses, and Tucson International Airport.
"As Tucson continues to grow and thrive economically, we are excited to add to the momentum by welcoming our hotel to the Tucson market," said General Manager Wesley Hayden. "With our smartly designed social spaces and guestrooms with separate work and sleep areas, our multitasking guests can easily accomplish what they need to do while on the road."
Hyatt Place Tucson-Central offers:
91 spacious guestrooms with separate spaces to sleep, work and play, as well as a Cozy Corner sofa-sleeper
Free Wi-Fi throughout hotel and guestrooms
Breakfast Bar, a hot breakfast available daily in the Gallery Kitchen, features hot breakfast items, fresh fruit, steel cut oatmeal, Greek yogurt, and more
The Market serving freshly prepared meals anytime, day or night and perfectly packaged sandwiches and salads
The Bar featuring specialty coffees and premium beers, as well as wines and cocktails
Necessities program for forgotten items that guests can buy, borrow or enjoy for free
Outdoor Heated Pool and hot tub, where you can cool your heels after a day around the Valley
Fitness Center featuring cardio equipment with LCD touchscreens and free ear buds
"Tucson is a vibrant city, filled with friendly people, great neighborhoods, and an ever-expanding list of great places to visit and things to do or see," said David York, vice president of operations, ZMC Hotels. "This hotel is central to all of them and we are confident that Hyatt Place Tucson-Central will exceed guest expectations and provide them with everything they need while visiting our area."
Hyatt Place Tucson-Central Leadership
Hyatt Place Tucson-Central is under the leadership of General Manager Wesley Hayden and Director of Sales Jenn Kimbrough. In his role, Wesley is directly responsible for managing the day-to-day operations of the hotel, including overseeing the hotel's associates and ensuring guests encounter the thoughtful service for which the Hyatt Place brand is known. Kimbrough is responsible for providing sales service and support to travelers and meeting planners frequenting the Tucson area.