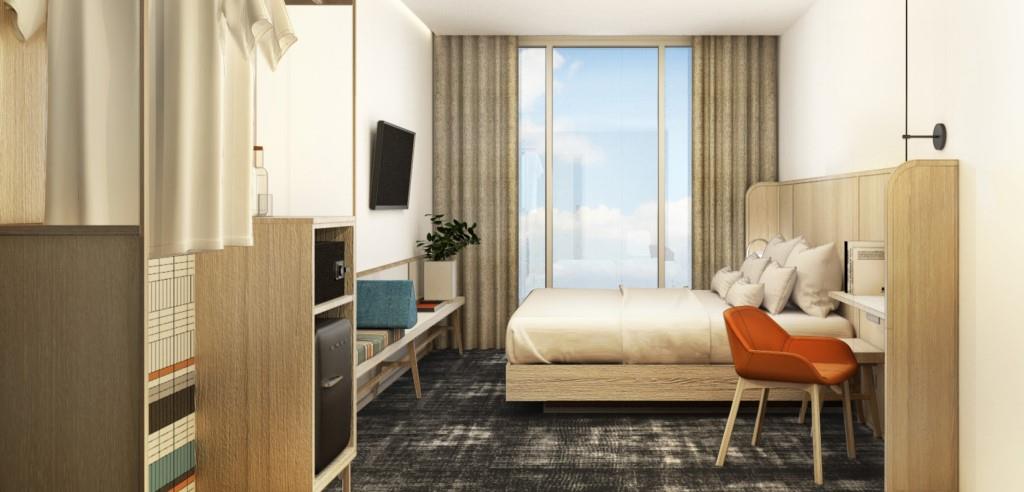 Dusit International has signed a long-term lease agreement with I Am Chinatown Co., Ltd. to develop and operate ASAI Bangkok Chinatown in the heart of the city's renowned Chinatown district.
Slated to open early next year, ASAI Bangkok Chinatown will be the first hotel to open under ASAI Hotels, Dusit's new affordable lifestyle brand for millennial-minded travellers, in a prime location adjacent to Yaowarat Road – one of the world's most renowned street food destinations.
Immersing guests in the old-world atmosphere of this bustling district, the property will offer easy access to many fascinating temples and shrines, various art galleries and museums, hip bars and coffee shops, lively fresh markets, and an incredible selection of streetside eateries. The new Wat Mangkon MRT (underground) station, which connects the area to the rest of the city, is only 100 metres from the property.
In line with the four key pillars of the ASAI brand – Thoughtful Essentials, Common Ground, Authentic Connections, and a Sustainable Ecosystem – ASAI Bangkok Chinatown will feature 224 thoughtfully compact rooms (ranging from 18 – 22 sq m) whose contemporary, Thai-Chinese-inspired design will emphasise the essentials, such as superior quality beds and high-pressure rain showers. A large communal space, meanwhile, will include a comfortable and efficient workspace, a fitness centre, a bar highlighting craft beers and creative cocktails, and a pop-up restaurant concept featuring a seasonal farm-driven menu curated in collaboration with Paolo Vitaletti and Jarrett Wrisley of Appia, Peppina and Soul Food Mahanakorn restaurants in Bangkok. The hotel's chefs will also be able to use fresh herbs and vegetables from an exclusive on-site organic garden.
To further promote sustainable agriculture, the hotel has partnered with Akha Ama, a socially empowered enterprise growing coffee in northern Thailand, to source 100% Arabica beans from the project.
"Our investment in ASAI Bangkok Chinatown highlights our commitment to providing broadened experiences for our customers across the lodging spectrum and delivering sustainable, enduring value for all our stakeholders," said Ms Suphajee Suthumpun, Group CEO, Dusit International. "With its strong community focus and strategic location in one of Bangkok's most vibrant neighbourhoods, the hotel is perfectly positioned to capture the attention of millennial-minded travellers, establish our presence in the affordable lifestyle market, and prepare the ASAI brand for further expansion within the city and throughout Southeast Asia."
Mr Siradej Donavanik, Managing Director, ASAI Hotels, said, "Each ASAI hotel is being carefully designed to reflect the fabric of the neighbourhood and appeal to the needs and expectations of today's generation of travellers and consumers who are constantly on the lookout for authentic, local experiences, as well as brands with value-driven credentials which they can connect with in more meaningful ways. ASAI Bangkok Chinatown's distinctive offerings, fascinating surrounds, and excellent location near the new underground station make it a strong debut for the brand. We now look forward to introducing travellers and locals alike to our vibrant neighbourhood with its endless array of hidden delights."
Alongside ASAI Bangkok Chinatown, five more properties are already confirmed in the pipeline. This includes three ASAI Hotels in Cebu, Philippines (in Mactan, Oslob, and IT Park); one hotel in Yangon, Myanmar (in the historic Yankin Township); and a second hotel in Bangkok (in the stylish Sathorn district). These properties are expected to open from mid-2020 onwards.