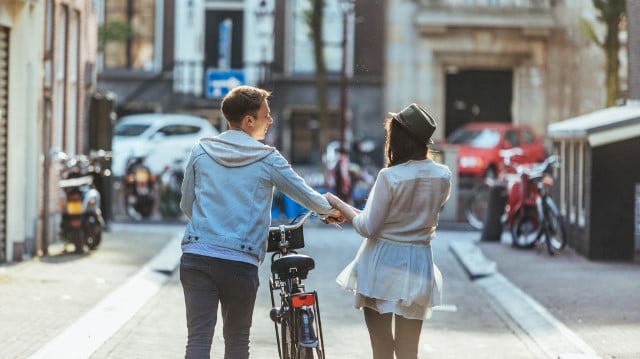 Regular holidays, reading a good book, getting a great deal, having reliable neighbours and belly laughing with friends are just some of life's essentials that Britons value the most, according to a new study out today by Travelodge.
The budget chain which welcomes nearly 19 million people across its 583 hotels, surveyed 1,500 British adults to discover what the nation values the most in life.
Key findings revealed that top of the 50 strong list is spending quality time with the family (44 percent). In second place is having a happy, settled home life (43 percent) and in third place is having good health (41 percent), followed by a faithful partner (35 percent).
We also cherish our parents (33 percent), spending quality time with our children (32 percent), and our other half (29 percent).
The study also revealed that 84 percent of those polled said we're now more experience driven than any previous generations.
Trying new experiences and discovering new places is of the utmost importance for modern Britons, as over a third (36 percent) value regular holidays and weekends away. Just over a fifth (22 percent) of adults appreciates being at one with nature and exploring Britain's countryside. More than one in five respondents (21 percent) said the freedom to travel whenever and wherever was a precious gift in modern life.
Good mental health (38 percent), belly laughing with friends (35 percent) and having honesty in all of our relationships (34 percent) also made the top 50 poll.
According to the study, an overwhelming 91 percent of those polled thought that as a nation our values have changed and evolved over the years.
Other key findings revealed that living in a fast-paced world is taking its toll on Britons as 21 percent of adults reported getting eight hours of uninterrupted sleep has become a precious commodity. A fifth (20 percent) of Britons reported that having a whole day to do nothing was priceless whilst 12 percent of tired adults place value for a weekend lie-in. Interestingly, despite living in a social media world just nine per cent of Britons surveyed stated that they value social media in their lives.
The study also found that we have become a value conscious nation just like the war generation who strived on getting a bargain. Nine out of ten adults (91 percent) polled believe value for money is more important in Britain than ever before, with 95 percent admitting they always shop around for the best deals.
In today's world, 28 percent of adults value getting a good bargain and rely on coupons whilst for 11 percent of Britons loyalty schemes has become a key life essential. Eleven percent of respondents surveyed reported that they are savvier with their cash than their parents were.
Other interesting items to make the poll of things Britons value the most are a third (33 percent) of respondents value the NHS.
A host of less traditional aspects also made the list, including being able to park outside your house, drinking good quality coffee, getting clean water from the tap. As well as having a garden and the simplicity of a good mug of tea.
Interestingly just 19 percent of Britons reported that they value the freedom of speech.
Seventeen percent of Britons value Netflix and 16 percent of respondents reported they appreciate service with a smile.
The survey also found that 41 percent of Britons believe that as a nation we are less community minded nowadays. Whilst 59 percent of us feel we are completely immersed in an online world.
Over a third (36 percent) of Britons believes we place less emphasis on good manners. Whilst 26 percent of adults reported that they have higher expectations than their parents had and 21 percent believe that they are more tolerant than their parents,
Whilst a further 31 percent said they want more from their life than their mother and father did.
Just over three out of ten (31 percent) of adults reported that they care more about the environment now than they ever did.
Shakila Ahmed, from Travelodge said: "Our research shows that we have become a value seeking nation that is striving to get the most out of all aspects of our lives. We want our time, money, friendship and love to work hard for us and provide a good return."
"At Travelodge, we are seeing a growing trend in more Britons maximising their leisure time by eliminating the traditional two week holiday and booking lots of short breaks throughout the year. This way they can extend their leisure time throughout the year and do more experiences and have multiple short bursts of quality time with family and friends."
Listed below is the top 50 things Britons value the most:
Family time – 44 percent
A happy home – 43 percent
Physical health – 41 percent
Mental health – 38 percent
Faithfulness in your relationship – 35 percent
Laughing with friends – 35 percent
Your overall wellbeing – 34 percent
Honesty – 34 percent
Trustworthy friends – 33 percent
Your parents – 33 percent
The NHS – 33 percent
Politeness – 33 percent
Time with your children – 32 percent
Clean water from the tap – 30 percent
Time with your other half – 29 percent
Your pet – 27 percent
Having a garden or outside space – 25 percent
Siblings – 24 percent
Regular holidays – 24 percent
Nature – 23 percent
Time in the countryside – 22 percent
A good cup of tea – 22 percent
The freedom to travel – 21 percent
Eight hours of uninterrupted sleep – 21 percent
A whole day to yourself – 20 percent
Freedom of speech – 19 percent
A good book – 18 percent
Netflix – 17 percent
Nights out with friends – 16 percent
Service with a smile – 16 percent
Music – 14 percent
Your education – 14 percent
Good, strong coffee – 14 percent
Being cooked for – 14 percent
Getting a great deal – 14 percent
Your car – 13 percent
Wealth – 13 percent
A lie in on a Saturday – 12 percent
Regular weekends away – 12 percent
Reliable neighbours – 11 percent
Supportive colleagues – 11 percent
Meal deals – 11 percent
A fair priced pint of beer – 11 percent
Being able to work from home – 10 percent
Being able to park outside your home – 10 percent
Your childhood home – 9 percent
Watching football – 9 percent
Social media – 9 percent
Art – 9 percent
Loyalty schemes- 9 percent