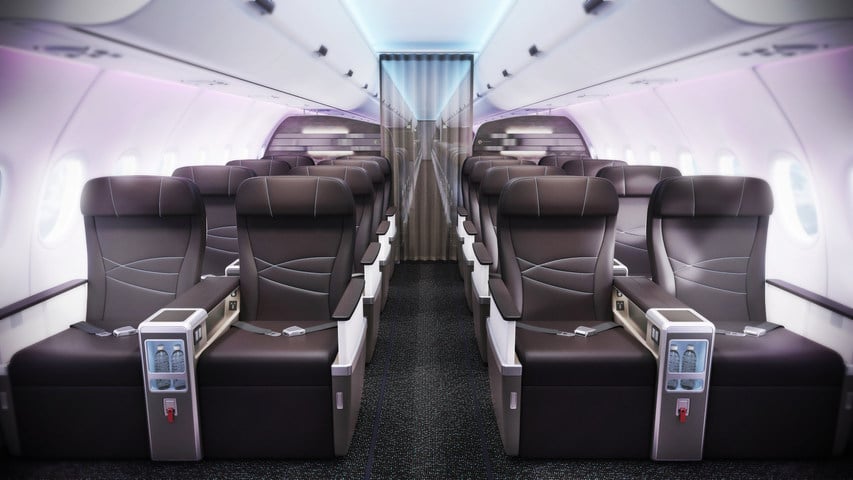 Maui residents visiting Hawai'i's adopted "ninth island" will be able to fly straight to the popular Nevada destination when Hawaiian Airlines inaugurates its newest narrow-body Airbus A321neo aircraft route later this year. The airline announced today that it will begin four-times-weekly service between Maui's Kahului Airport (OGG) and Las Vegas' McCarran International Airport (LAS) on December 15.
To celebrate the new route, Hawaiian is offering special $199 one-way fares through Aug. 14 at www.HawaiianAirlines.com. As a mahalo to the airline's loyal frequent flyers, new and existing HawaiianMiles members will also receive an additional 10 percent discount when booking nonstop flights between Maui and Las Vegas during the promotional period.
The airline today also announced the start of sales for two other new A321neo routes — thrice-weekly nonstop service between Honolulu's Daniel K. Inouye International Airport (HNL) and Seattle-Tacoma International Airport (SEA) starting Jan. 7; and seasonal winter service between OGG and Los Angeles International Airport (LAX) from Dec. 14 through Jan. 5. The new flights complement existing daily nonstop service offered on each route with wide-body Airbus A330 aircraft.
"Hawaiian has been carrying local residents to and from Las Vegas, and welcoming our Nevada visitors to Hawai'i for over 30 years," said Peter Ingram, president and CEO at Hawaiian Airlines. "We're thrilled to once again offer the convenience of nonstop flights between the Valley Isle and the ninth island. We're also excited to add a second Honolulu-Seattle flight and seasonal service between Maui and Los Angeles, offering our guests more options when traveling between Hawai'i and the U.S. West Coast."
Hawaiian first launched Honolulu-Las Vegas service in September 1985 with Lockheed L-1011 aircraft, and previously operated OGG-LAS flights from October 2010 to October 2012 with Boeing 767 aircraft. Hawaiian, which today offers up to three daily nonstop flights between Honolulu and Las Vegas with A330 aircraft, carried more than 470,000 guests between the two cities in 2018.
On the new flights between Maui and Las Vegas, Hawaiian will welcome guests into the comfort of its quiet and fuel-efficient A321neo aircraft. The A321neo features 16 luxurious leather recliners in First Class, 44 Extra Comfort premium economy seats, and 129 Economy seats. In addition to Hawaiian's warm hospitality, including complimentary meals and in-flight entertainment, guests will have access to USB outlets and additional overhead stowage space.