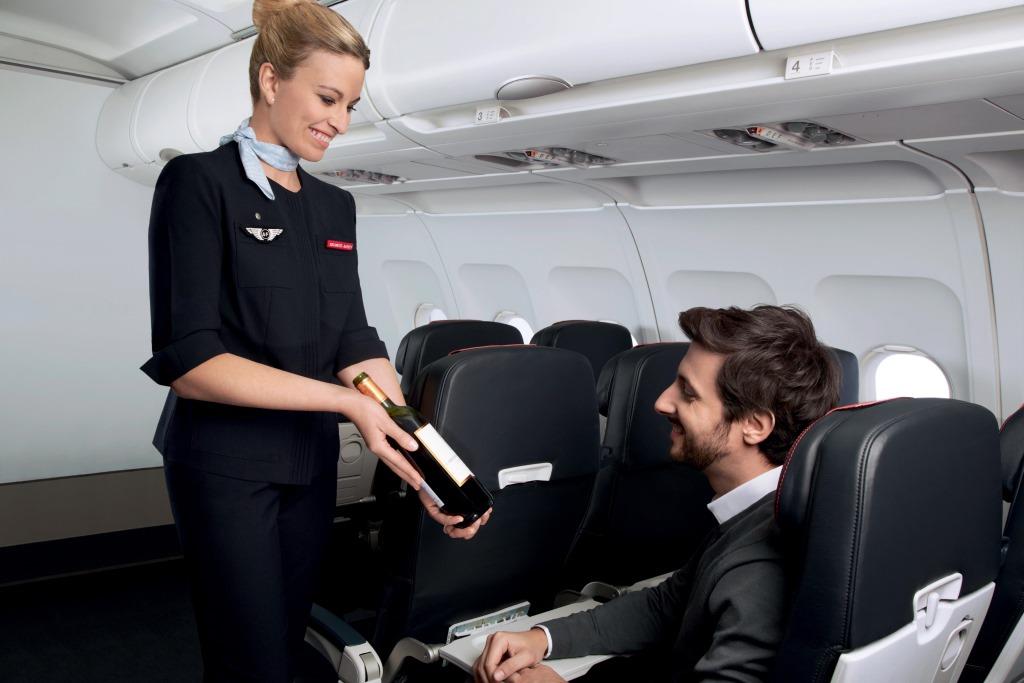 As an ambassador of fine French cuisine, all year round, Air France entrusts its La Première and Business class menus to renowned chefs. In collaboration with the Servair Culinary Studio, this year the company welcomes two new French Michelin-starred chefs, Andrée Rosier and Emmanuel Renaut. All the talented chefs working with Air France thus take part in the design of menus, the choice of products and the creation of gourmet dishes to be enjoyed in the sky, on flights departing from Paris and numerous airports worldwide.
High-flying dining on departure from Paris

From July to October 2019, Régis Marcon, legendary French chef, is offering a choice of gourmet creations. Recognized by his peers – Bocuse d'Or in 1995 – and acclaimed by critics with 3 Michelin stars – Régis Marcon embodies a different branch of French gastronomy. More than just a style or an era, between Ardèche and Auvergne, his cuisine symbolizes nature and tells a story.
From November 2019 to February 2020, for the first time, Emmanuel Renaut will be creating dishes for Air France's La Première menu. Awarded the title of meilleur ouvrier de France, triple-starred chef Emmanuel Renaut belongs to a new generation of chefs who are reinventing Savoyard cuisine. His refined, vibrant and colourful cuisine features surprising and harmonious compositions.
From July to October 2019, Savoyard chef, Guy Martin, a groundbreaking chef of his generation, treats customers in the Business cabin to his gourmet creations. Awarded two Michelin stars, his cuisine has multiple and surprising sources – memories of trips, colours, smells, sensations and emotions, which have inspired him to create classical recipes and also creative and happy ones with good taste combinations and delicate flavours.
From November to February 2020, Air France will entrust its Business class menu to Andrée Rosier for the first time. The first female chef to be awarded the title of Meilleur ouvrier de France in 2007 and a Michelin-starred chef, Andrée Rosier imposes her personal touch on an authentic cuisine that reveals the essence of taste. Her innovative cuisine is based on Basque culture, predominated by fresh seasonal produce.
Since this summer, Air France has extended its collaboration with chefs in Business class, who now sign all the à la carte dishes*.
A gourmet escapade on departure from international stations
On departure from Tokyo, Shanghai, New York and more recently Los Angeles, La Première customers have been able to enjoy dishes signed by chef Jean-François Rouquette, from the Aveyron region of France. He creates an authentic and contemporary cuisine, in the spirit of his Park Hyatt Paris-Vendôme restaurant awarded a Michelin star and 4 toques in the Gault&Millau guide.
Starting next September 2019, on departure from 15 US and Canadian destinations, Air France Business customers will be able to enjoy new dishes created by Daniel Rose, an American Michelin-starred chef with a love for French cuisine.
On departure from Singapore, the French chef with two Michelin stars Julien Royer designs a tailor-made menu for Air France's La Première and Business customers. Like Singapore, the chef offers a cosmopolitan cuisine, with carefully selected seasonal products.
On departure from Pointe-à-Pitre, Fort-de-France and Cayenne, Air France is entrusting chef Marcel Ravin with the design of the Creole dish for its Business and Premium Economy menus. The chef combines Mediterranean and Creole products with creativity and initiative. Awarded a Michelin star, he is now working in his native Martinique to pass on his know-how and experience to the young people of his island.
On departure from Réunion, Business and Premium Economy customers can enjoy a menu created by chef Benoît Vantaux. Having adopted Réunion as his home for more than twenty years, Benoît Vantaux was born in Limoges. His gastronomic world cuisine blends flavours from his travels and gastronomic experiences.
On flights to Seoul, the dishes created by Korean chef Youn-Young Kim for Business class customers are an introduction to the wealth of flavous that make up Asian cuisine. Originating from South Korea, Youn-Young Kim grew up in a family of fine food lovers. The chef proposes a range of diverse and balanced seasonal dishes that subtly blend flavours of the East and West.