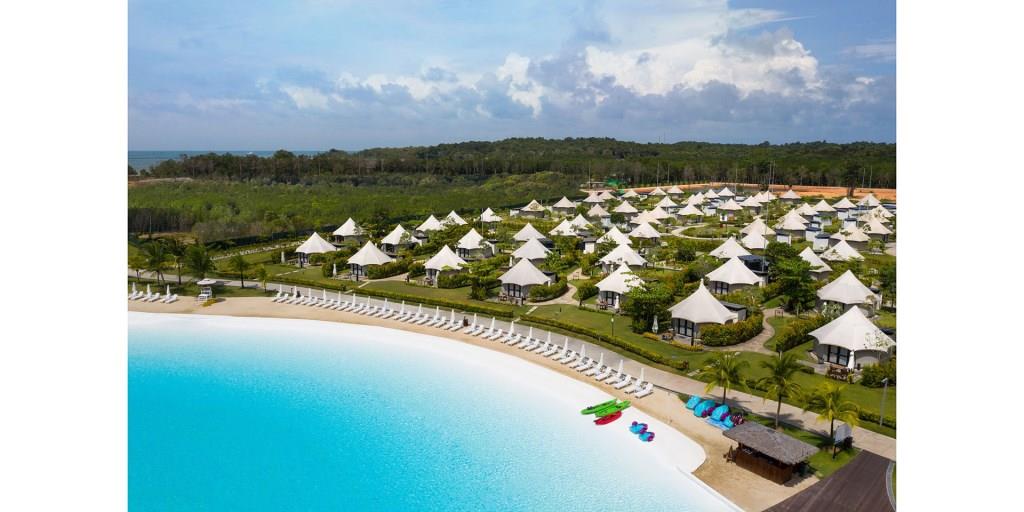 Tribute Portfolio today announced the opening of Natra Bintan, located in the exotic hub of Bintan Island, Indonesia's Riau Archipelago.
Natra Bintan, inspired by its Arabic origins equating happiness and tranquility, is a personification of the glamping experience that brings to life the concept of being one with nature. A total of 100 safari-themed tents are ready to welcome holiday-goers in the middle of pristine nature. Encompassing over 40 square meters, each tent is thoughtfully designed with modern style, and made complete with a lush garden and outdoor patio, four-poster bed and air-conditioning. Equipped with an LCD TV and Wi-Fi connection, these tents will keep guests connected with the world while revelling in an extraordinary island life.
Situated within the idyllic Chill Cove at Treasure Bay, Bintan's premier leisure destination offers a stunning water lagoon and numerous pools from which to enjoy a wide range of water sports. Natra Bintan offers a one-of-a-kind glamping experience where remarkable adventure intertwines with lavish facilities. Natra sits directly on the Crystal Lagoon, Southeast Asia's first and largest man-made seawater lagoon, where guests can seamlessly enjoy enthralling water activities, including family-friendly bumper boat-rides, fun slides and wakeboarding action.
Boasting a view of the tranquil Crystal Lagoon, the all-day dining; Patio makes a splendid spot to relish refreshing cocktails as the sun sets on the horizon. The restaurant pleases every palate with a selection of local and international favourites, plus barbecue dinner on special evenings or upon request. Nestled right outside the restaurant is the aflresco bar lounge. Designed with a decking lounge and a sandpit area, the bar is the perfect place to relax with a refreshing drink. Natra Bintan also provides a unique experience for team bonding retreats, as well as corporate events and weddings with the serene saltwater lagoon as the backdrop to their special events.
More exciting experiences await with options of on land and water activities. Those who come with their family have nothing to worry about because Natra will keep the little ones entertained with numerous fun games and activities.
Best known for its high-end resorts, world-class golf courses, and magnificent coastal beauty, Natra Bintan can be easily reached with a ferry ride every day, arriving at Bandar Bentan Telani Port in Lagoi from Tanah Merah Port (Singapore), or at Sri Bintan Pura in Tanjung Pinang from Berjaya Waterfront (Johor Baru, Malaysia) and Telaga Punggur (Batam, Indonesia). Daily flights from Jakarta are available to take guests to Raja Haji Fisabilillah Airport in Tanjung Pinang. Guests can arrive in ease through The Canopi's complimentary transfer services to and from the Bandar Bentan Telani Port.
Natra will also offer guests an "all inclusive" package infused with unique destination experiences, curated to allure to the world's traveler. These packages aspire to offer something for everyone from adventure, nature, pampering to culinary offerings, in line with the brand's vision to create moments that extend beyond the brochure to highlight the secret spots, must-sees and can't-miss independent design touches and experiences.