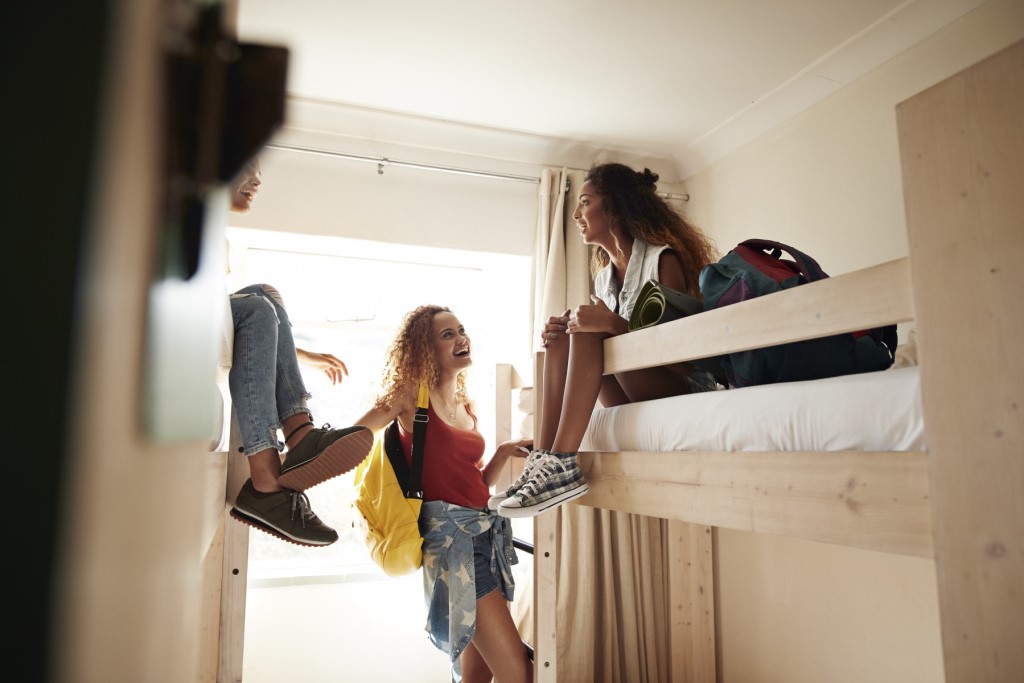 With the power to shape the future, Gen Z (aged 16-24) is coming of age and are on their way to discovering the world. Already the subject of much speculation, many have assumed how this generation will behave, but what do they actually have to say for themselves? In an increasingly connected world, with travel more accessible than ever before, Booking.com, the digital travel leader connecting travelers with the widest choice of unique places to stay, a range of must-do travel experiences and seamless transport options, has conducted global research with almost 22,000 respondents across 29 markets to get insights into the Gen Z traveler*, revealing not just their travel plans, but how these link to their wider aspirations for life.
Ambitious Adventurers
While many Gen Zers have only just come of age they most certainly already know what they want when it comes to their travel plans:
Gen Z have an optimistic outlook on travel, with 67% excited for all the places they'll travel to in the future
Four in ten (39%) plan to have visited at least three different continents over the next ten years and 30% intend to have studied or lived in a different country (34% female vs. 26% male)
Gen Z is a daring bunch with 56% wanting an adventure experience from their travels, such as paragliding or bungee jumping and 52% planning on visiting or trekking to an extreme location
Gen Z is also the generation most likely to enhance their skills by learning something new while traveling in the next ten years (33%)
And it's not just new skills they'll be looking to learn, for 55% of Gen Z travelling in their own country helps them to learn and discover more about themselves
Ready to go Solo
Many young travelers are already stepping out into the world with their family, with two fifths (42%) of Gen Z travelers indicating that they mainly do it because it allows them to go on trips that they would not otherwise have the funds for. But as Gen Z looks to fly the nest, they're keen to do it alone.
Independence is a priority for this generation. Over the next ten years, a third of Gen Z (34%) plan to have traveled on their own at least once (36% women vs. 32% men)
Gen Z's passion to 'fly solo' is further revealed with a third (33%) saying they prefer to be alone when they travel (more so than all other age demographics) and 18% wanting to take a solo backpacking trip / gap year
Already Champions of the Bucket List
Over two thirds (69%) of Gen Z have already compiled a travel bucket list (a list of things to do or see before they die), with this figure rising to 74% across Gen Z females (vs. 64% men).
Reasons for having a travel bucket list are varied:
Daydreamers: Over two fifths (44%) say it's because they enjoy thinking about all the places that they're going to travel to in their life
A never-ending list: Nearly one quarter (23%) say they get satisfaction from traveling to places on their bucket list as soon as possible so they can begin adding more new places. In fact, nearly a third (32%) of Gen Z plan to have checked at least five epic trips off their bucket list in the next ten years
Keeping on top of great destinations: Nearly one quarter (23%) say that having a bucket list helps them keep track of amazing places to travel to that they've never heard of before
Inspired by Insta: 44% have been inspired to make their own adventures by seeing influencers' trips online
Having a travel bucket list doesn't just reveal an intention to travel to new places, it also provides a deeper insight on the generation's broader travel behaviors. For the 31% of Gen Z without a bucket list, the reasons also vary:
22% feel their preferences change too frequently which is bound to affect their travel destinations
One in five (20%) say it's because they opt to travel impulsively and don't plan in advance
Surprisingly though Gen Z are the least likely of all age demographics to say they don't have a bucket list because they like to travel impulsively
In fact, of the 49% of Baby Boomers (those 55+) who don't have a bucket list, three in ten say they prefer to travel impulsively (30%) – the highest of all generations surveyed. Millennials (those aged 25-39) also travel more impulsively than Gen Z (26%).
Travel vs. Life Goals
Gen Z have grown up in a world where over the last decade or so, global financial and economic turbulence has become almost the norm, and so understanding their stance on finances (specifically how they plan to spend their money over the next five years), is a useful barometer for their overall outlook on life.
Six in ten (60%) Gen Zers think that travel is always worth investing in. And when it comes to prioritization, "travel and seeing the world" ranked as most important to this generation when thinking about how they spend their money (65%). Saving for 'life's biggest investment' (property) came a close second and interestingly, more material possessions ranked lowest.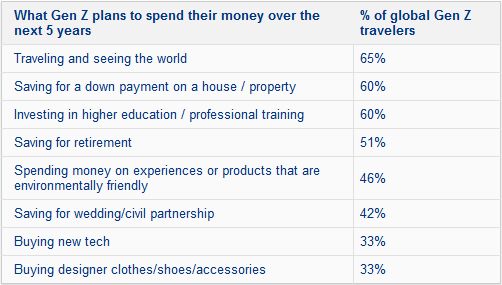 Unpacking Gen Z priorities
When questioned about how they'd prioritize spending their money, travel came out top in five out of seven choices for Gen Z, especially when compared to material possessions or more fleeting experiences. Travel ranked above the likes of furniture and homewares, clothes and fashion, tech and gadgets, eating at restaurants and spa and beauty treatments.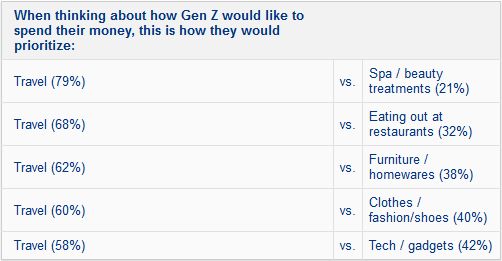 Out of office: on
Whether still contemplating their future vocation, or have just ventured into the workforce, the notion of a career is still pretty fresh, so its unsurprising that Gen Z rank getting a job as their most important life experience (80%). But with travel being such a passion point for this generation, prospective employers should take note, as 54[1] % of Gen Z say the opportunity to travel for work is important when selecting a job and nearly six in ten (57%) say a job where they get to experience other cultures is attractive to them.
"As the first generation of digital natives comes of age, it's exciting to see this research reveal that Gen Z travelers are a determined generation whose excitement to explore means that they have mapped out many of their future travel plans already," said Ram Papatla, Vice President of Global Experiences at Booking.com. "Their affinity and comfort with technology dovetails perfectly with our ambition to learn and deliver an even more seamless, connected trip experience. We want to empower people of all ages to make the most out of every adventure, with their device as a powerful resource instead of a dependency – something Gen Z truly appreciates."