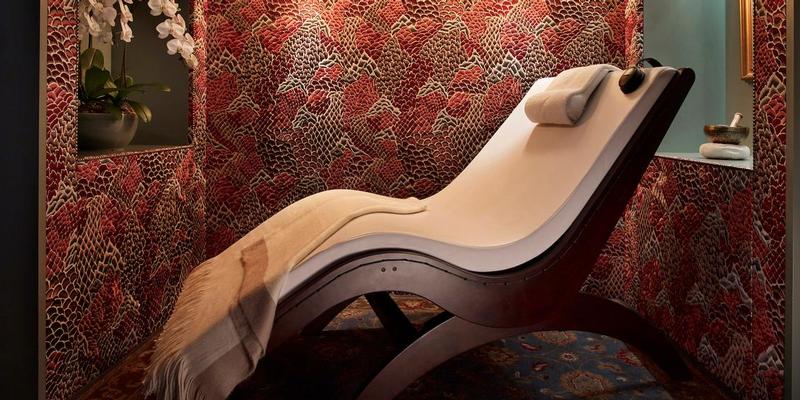 With a philosophy rooted in helping guests feel better than when they arrived, Six Senses Maxwell introduces five spa pods and two relaxation rooms to deliver a myriad of holistic experiences and boost well-being. Designed to be an urban sanctuary amid Singapore's hustle and bustle, locals, hotel residents and travelers passing through the city are invited to take a break and enjoy the sound of silence.
"Created in line with the brand's commitment to incorporating wellness into each guest experience, the spa pods bring globally celebrated Six Senses rituals to Singapore's urban community. Our wellness partners have put together a menu of treatments and activities which deliver positive and lasting benefits so that every guest finds harmony and balance from the inside out," said Murray Aitken, general manager of Six Senses Singapore.
Located on the fourth floor of Six Senses Maxwell, the spa pods and relaxation rooms are decorated and furnished in line with the property's signature 19th century aesthetics and a stylish, modern twist. Guests can look forward to both traditional and innovative wellness experiences from Six Senses Signature Massages to locally-inspired rituals, targeted therapies and functional fitness.
Wellness retreat experiences available only in Singapore
Featuring Traditional Chinese Medicine (TCM) and massage techniques, Six Senses Maxwell debuts the new Locally-Inspired Wellness Retreat for two hours 15 minutes at USD 220 ++ (SGD 300++). TCM is one of the oldest healing systems in the world, yet it is still growing in popularity and global appeal among people who are seeking alternative and holistic remedies. This experience starts with a consultation with seasoned practitioners from a local full-service TCM clinic followed by an insightful conversation and wellness recommendations.
Following the consultation, a relaxing ritual with warm amethyst crystals reduces daily stress and tension starting with a back, neck and shoulders massage. The journey continues with an orchid-scented Himalayan salt scrub, a rose body mask and a lifting facial massage and concludes with a wellness lunch at either Yellow Pot Chinese Restaurant or Cook & Tras Social Library.
Those looking to activate their natural healing powers and give their immune system a boost may opt for the Cleansing Retreat for two hours and 30 minutes at USD 258++ (SGD 350++). It incorporates body and facial treatments infused with vitamin C, jasmine, green coffee and chilli to spring clean the whole system. This retreat also includes a detoxifying drink, yoga and a wellness lunch at either Yellow Pot Chinese Restaurant or Cook & Tras Social Library.
The spa menu that has the whole body covered
Using organic and sustainable products from The Organic Pharmacy, the Detox Vital will boost circulation and cleanse the body through a seaweed, eucalyptus and sea salt scrub followed by a purifying mud wrap. Alternatively, guests can choose the Detoxifying or Nourishing Full Body Exfoliation infused with beautiful scents to invigorate and rejuvenate the body and mind. The brand's results-driven facials restore radiance, deliver brighter and tighter skin or target age spots, pigmentation and fine lines. For time-starved urbanites, the Purifying Urban Express Facial can be squeezed into a lunch break or after a school run or workout.
A rebalancing session of yoga or meditation is also available under an old, large Angsana tree with Heritage Tree status. Coupled with one of seven Six Senses Signature Massages, the noise of the busy streets disappears as guests settle back and therapists guide them through moments of mindfulness, encouraging the brain to release feel-good chemicals and relieving any aches and pains.
Afterwards, guests can lie back into a So-Sound Legato Healing Lounger and let healing sound vibrations ease away any stress and tension while rebalancing and improving circulation, brainwaves and blood pressure.
Spa-tastiq Experience
Guests can enhance their wellness experience at either Six Senses Maxwell from USD 478++ (SGD 650++) or Six Senses Duxton from USD 592++ (SGD 804++) for two nights, both beautiful heritage shophouses offering a plethora of activities to keep them stretching and sipping.
Package inclusions:
• Upgrade to the next room category, subject to availability
• Breakfast for two at either Cook & Tras Social Library or Yellow Pot Restaurant
• A 60-minute massage for two
• Yoga on Thursday or Sunday
• "Sip Your Way to Good Health" experience at Yixing Xuan Teahouse
• Complimentary evening tinctures for two
• Traditional Chinese Medicine consultation for two
Terms and conditions apply.