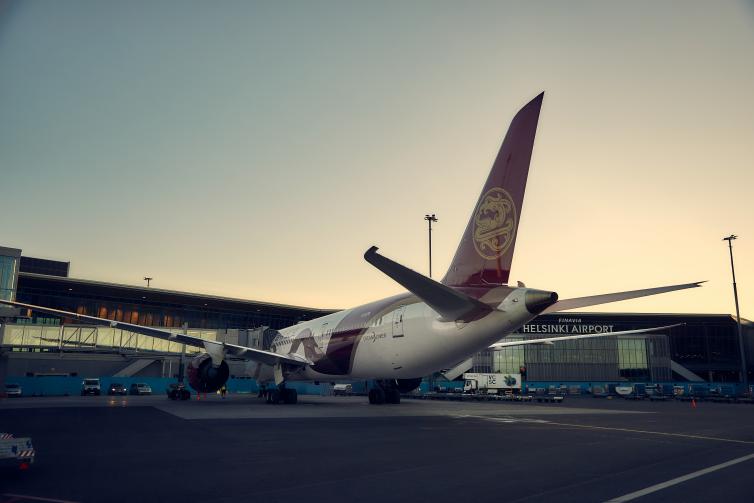 The growing Chinese airline chose Helsinki Airport as their first destination in Europe. The new daily route between Helsinki and Shanghai further increases the good connectivity between Finland and China.
The first Juneyao Air flight from Shanghai Pudong International Airport arrived to Helsinki Airport on June 28 at 6:20. During the summer, a Boeing 787-9 Dreamliner operated by the airline will bring passengers daily from the hustle and bustle of Shanghai to enjoy the Finnish summer. From Helsinki Airport, the daily flight back to Shanghai will depart at 14:20 under the flight number HO1608.
Founded in 2006, the Shanghai-based Juneyao Air is one of the largest privately-owned airlines in China. It operates more than 120 routes, owns 72 aircraft, and is also a Connecting Partner of Star Alliance.
"We are very happy that Juneyao Air has chosen Helsinki Airport as their first destination in Europe. Air passenger volumes between China and Finland have increased in recent years, and the new direct route is another positive example of the demand for flights between the Nordics and Asia. Smooth flight connections from both Helsinki and Shanghai will increase, bringing new opportunities for tourism and business in both countries," says Mr. Joni Sundelin, Director of Helsinki Airport.
Collaboration with Finnair brings smooth connections
Passengers flying from Helsinki will have smooth access to Juneyao's connecting flights from Shanghai to other cities in China, as well as Singapore and Melbourne, for example.
In addition, Juneyao Air and Finnair have agreed on a new codeshare cooperation that offers smooth connections to Finnair's domestic routes from Helsinki to Ivalo, Rovaniemi, Kemi, Kuopio and Oulu.
To Finnair's network in China, the new codeshare agreement adds eight new destinations. Finnair customers can connect with Juneyao Air from Shanghai to Harbin, Shenyang, Dalian, Qingdao, Xi´an, Chongqing, Kunming, Xiamen and Fuzhou. In addition, the Finnair code will be added on Juneyao Air routes between Nanjing and Xi´an, Chongqing and Zhangjiajie.