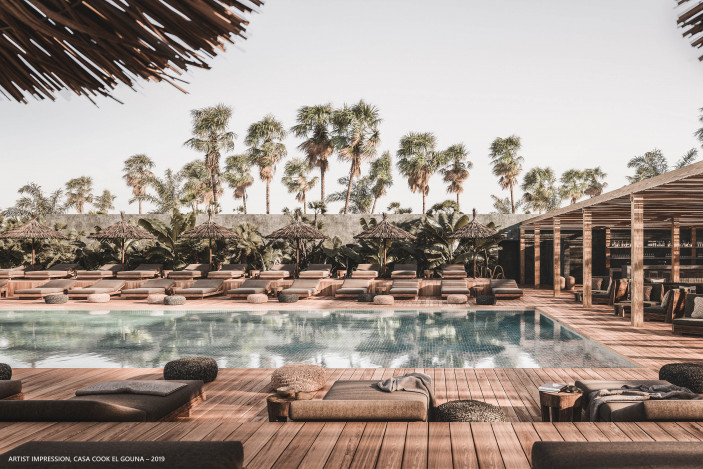 Looking ahead to the Autumn season, Thomas Cook will open two new hotels in Egypt's El Gouna – a Cook's Club and a Casa Cook.
The Cook's Club, opening in August, will be the sixth property in this newest line of hotels to open this year, following new openings in Turkey, Spain, Greece and Bulgaria.
The Casa Cook, opening in October, will be the fifth hotel in the portfolio, with other properties in Greece and Spain.
Cook's Club El Gouna will focus on the things that matter to a new generation of travellers: cool contemporary design, great food and drink, and a poolside DJ, all at an affordable price.
The 144-room hotel is built along a saltwater lagoon, is a stone's throw from the downtown area and a short walk to the beach.
At the heart of Cook's Club El Gouna is the Cantina which brings the best of the world's street food to the beach, with options including Asian cuisine, vegan dishes and local specialities. Next to the pool is Captain Cook's bar selling snacks during the day alongside a range of cocktails. Stripped-back in style, there are twin and double rooms, all with outside space.
Casa Cook El Gouna will be the second of the boutique lifestyle collection aimed at families, following the opening of Casa Cook Chania in May.
The newly-built, 100-room hotel is Arabic in its design and interior, set among the desert sand dunes and surrounded by palm trees.
The hotel's Beach Club with bar and all-day restaurant opens onto panoramic views of the lagoon, gently lapping the edge of the Red Sea. Guests can spend their days by the pool, indulging at the spa, exploring local archaeological treasures, or experiencing the golf courses and world-class watersports on offer.
A bespoke kids club concept ensures that little ones enjoy their holiday just as much as their parents do, encouraging them to follow their creative pursuits through curated activities and crafts.
The rooms – ranging from standard rooms to villas – maintain the Casa Cook design ethos blending contemporary design with raw wooden furnishings and tarnished ceramics with local touches including rattan interiors and neutral linens. Each room has a private terrace, with some boasting expansive sunset views and offering pared-back luxury with a home away from home feel.
Junior suites have shared pools while villas have private pools, most of which have stunning beach views and direct access to the sandy shores.
Will Waggott, Chief of Tour Operating, said: "Egypt is proving really popular among our Thomas Cook Group customers with bookings up 15% for Summer 2019 and 57% for Winter 2019/20, compared to last year. Our new Cook's Club and Casa Cook will be great additions to our holiday offering and will appeal to golfers and water sports enthusiasts, as well as those looking for some winter sun at a great price."