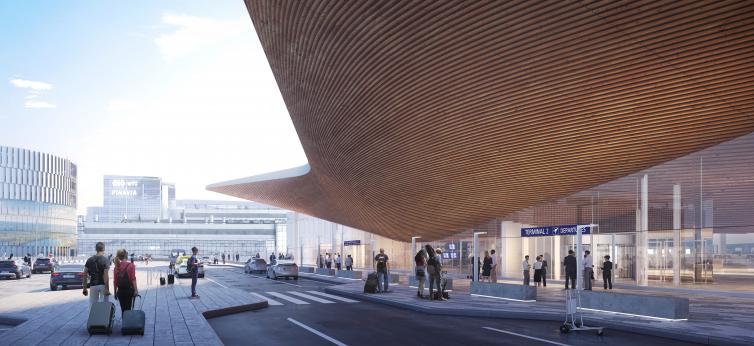 An area dedicated to biofiltration has been completed at Helsinki Airport, to support the protection of watercourses around the airport. The pilot system is the largest in Finland in its class.
Good environmental work is part of Finavia's corporate responsibility. The Sum of Good Things article series highlights details of Finavia's responsibility work. This article focuses on water management at Helsinki Airport.
In March 2019, a biofiltration system was completed at the corner of runways 1 and 2 at Helsinki Airport. At roughly a hectare in size, it is likely the largest in Finland. Its purpose is to delay and clean the urban runoff coming from the airport before reaching the surrounding watercourse.
The constructed area, built on peatland, works by leading runway waters along pipelines to a special peat layer which removes heavy metals and other harmful substances from the water. After this, drainers collect the filtered water. Water flows from the biofiltration area at around 50 litres per second and, if necessary, the flow can be adjusted.
"The essential function of the biofiltration system is to delay the flow of water. The contaminants could be arrested and partly decomposed into the peat layer," explains Finavia's Environmental Specialist Tuija Hänninen.
Peatland filtration also works in winter
According to Tuija Hänninen, the construction of a biofiltration system for natural peatland is quite rare. Generally, such areas are gravel-filled.
"We ended up with peat because it is naturally found on the east side of the airport. Water retention is good in the peat field, and, on the basis of initial observations, it seems to work well in winter."
The new system requires regular monitoring for water quality and unwanted activity, as water must flow through it smoothly and it should not attract aquatic birds which risks collisions. Sampling is done every two weeks for both upcoming and outgoing water.
Similar areas have also been planned. "If this works well, more biofiltration systems will be built at Helsinki Airport. We have a master plan that includes different size areas on the eastern side of the airport reserved for biofiltration. We closely monitor this trial plot for three to four years and, based on the results, take the following steps," Tuija Hänninen concludes.