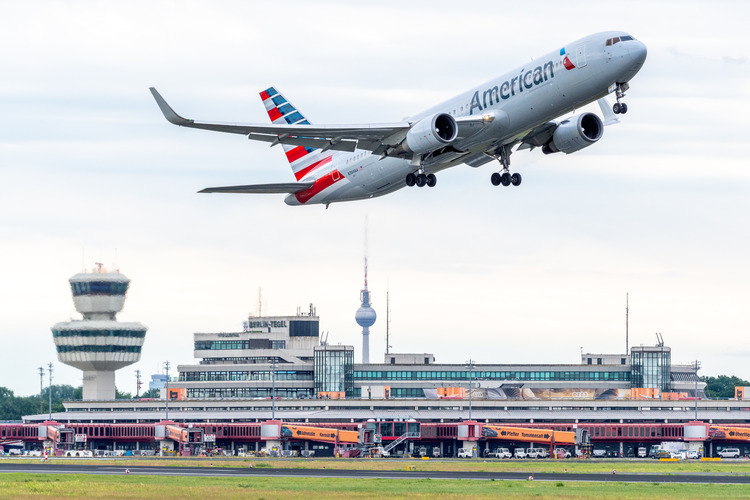 Berlin is now one long-haul flight richer: American Airlines now connects the capital region non-stop to Philadelphia in the USA. Flights will take off four times a week until 28 September 2019. Head to the US East Coast from Berlin-Tegel every Tuesday, Thursday, Saturday and Sunday. The flights take off at 10.10am local time and land in Philadelphia at 1.20pm. Return flights take off every Monday, Wednesday, Friday, and Saturday at 6.05pm and land in Tegel at 8.15am the next day. A Boeing 767-300 is used, which offers 28 Business Class seats and 181 Economy-Class seats.
Prof. Dr.-Ing. Engelbert Lütke Daldrup, Vorsitzender der Geschäftsführung der Flughafen Berlin Brandenburg GmbH:
"Philadelphia is the third North American destination that can be flown to non-stop from Berlin. In 2018 alone, almost 950,000 passengers flew from Berlin to the USA and Canada and back. Guests from North America make up almost ten percent of overnight hotel stays.
With an eye towards BER, American Airlines is today already gaining an important head start: when the new airport starts operations in October 2020, the airline will be able to offer an already established long-haul service there".
Cristian Lizana, Regional Sales Manager Central and Eastern Europe, American Airlines:
"As the world's largest airline we are delighted to launch the new non-stop service from Berlin to Philadelphia. The route will be a welcome addition to the German market as it offers customers a chance to experience the historic city of Philadelphia, as well as opening up a wealth of connections to destinations across American's extensive network in North America, the Caribbean, Latin America and Canada."
Philadelphia hub
As the largest American Airlines hub located in north-eastern USA, travellers from Philadelphia have numerous options for connections: up to four hours after arriving from Berlin, American Airlines offers connecting flights to 60 destinations in the USA and Canada, including Miami, Los Angeles, Boston, Chicago, San Francisco, Orlando, Seattle and Atlanta. In addition, American Airlines is a member of the Oneworld Alliance and cooperates with British Airways, Cathay Pacific, Qantas, and others.
Philadelphia
Philadelphia ranks among one of the most economically strong metropolitan areas in the USA and is also one of the oldest and most important cities in the country. The city is the birthplace of the USA – in 1776, the declaration of independence was adopted and the constitution of the United States of America was enacted here in 1787. In 2015, the city was designated a World Heritage Site.
Long-haul from Berlin
With Philadelphia, the capital region gains a new long-haul destination. With this, the capital region now has a total of eight long-haul flights to seven destinations in North America and Asia. The connections to Toronto and New York were expanded this summer – Air Canada Rouge takes off to Canada up to six times per week and Delta Air Lines flies daily from Berlin to New York JFK until the end of the summer flight schedule. United Airlines also connects the capital region daily to New York EWR all year round. The Berlin-Singapore route, which was taken over by Scoot in 2018, has successfully been established and is offered four times per week. Since 2008, Hainan Airlines has connected Berlin with the Chinese capital Beijing – currently five times per week. Already since 2005, Berlin has been connected to Doha in Qatar by Qatar Airways, currently using a Boeing 777, with the frequency of this route being continuously expanded. MIAT Mongolian Airlines has been flying non-stop to Ulaanbaatar in Mongolia via Moscow since 1996, which is currently up to three times a week.