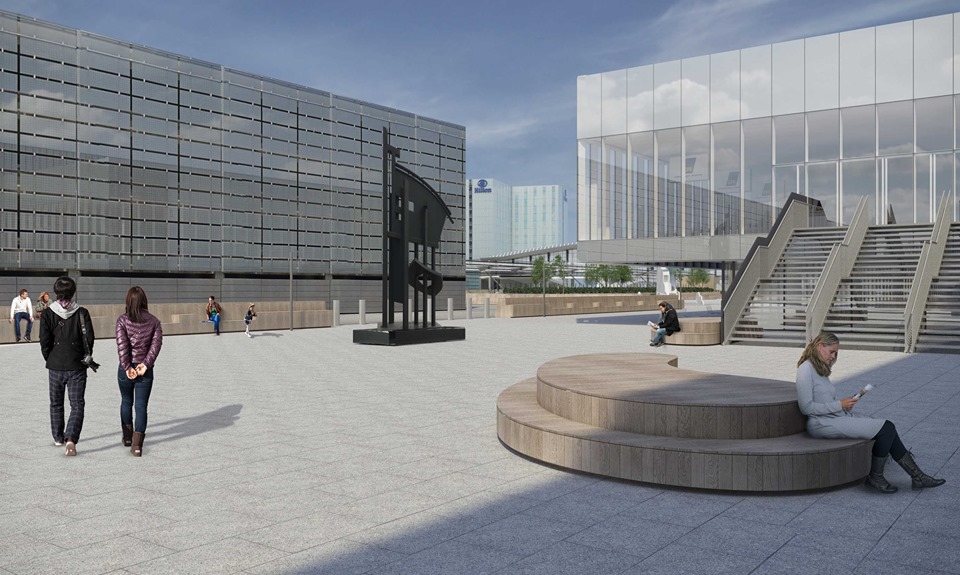 Around 250 guests from the airlines, the police department, the political establishment, the construction industry, the cultural scene and the airport were in attendance when the decade's largest construction project in Copenhagen Airport was today inaugurated with the traditional cutting of the ribbon by HRH Crown Prince Frederik.
CEO Thomas Woldbye cordially thanks the Crown Prince for attending the opening of the new terminal building.
"It is actually a tradition that there is Royal attendance at the very large-scale building events here at the airport. King Frederik IX inaugurated Terminal 2 in 1960. A somewhat younger HRH Crown Prince Frederik inaugurated Terminal 3 in 1998. And now it is time to inaugurate this, we think, very beautiful, Nordic and functional terminal building," says Thomas Woldbye and explains:
"With Pier E, we achieve a crucial milestone in the work of creating a sustainable airport of tomorrow for the benefit of Denmark. Worldwide, in the coming decades, we are anticipating an increase in the number of passengers. It is therefore our task as an airport to create room for foreign businessmen, tourists and students who come to Denmark – and so that we can travel the world ourselves," says Thomas Woldbye.
He emphasises that future growth must be considered in line with ambitious targets in regard to climate and environment. For example, the airport itself is certified with a CO2 offsetting programme and is carbon-neutral as of this year.
"With the green conversion, the airport is working toward less noise and emissions. Our own goal is to be completely free of CO2 emissions by 2030 and to cooperate with the airlines to reduce the aircrafts' emissions by 30 percent. That is why we need research and innovations in the coming decades," says Thomas Woldbye.
Growth and climate go hand in hand
At the inauguration, there were also among others speeches by Frank Jensen, Lord Mayor of Copenhagen.
"Copenhagen Airport is pivotal not just to the Copenhagen area and southern Sweden, but to Denmark as a whole. As a small country, we depend on good connections between Denmark and the rest of the world – and that includes flight connections," says Lord Mayor of Copenhagen Frank Jensen, who simultaneously reaffirmed that Copenhagen Airport viewed growth and climate targets as two sides of the same coin.
"Through offsets, Copenhagen Airport as a company will be carbon-neutral already this year. This is a good step. The aim to be completely free from Co2 emissions by 2030 is an ambitious target. One that we look forward to working together towards," says Frank Jensen.
Architect and TV host Ane Cortzen was also one of the speakers for the opening. She talked about airports and architecture.
"There are plenty of examples of airports around where you have chosen robust but tacky materials. Places where you can't get away quickly enough. Spaces where all requirements are met, but the soul cannot find rest. But here Copenhagen Airports rise above – as they have always done – and set completely new standards for the quality of spaces," states Ane Cortzen.
Denmarks biggest glassmosaic
The artwork in the new terminal building is the creation of one of the country's most renowned young artists. Alexander Tovborgs piece "Sfinks og natur" (Sphinx and Nature) is an impressive 22 x 6 metre glass mosaic created as a windowpane in the new passport control, which forms part of the new Pier E building.
"I asked myself which animal best correlated with an airport. The answer was the Sphinx. So many questions: Did I remember my passport? When does my flight take off and from which gate? I wanted to draw a parallel to a fable that all people can relate to. Half animal and half human, half woman and half man. The Sphinx is anchored in European culture and originated in ancient Assyria and Egypt. That makes it a symbol that joins cultures together," says Alexander Tovborg about the piece.
Travellers can view the piece when Pier E goes operational on June 6. The first arrival will be an SAS flight at 10:30.
Facts about Pier E
On June 4, the first stage of Pier E will open with eight gates, a new passport control, spacious and bright passenger areas and a new office building, which will house the police officers, technical staff and equipment, etc.
In 2020, a further 8,000 sqm will open with three new flexible bus gates and two new contact gates for large flights travelling long distances.
All in all, Copenhagen Airport is investing just short of DKK 2 billion in the construction of Pier E.
Today, there are direct routes from Copenhagen to 180 destinations, of which 40 are destinations outside of Europe.
Pier E is also crucial for the airport to commence the next, even bigger construction project: an 80,000 sqm expansion of the terminals between Gates B and C.
Five bus gates can now be moved from the far end of the terminal by Pier C to the new Pier E. This frees up the space for the next terminal construction project and a significant expansion of the baggage reclaim area. The baggage reclaim area will be more than twice its current size.