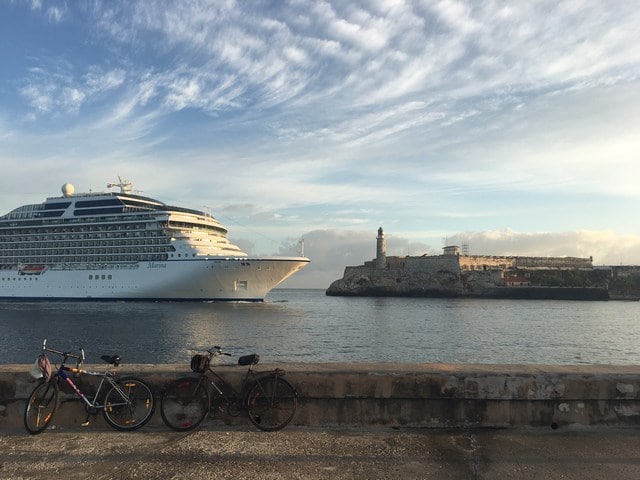 Oceania Cruises, the world's leading culinary- and destination-focused cruise line revealed the many exciting enhancements that were recently completed during the Riviera's dry-dock in Marseille, France as part of the brand's OceaniaNEXT program. Similar enhancements will be carried out on Riviera's sister-ship Marina, in May 2020.
"With the evolution of OceaniaNEXT, this was a great opportunity to not just enhance the guest experience aboard Riviera, but to elevate it through the addition of surprising new elements," stated Bob Binder, President & CEO of Oceania Cruises.
The most dramatic change is the all-new coffee bar area and addition of a tony new lounge with sweeping sea views on Deck 14. Resplendent in silvery-grey and sea greens punctuated with bold accents of gold and high-gloss ebony and white marble, the new Bar Istas lounge is the perfect place to relax in quietude or enjoy lively conversation over a bespoke illy coffee creation. There is even a brand new gleaming silver Victoria Arduino espresso machine – the reputed "Rolls Royce of Coffee".
Riviera's 200 Concierge and 244 Veranda staterooms along with the 124 Penthouse Suites radiate a stylish new air inspired by the better-than-new Insignia and Sirena. Retaining the warmth and charm they're renowned for, the lustrous wenge walnut paneling and upholstered headboards are now offset with tones of Espresso, Caramel, and Ivory in the new carpeting and fabrics.
The proverbial jewel in the crown of the re-mastering are the three next-generation Owner's Suites furnished exclusively with the Ralph Lauren Home Collection. Guests now enter through the breathtaking foyer with a limestone and black cabochon inset floor, walls of inset Georgian wood paneling, and a mahogany and quartzite bar. Spacious and airy, this grand room features dramatic sea-views from floor-to-ceiling windows dressed with Ralph Lauren Home Grimaldi-weave sail fabric, along with a self- playing ebony piano that provides the perfect interlude for in-suite entertaining.
The elegant living room is anchored by a new deep-navy sectional accented with saddle-suede and accompanied by a mahogany Lounge Moderne chair upholstered in navy and white Super-Yacht Stripe. The centerpiece of the dining room is the Mayfair dining table with a new Barrett Knurled chandelier overhead.
The master suite, which is an entire retreat unto itself, has taken on an entirely new persona with a new Cote D'Azure king-size bed, elegant Mayfair Bergere side chairs upholstered in Sutton Suede Doe, and dramatic nickel-trimmed lighting accents.
Finally, the wraparound teak verandas feature stylish pieces that were custom-crafted by Ralph Lauren Home for Oceania Cruises.
Designed by Los Angeles based Trevor R. Howells Interior Design, the Owner's Suites reflect Ralph Lauren's appreciation for sailing, Hollywood glamour and timeless, classical beauty.