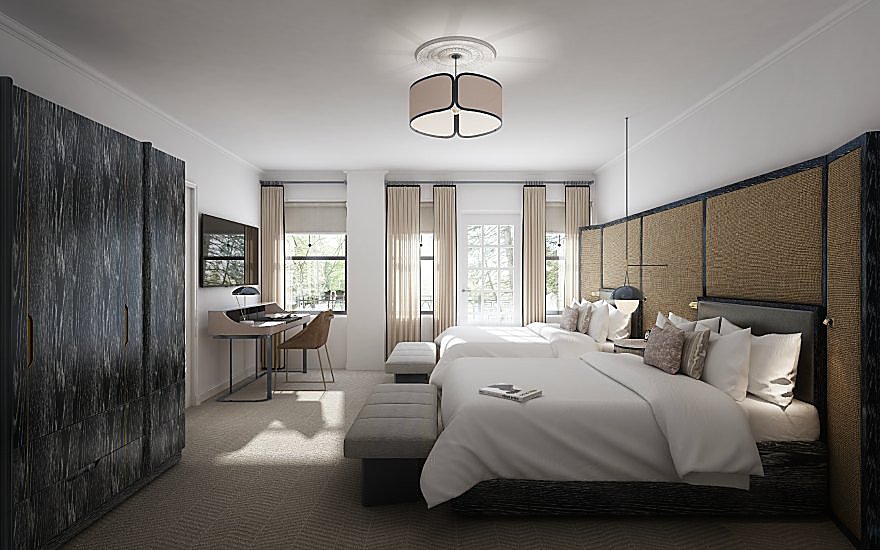 Kimpton Hotels & Restaurants announced today its first property in Nebraska, a complete rehabilitation of the historic Blackstone Hotel and former office building. The project is scheduled to open in the spring of 2020.
Located in the popular and vibrant Blackstone District of Omaha near several iconic American companies, including Berkshire Hathaway, Mutual of Omaha, Ameritrade, and the Kiewit Corporation as well as the University of Nebraska Medical Center, the century-old property will feature 205 guestrooms, a steakhouse and the reimagined celebrated Cottonwood Room bar. A swimming pool in a resort-style setting and almost 11,000 square feet of meeting space including the restored famed rooftop Grand Ballroom round out the project.
In collaboration with two prominent Omaha developers, Clarity Development Company and GreenSlate Development, Kimpton will help to create a world-class hotel that embraces its place in the community and the history of Omaha.
"We're very excited to join forces with Kimpton in bringing one of the most important buildings in the state back to life," said Tom McLeay, President of Clarity Development. "We feel privileged to have this opportunity to renew a treasured Omaha landmark that has meant so much to our community, and at the same time offer a unique experience and product to the Kimpton traveler that showcases the best of Omaha."
Built in 1916 in the heart of the city, the building is rich with history. One of the earliest structures in Nebraska listed on the National Register of Historical Places, it was once the premier hotel for travelers going between Chicago and San Francisco. Richard Nixon announced his presidential run from the Grand Ballroom in 1967 and in its heyday, the Orleans Room was the most famous restaurant in the city, as well as the birthplace of the Reuben sandwich.
"We're thrilled to expand our portfolio in the Midwest with this iconic property," said Mike DeFrino, Chief Executive Officer at Kimpton Hotels & Restaurants. "Adding Omaha alongside other Kimpton cities like Chicago and Milwaukee strengthens our presence across this part of the country and is key to our continued growth. Clarity Development and GreenSlate Development are like-minded partners who will help bring Kimpton to one of Omaha's most desired neighborhoods."
Leo A Daly and DLR Group will lead the architecture and interior design process in partnership with Kimpton's design team, Global Senior Vice President of Design Ave Bradley and Design Director Jennifer Porterfield.
The Kimpton Omaha property is owned by the principals of Clarity and GreenSlate and their local investment partners, and will be managed by Pivot Hotels & Resorts, the lifestyle and luxury operating division of Davidson Hotels & Resorts.