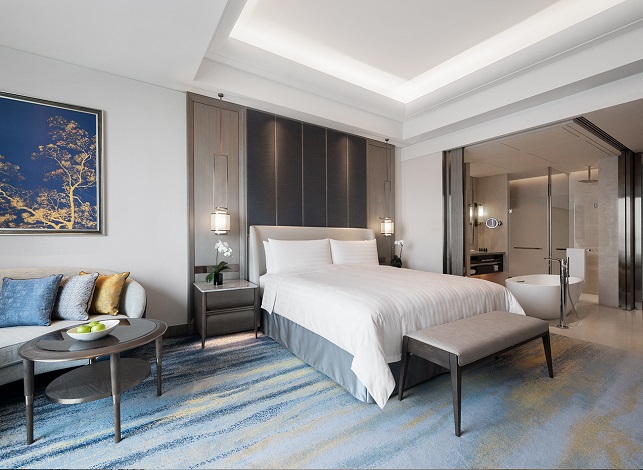 Shangri-La Group today announced that Shangri-La Hotel, Suzhou Yuanqu is set to open on 1 June 2019. This makes it the second hotel in Suzhou, China for the luxury Asian hospitality group. The first Suzhou hotel, Shangri-La Hotel, Suzhou, was opened in 2007 and is also located in the city's core business district.
Shangri-La Hotel, Suzhou Yuanqu is now accepting room reservations and restaurant, catering and event bookings. Guests who booked under the flexible rate from 1 June to 31 October 2019 can enjoy a sumptuous breakfast buffet for only CNY1 (USD0.15). Golden Circle members can earn double GC Award Points for each room booking.
ocated in the new central business district of the vibrant Suzhou Industrial Park (SIP), Shangri-La Hotel, Suzhou Yuanqu is part of GCL Plaza, an integrated commercial complex that comprises an international office tower, a high-end residence and a four-storey retail space. The hotel is within walking distance of the Jinji Lake scenic area, Suzhou International Expo Centre, Suzhou Culture and Arts Centre, as well as to the city subway station making it an easy connection hub to major local attractions. It takes 10 minutes and 20 minutes, respectively, by car from the hotel to SIP railway station and the Beijing–Shanghai/Nanjing–Shanghai expressway leading to Shanghai Pudong International Airport, Shanghai Hongqiao International Airport and Sunan Shuofang International Airport.
Shangri-La Hotel, Suzhou Yuanqu has 303 guestrooms and suites, and 16 serviced apartments. The hotel offers impressive views of Jinji Lake and the city is perfectly framed by the floor-to-ceiling windows in the spacious guest rooms which start from 48 square metres, making them some of the largest among luxury hotels in the city.
The hotel has two distinctive dining choices, a regional Chinese cuisine flavours restaurant Shang Garden and an all-day dining Café Hong. The Sip Lounge will offer an extensive selection of tea, cocktails and wines, and live entertainment.
The addition of Shangri-La Hotel, Suzhou Yuanqu will help to boost the city's total event space. There are two pillar-less ballrooms at 1,000 and 384 square metres, seven multi-function spaces and a boardroom equipped with advanced lighting, audio and video systems.
The Health Club and Spa on Level 7 provides 24-hour gym, 25-metre indoor temperature-controlled swimming pool, jacuzzi, sauna, steam bath and spa for body and mind rejuvenation.