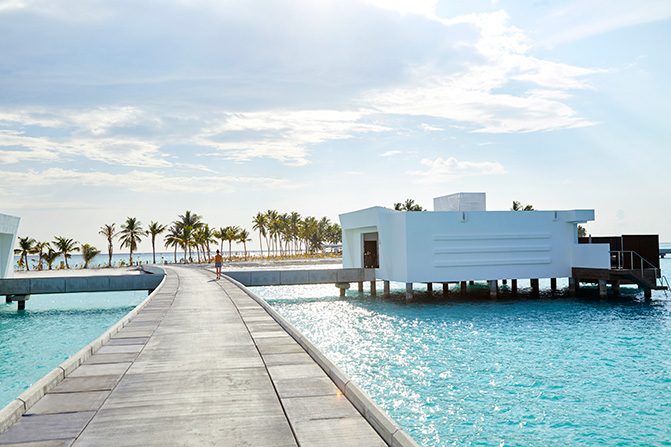 Luis Riu, CEO of the company, explains that "this is a great moment for the chain, because we have been working towards opening a hotel in the Maldives for over seven years. To open two hotels at the same time, having overcome an exciting technical and logistical challenge due to their geographic location is, for me, a dream come true on both a personal and a professional level."
In this project, the company left nothing to chance. The process entailed hard work which began in early 2017 and it has taken more than two years to create these two all-inclusive resorts. The two hotels, on two separate islands, are linked by an impressive 800-metre walkway over the water. The 72 suites over the water of the Riu Palace Maldivas are located both sides of this walkway.
Riu Atoll is on the private island of Maafushi. This 4-star Riu Classic hotel has 264 rooms, 36 of which are over the water. The hotel has a main restaurant, the "Dhoni"; an Italian restaurant, "Sophia" and a steak house, "Beef Steak House". It also has a 24-hour Sports Bar, the salon bar "Bodeberu" and the swim-up bar "Tequila". In addition, Riu Atoll offers a pool, a children's play area and the RiuLand kids' club.
Riu Palace Maldivas is on the neighbouring island Kedhigandu, which is also private. This 5-star resort has 176 rooms. In terms of cuisine, guests at Riu Palace Maldivas can enjoy the bars and restaurants at Riu Atoll and, in addition, they have exclusive access to the main restaurant "Palm", which has a terrace, the fusion restaurant "Krystal" and the Japanese restaurant "Yu Hi". It also offers guests the "Paradise" bar located in an infinity pool and a chill-out zone. This resort offers premium drinks throughout the hotel and room service.
The hotels' internal décor respects the surroundings in which they are located, opting for warm materials like wood and adding some glass elements to give a sense of space and to make the most of this destination's light and weather. They also include a multitude of open spaces that really showcase the spectacular views you get from anywhere on the island. The suites and rooms are characterised by light hues of sand and aquamarine that evoke the sea, but also the unique sunrises and sunsets that can be seen in this remote and incredible holiday destination.
The complex has a jetty, a wellness centre offering various beauty treatments, as well as a free gym and steam room. The excellent location on two deserted paradise islands offers guests long, dreamlike beaches where they can enjoy their holidays, as well as water activities in which they can discover the stunning sea bed around the Maldives.