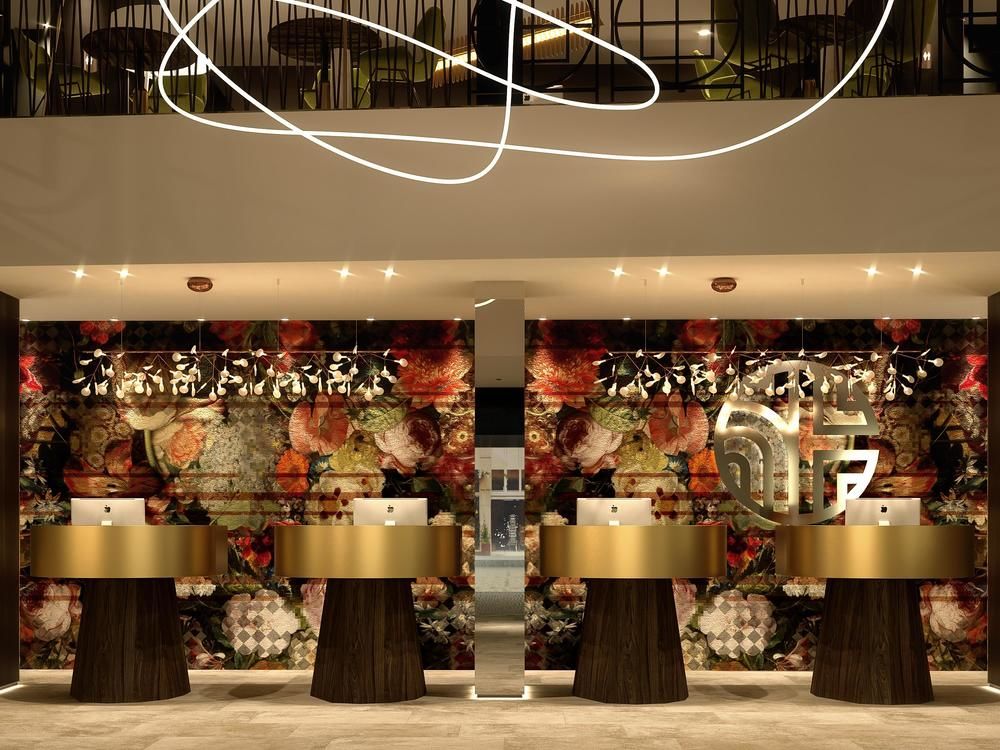 NH Carlton Amsterdam is history as NH Hotel Group welcomes with NH Collection Amsterdam Flower Market the fifth member to its premium NH Collection brand in the Netherlands. The 233 rooms of the 4-star superior hotel are situated in a distinctive building from the 1920s and located in the historic city centre of Amsterdam. The Spanish interior and architecture studio TBC Interiorismo collaborates for the ninth time with NH Hotel Group after creating the interior of NH Collection Berlin Friedrichstraße and NH Collection Gran Via in Madrid, and there are more interior design projects in the pipeline: For example, NH Collection München Bavaria, which will open in August 2019.
"NH Carlton Amsterdam was a well-known hotel with a rich history dating back to the Olympic Games in 1928. We decided that this unique hotel would be the perfect addition to the NH Collection properties in Amsterdam after an extensive renovation", says Maarten Markus, Managing Director Northern Europe of NH Hotel Group. "NH Collection Amsterdam Flower Market is a fascinating building, located between channels and plazas, right next to the Flower Market. With its signature elegant yet contemporary touch it will continue to attract leisure guests as well as business travelers that look for the extraordinary NH Collection experience", adds Markus.
Interior Design adds elegant texture
The interior design is inspired by the industrial and cosmopolitan atmosphere of the city, its lively Flower Market and the colorful flower fields outside of Amsterdam. Madrid-based interior designer Mercedes Isasa from TBC Interiorismo, an experienced NH Collection brand designer, explains the conceptualization process: "The design brings the city inside the hotel, starting off the nearby floral atmosphere that invades all public areas. We use textures and materials with big scale floral printings, to magnify, creating interesting design elements. Moreover, we make use of Moooi's design, a Dutch landmark firm in contemporary design, which products are exhibited in every design forum worldwide. An example is the flowery mural behind the reception. The tapestry is a design of Marcel Wanders, cofounder of the firm with Casper Vissers, and has given a new twist on the traditional Dutch still life flower paintings".
Expansion of NH Collection portfolio worldwide
For NH Hotel Group's Chief Marketing Officer, Isidoro Martínez de la Escalera, the newest NH Collection hotel in Benelux confirms the long-term strategy of investing in the upper-upscale segment: "With the NH Collection brand, we reinforce our leadership in strategic important destinations such as Amsterdam, Munich and New York. We recently signed an agreement for another property in Rome, NH Collection Fori Imperiali, which will be our 13th hotel under our premium brand in Italy. Our new NH Collection Amsterdam Flower Market highlights the unstoppable growth of the NH Collection brand further in the Netherlands and Europe, considering our upcoming openings in Germany and Belgium in Q 3 this year".
Currently, the Company operates 80 NH Collection hotels in 15 different countries, placed in strategic locations in key cities of Europe and Latin America. With the opening of this new NH Collection hotel, the Group consolidates its commitment to its upper-upscale brand in the city of Amsterdam. NH Collection Amsterdam Flower Market will be the fourth NH Collection in Amsterdam, a great addition to an already impressive portfolio consisting of NH Collection Doelen right at the Amstel River, NH Collection Barbizon Palace next to the central train station and NH Collection Grand Hotel Krasnapolsky on Dam Square overlooking the Royal Palace.
In 2019, more destinations will be added to the portfolio: the first NH Collection hotel in Antwerp, Belgium, named NH Collection Antwerp Centre, the refurbished NH Collection München Bavaria in Southern Germany; and NH Collection Roma Fori Imperiali in the historical heart of the Eternal City.
Gastronomy with an urban twist: Ter Marsch & Co as renowned partner for food and beverages
Phenomenal, healthy and creative gastronomy is one of the NH Collection brand's hallmarks. Combined with a food offering based on ingredients and dishes inspired by the local cuisine, guests can relish an incomparable culinary experience, while discovering their destination of choice through their palates, without having to leave the hotel. From a warm welcome with sweets and refreshing drinks to the world famous NH Collection breakfast, in-room dining service 24/7 and take-away food possibility when needed. All adapted to international tastes married with local delights, while covering special dietary or cultural needs, when necessary.
After a successful pop-up restaurant collaboration in NH Carlton Amsterdam, NH Collection Amsterdam Flower Market is partnering up with Ter Marsch & Co for its NH Collection premium gastronomy offer. The restaurant on the ground floor with a view on the Bloemenmarkt is independently operated. Ter Marsch will launch a popular bar and grill specialized in serving delicious award winning hamburgers and fine drinks in a trendy setting with jaw dropping interior. It shows colorful mosaic pillars, floral artworks, a marble bar, corners that hides a unique charming feel, wooden accents and an a fully open kitchen.