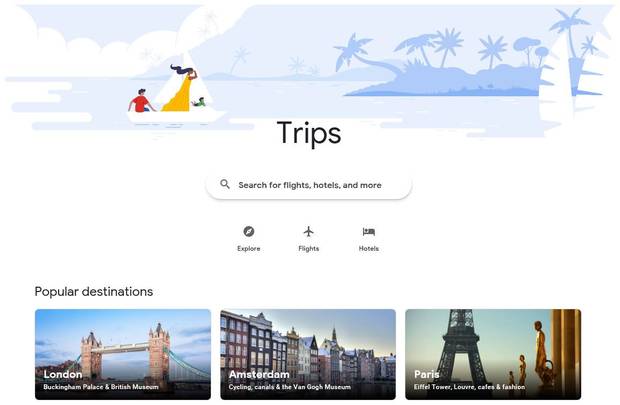 Google has just announced a new way to plan everything related to travel. This is via the new platform from Google called Google Trips which can be accessed by Google.com/travel.
Google has announced that it will have tight integration on Google Trips with its Search, Maps and Trips services.
As you plan a trip, your research and reservations will be organized for you in Trips. This is a concept which has never been seen before and Google is not copying any platform.
One place for all of your trip details
"Last year, we started adding your trip reservations for things like hotels and flights to a trip timeline for your upcoming trips, when you're signed into your Google account and you've received a confirmation in Gmail. When you go to google.com/travel, you can now make edits directly to your trips timeline, and in a few weeks you'll be able to manually add new reservations as well.
Whether you're packing your bags or finalizing your travel dates, the weather is an important part of every trip. You'll now see the weather for any upcoming or potential trips at google.com/travel—so you can make sure you're prepared, rain or shine", Richard Holden, the company's VP for Product Management, Travel, said in a blog post this week.
Keep track of research and keep planning
It often takes days or weeks to plan a trip. When you need to pick up planning again, Google Trips will keep track of your trip research across Google. Recent searches, saved places and flights you're tracking are added automatically to your trips when you're signed into your Google Account.
Continue planning on-the-go
When you're on-the-go or visiting a new place, Google will do more to highlight things to do, restaurants and more with Google Maps.
And in the next few months, your trips—including reservations for things like hotels and restaurants—will be accessible in Google Maps, too.
"Our goal is to simplify trip planning by helping you quickly find the most useful information and pick up where you left off on any device. We'll continue to make planning and taking trips easier with Google Maps, Google Search and google.com/travel—so you can get out and enjoy the world,"said Holden.
Source: www.blog.google