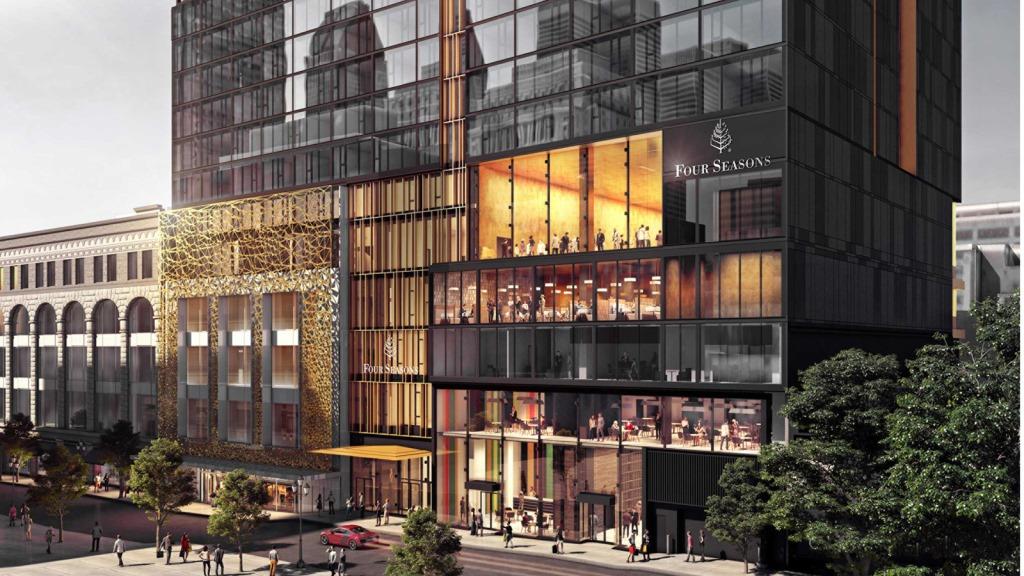 The highly anticipated Four Seasons Hotel and Private Residences Montreal, which is also home to MARCUS, the first Canadian outpost of renowned celebrity chef Marcus Samuelsson, is now open.
Built around the "Social Square" that brings together both locals and visitors to the heart of the Golden Square Mile in one multi-faceted space, Four Seasons is much more than a hotel, encompassing a lively dining and drinking experience, a spa and wellness sanctuary, the city's newest venue for top level business meetings and glittering social galas, and within the same building, an exclusive community of Private Residences, all just steps away from the city's best shops, galleries, restaurants and museums.
"The joie de vivre of Montreal is unlike any city in North America. We've captured this incredible spirit and infused it into every aspect of this stunning new property," says Christian Clerc, President, Worldwide Hotel Operations, Four Seasons Hotels and Resorts. "Everything has been designed to set the stage for connecting people, community and culture; and to showcase the very best of Four Seasons through world-class design, culinary experiences and personalised service."
The Hotel's General Manager Gonçalo Monteiro leads a team of more than 200 hand-picked staff who are dedicated to providing world-renowned signature Four Seasons service. "Ultimately this place belongs to Montrealers; we want to create a space where locals and international visitors can connect and interact. We've created a unique eco-system where visitors are surprised at every turn, that encourages social engagement, sets the stage for unexpected encounters and where unique moments and memories are created."
Be Among the First to Experience the Four Seasons Lifestyle in the Golden Square Mile: Four Seasons Hotel Montreal is currently presenting an Introductory Offer that extends 20 percent savings on the regular room rate, along with other attractive packages designed to introduce the Hotel. For reservations, call 1 800 819 5053 or book online.
Destination: Montreal
Montreal is a city of poets, visionaries, innovators, dreamers and builders, regarded as one of the world's great capitals of style, culture and lifestyle. The city also hosts an array of international events including the Formula 1 Grand Prix, the internationally renowned Festival International de Jazz de Montreal and the always popular Just for Laughs Festival, the Osheaga Festival Musique et Arts and the Rogers Cup tennis tournament, all happening this summer.
"Four Seasons Hotel Montreal is an important and prestigious addition to the destination that elevates Montreal and sets it apart as a world-class city. Plus, we are counting on this hotel to add to our value proposition on the luxury market," says President of Tourisme Montreal Yves Lalumière.
Design: Sensual Style
The Social Square: The focal point of Four Seasons Hotel Montreal is its Social Square, a sprawling space on the third floor that encompasses the Hotel's lobby and signature dining and drinking experience, MARCUS by Chef Marcus Samuelsson. The Social Square is a series of spaces that includes a restaurant, terrace, day bar, night bar and lounge, each with its unique design, musical selection and atmosphere, designed by Montreal renowned Atelier Zébulon Perron to inspire connections. Within the city's luxury ecosystem, the Social Square at Four Seasons also offers a direct connection to high end department store Holt Renfrew Ogilvy, where guests can seamlessly marry a day of shopping with lunch or dinner or drinks at MARCUS.
Art and Architecture: The new building, swathed in black with metallic ribbons was designed by Lemay and Sid Lee Architecture. Hotel interiors including guest rooms, spa, Palais des Possibles ballroom and public areas are designed by Paris-based firm Gilles & Boissier in collaboration with Montreal-based architect and designer Philip Hazan.
Interiors are enhanced by a carefully curated collection of works by local and international artists, including Pascale Girardin's floral-inspired installation cascading down the building's open-air atrium and showcasing nature in the heart of the architecture, providing a unique perspective for guests and residents alike. Original artworks grace all guest rooms and public areas, highlighted by a conversation-igniting collection of vintage photographs of well-known Montrealers and other celebrities displayed throughout MARCUS restaurant and lounge.
The artistic experience surrounds the building, with both the ballroom terrace and the year-round outdoor terrace at MARCUS overlooking the giant, much-photographed mural of one of the city's most beloved sons, Leonard Cohen.
MARCUS by Celebrity Chef Marcus Samuelsson: A Canadian First
The Canadian debut of the renowned celebrity chef is a modern brasserie that combines Marcus Samuelsson's signature approach to the dining experience with fresh inspiration from the city's markets, port, surrounding forests and farmland. MARCUS restaurant and its terrace are open daily for breakfast, lunch and dinner. Local seafood – including daily catches from Quebec's surrounding waters – takes centre stage through myriad preparations. The heated terrace overlooking the city's bustling streets and wrapped in panoramic views is a delightful choice year round.
"Montreal's sophisticated and worldly sensibility is one that I've long been attracted to," says Chef Samuelsson. "Its global dynamic and European flair closely relate to my own journey. I'm excited to bring my flavours and vision to this incredible culinary culture."
As day transforms into night, the MARCUS lounge and bar become the see-and-be-seen centre of the Social Square with a lively soundtrack curated by Samuelsson himself, including live musicians, bands and DJs every evening. Designed by Bellosound, expect to hear emerging avant-garde artists and rich electronic sound textures reflective of the city's sophisticated, international style.