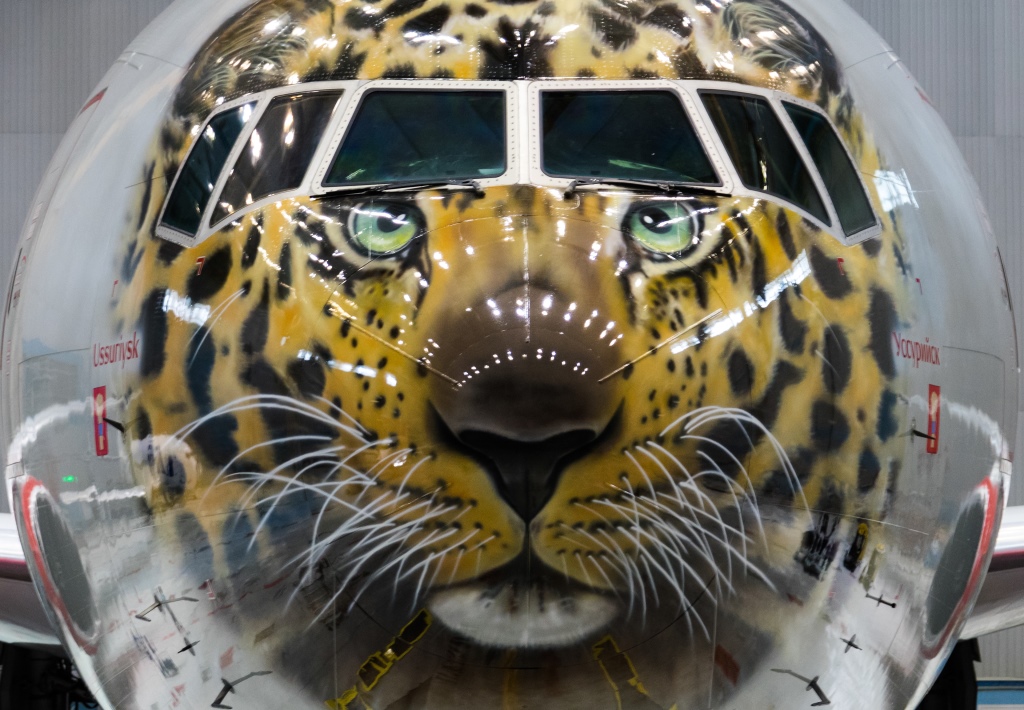 Rossiya Airlines and the autonomous non-profit organization Far Eastern Leopards celebrated the 2nd anniversary of Leolet with the opening of a grand exhibition dedicated to the preservation of а rare animal species in Vladivostok.
Rossiya Airlines' aircraft that turned 2 years old – visited the air harbor of Primorye. Leolet is the joint project of the autonomous non-profit organization Far Eastern Leopards and Rossiya Airlines, which was presented within the framework of the Year of Ecology in the Russian Federation in 2017. The spotted aircraft operated its first flight on March 2, 2017 on the route from Moscow to Vladivostok.
Today, Rossiya's Leolet accomplished more than 900 flights and visited Sochi, Simferopol, Krasnoyarsk, Yuzhno-Sakhalinsk, Petropavlovsk-Kamchatsky, Khabarovsk, Magadan, Saint Petersburg, Antalya, Larnaca and many others. Leopard livery that catches lots of attention, is a bright and effective way of attracting public attention to the issue of the preservation of rare species of wild animals. Each appearance of Leolet in the sky during take offs or landings is a new reminder that we are not alone and are able to help and protect graceful predators together.
The holiday of Leolet continued in the terminal of the airport – a photo exhibition dedicated to the Far Eastern leopard was opened at the terminal. The large-scale exposition will allow passengers to become acquainted with the leopard, to see his photos taken in the wild nature, as well as to learn about the work being done in our country to preserve the rare animal species.
With the efforts of Autonomous Non-profit Organization Far Eastern Leopards and Federal State Budgetary Institute Land of the Leopard, the population of leopards in Russia has increased. According to the photo monitoring of 2018, 94 adult individuals of the Far Eastern leopard and 22 kittens are recorded in the territories of the state institution Land of the Leopard. The analysis of the obtained data demonstrates that the number of females has significantly increased – this confirms the previously observed steady growth trend of the population.
All guests and citizens of Vladivostok have an opportunity to become visitors of the exhibition – the photo exposition is located in the centre of the terminal complex during several weeks.