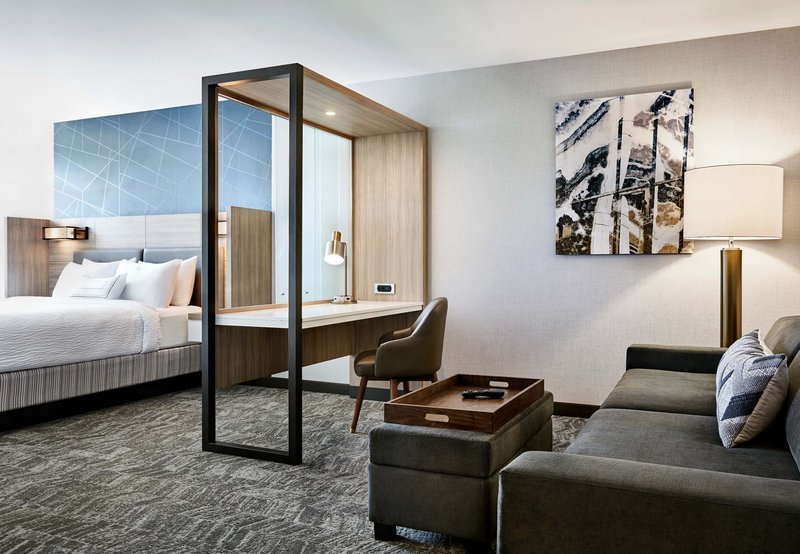 Marriott International announced that the SpringHill Suites by Marriott in Wauwatosa, Wisconsin is set to open today. The 119-suite hotel, located at 10411 West Watertown Plank Road, will operate as a Marriott franchise, managed by Aimbridge Hospitality of Plano, Texas. General Manager Adam DeLude and Director of Sales Sarah Colon-Rivera lead the management team at the property for Aimbridge Hospitality.
The SpringHill Suites Milwaukee West/Wauwatosa is located 15 miles from General Mitchell International Airport, and 15 minutes from downtown Milwaukee. The all-suite hotel offers guests convenient access to Milwaukee County Research Park, Miller Park – home of the Milwaukee Brewers and Milwaukee Regional Medical Center.
"As a brand opening a new hotel every 10 days on average, we are delighted that the SpringHill Suites Milwaukee West/Wauwatosa is the latest addition to our growing number of properties across the United States and Canada," Janis Milham, senior vice president and global brand leader, Classic Select Brands. "Our all-suite offering, and convenient amenities offer guests a little extra to help them enjoy their stay. Whether traveling for business or pleasure, we understand that guests want to connect to the local area. We make it our business to help them do that by offering our local expertise, and bringing the community into the hotel through our 24/7 market and at our Art of Local events."
Ideal for business and leisure travelers alike, the new hotel offers a little extra space with suites larger than a typical hotel room. Separate living, working and sleeping spaces provide guests with flexibility and functionality. The hotel offers comfortable beds, soft linens and plush pillows to allow for an optimum night's sleep. Each suite also features the SpringHill Suites' custom, three-in-one, West Elm sofa which converts from a sofa to a daybed to a trundle bed – without sacrificing its stylish good looks and a stylish West Elm Swivel Chair offering additional space for relaxation. The designated work space offers a well-lit desk space to ensure maximum productivity for those who need to get down to business.
From the guest rooms to the lobby every aspect of design, from furniture and lighting, to colors and fabrics; has been carefully selected to offer calm and refreshing spaces to allow guests to relax and recharge. Featuring a brand new design that adds depth and sophistication to the décor, the hotel's lobby is a great venue for conducting casual meetings or simply to socialize with SpringHill Suites' enhanced evening experience.
The daily complimentary breakfast is filled with hot, healthy and indulgent choices including fresh strawberries, steel cut oatmeal, cold cuts, cheeses and much more. This is SpringHill Suites' way of making sure guests have a good start to their day. The hotel also provides business services, complimentary Wi-Fi, same-day dry cleaning, guest laundry facilities, a 24/7 Market, a fitness center and 1,200 square feet of functional meeting space to accommodate functions of up to 50 people.