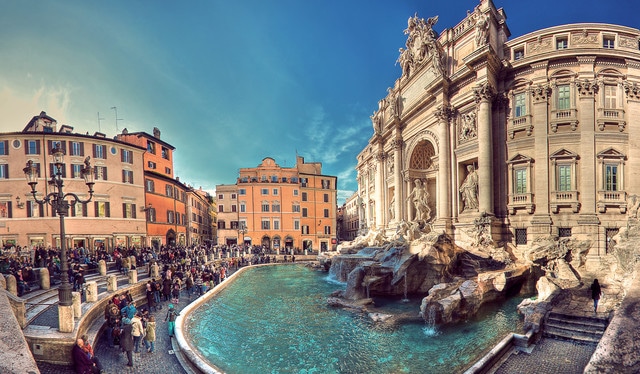 Trevi Fountain
Located in the midst of one of the most important archaeological sites in the world, the new NH Collection Fori Imperiali is due to open its doors in Rome during the third quarter of 2019. It will be operated by NH Hotel Group under a lease regime.
The agreement reached with the owner of the historical palace in which the hotel is located, will allow NH Hotel Group to fortify its benchmark position in the city's centre, where it will boast six establishments, five of which NH Collection hotels.
The new NH Collection Fori Imperiali has 42 rooms (9 of which suites). Most of those rooms, decorated in a contemporary and luxurious style, offer direct views over some of Rome's most prized archaeological and architectural treasures. This boutique hotel features a rooftop bar on a terrace stretching almost 300m2, from which visitors can admire the Roman Forum and the Vittorio Emanuele II Monument, while enjoying a curated range of cocktails and paired bites. The establishment will also offer a bar & breakfast area and an exclusive fitness room.
NH Collection Fori Imperiali, built in a magnificent palazzo decorated in nineteenth-century style, has been infused with the hallmark elegance and sophistication of the NH Collection range, which strives to provide guests with unique and memorable experiences. Thanks to this intimate and cosy hotel's strategic location, guests can venture out to enjoy the Colosseum, Trevi Fountain, Pantheon, Spanish Steps, Castel Sant'Angelo or the Vatican, all of which are just a short distance away.

NH Collection, unstoppable growth in Italy
This new establishment consolidates the tremendous growth of the NH Collection brand in Italy where the company has opened 12 hotels under this trademark in the last four years, soon to be joined by the NH Collection Fori Imperiali. This opening therefore cements NH Hotel Group's positioning in the upper-upscale segment in the city of Rome, where it also operates the NH Collection Roma Palazzo Cinquecento, NH Collection Roma Centro, NH Collection Roma Giustiniano, NH Collection Roma Vittorio Veneto and the NH Roma Villa Carpegna. Between them, these establishments offer more than 1,000 rooms located in a range of emblematic buildings which retain their local authenticity and are a source of inspiration for guests looking to discover the 'eternal city' from a privileged base.