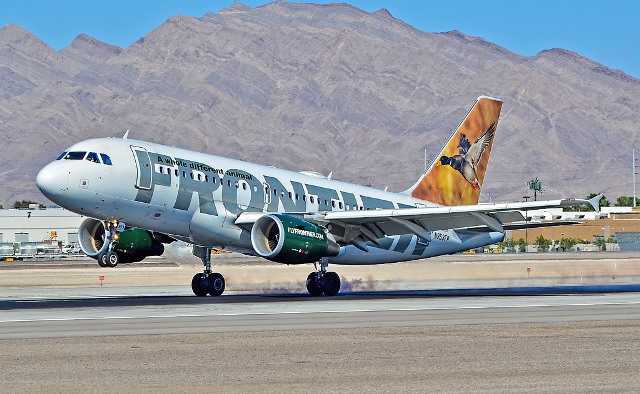 Low-fare carrier Frontier Airlines, is celebrating the start of summer travel season with more than 30 new routes across the country and the return of many great seasonal routes. To celebrate the addition of these new flights, Frontier is offering great sales fares on all the new and returning routes with fares as low as $29*, available now at flyfrontier.com.
"We're excited to offer so many new options for our customers to create unforgettable memories this summer," said Daniel Shurz, Senior Vice President, Commercial for Frontier Airlines. "We continue to make air travel more accessible and affordable for Americans with low fares and improved options such as our reduced change fees and improved Frontier Miles program. We look forward to making it easier for people to fly, and for people to fly more often."
Frontier Airlines is committed to families, and what better way to demonstrate that than helping America's kids fly for free. Children 14 years and younger can now fly free when traveling with an adult through the airline's Discount Den travel club on qualifying flights. With more than 100 destinations to choose from, Frontier is removing the obstacles for families to travel together whether it's for a sunny vacation or a visit to grandma's house. It's easy to take advantage of Kids Fly Free. And the math is easy, too – one kid can fly free for every adult who books at flyfrontier.com. Simply select a flight on a date that is qualified for Kids Fly Free which is easy to find as it's marked with a Kids Fly Free logo beneath the Discount Den price. Additional information about Kids Fly Free is available at https://www.flyfrontier.com/kidsflyfree.
Frontier is focused on more than low fares. The carrier offers customers the ability to customize travel to their needs and budget. For example, customers can purchase options a la carte or in one low-priced bundle called the WORKSsm. This bundle includes refundability, a carry-on bag, a checked bag, the best available seat, waived change fees, and priority boarding.
Service is seasonal, and frequency and times are subject to change, so please check FlyFrontier.com for the most updated schedule.
New Routes and Frequency:
Chicago:
| | | | | | |
| --- | --- | --- | --- | --- | --- |
| ORIGIN | | DESTINATION | ALL IN FARE | SERVICE START | SERVICE FREQUENCY |
| AUS | TO/FROM | ORD | 39 | 30-APRIL-2019 | Tuesday, Thursday, Sunday |
| BFM | TO/FROM | ORD | 39 | 1-MAY-2019 | Wednesday, Saturday |
| BKG | TO/FROM | ORD | 39 | 1-MAY-2019 | Wednesday, Saturday |
| BNA | TO/FROM | ORD | 39 | 2-MAY-2019 | Tuesday, Thursday, Sunday |
Dallas:
| | | | | | |
| --- | --- | --- | --- | --- | --- |
| ORIGIN | | DESTINATION | ALL IN FARE | SERVICE START | SERVICE FREQUENCY |
| BKG | TO/FROM | DFW | 29 | 1-MAY-2019 | Wednesday, Saturday |
Denver:
| | | | | | |
| --- | --- | --- | --- | --- | --- |
| ORIGIN | | DESTINATION | ALL IN FARE | SERVICE START | SERVICE FREQUENCY |
| BFM | TO/FROM | DEN | 49 | 1-MAY-2019 | Monday, Wednesday, Saturday |
| BOS | TO/FROM | DEN | 59 | 30-APR-2019 | Daily |
| BTV | TO/FROM | DEN | 89 | 1-MAY-2019 | Monday, Wednesday, Friday |
Las Vegas:
ORIGIN

DESTINATION

ALL IN FARE

SERVICE START

SERVICE FREQUENCY

DFW

TO/FROM

LAS

29

1-MAY-2019

Monday, Wednesday, Friday, Saturday

IAH

TO/FROM

LAS

39

30-APRIL-2019

Tuesday, Thursday, Sunday

DTW

TO/FROM

LAS

89

30-APRIL-2019

Monday, Tuesday, Wednesday, Thursday, Friday, Sunday

PHL

TO/FROM

LAS

59

30-APRIL-2019

Daily

SAN

TO/FROM

LAS

29

30-APRIL-2019

Monday, Tuesday, Wednesday, Thursday,

Friday, Sunday
Orlando:
| | | | | | |
| --- | --- | --- | --- | --- | --- |
| ORIGIN | | DESTINATION | ALL IN FARE | SERVICE START | SERVICE FREQUENCY |
| BDL | TO/FROM | MCO | 39 | 30-APRIL-2019 | Tuesday, Thursday, Sunday |
| DFW | TO/FROM | MCO | 39 | 1-MAY-2019 | Monday, Wednesday, Friday, Saturday |
| IAH | TO/FROM | MCO | 29 | 30-APRIL-2019 | Tuesday, Thursday, Sunday |
| PUJ | FROM | MCO | 99 | 1-MAY-2019 | Monday, Wednesday, Saturday |
Philadelphia:
| | | | | | |
| --- | --- | --- | --- | --- | --- |
| ORIGIN | | DESTINATION | ALL IN FARE | SERVICE START | SERVICE FREQUENCY |
| ATL | TO/FROM | PHL | 39 | 30-APRIL-2019 | Tuesday, Thursday, Sunday |
| LAS | TO/FROM | PHL | 59 | 30-APRIL-2019 | Daily |
| PNS | TO/FROM | PHL | 39 | 1-MAY-2019 | Monday, Wednesday, Friday |
| RDU | TO/FROM | PHL | 39 | 30-APRIL-2019 | Tuesday, Thursday, Sunday |
Raleigh-Durham:
| | | | | | |
| --- | --- | --- | --- | --- | --- |
| ORIGIN | | DESTINATION | ALL IN FARE | SERVICE START | SERVICE FREQUENCY |
| ALB | TO/FROM | RDU | 29 | 30-APRIL 2019 | Tuesday, Thursday, Sunday |
| BDL | TO/FROM | RDU | 29 | 30-APRIL-2019 | Tuesday, Thursday, Sunday |
| BOS | TO/FROM | RDU | 39 | 1-MAY-2019 | Monday, Wednesday, Friday, Saturday |
| CMH | TO/FROM | RDU | 29 | 30-APRIL-2019 | Tuesday, Thursday, Sunday |
| ISP | TO/FROM | RDU | 29 | 30-APRIL-2019 | Tuesday, Thursday, Sunday |
| JAX | TO/FROM | RDU | 29 | 30-APRIL-2019 | Tuesday, Thursday, Sunday |
| PHL | TO/FROM | RDU | 39 | 30-APRIL-2019 | Tuesday, Thursday, Sunday |
| TPA | TO/FROM | RDU | 29 | 1-MAY-2019 | Monday, Wednesday, Friday, Saturday |
San Francisco:
| | | | | | |
| --- | --- | --- | --- | --- | --- |
| ORIGIN | | DESTINATION | ALL IN FARE | SERVICE START | SERVICE FREQUENCY |
| CLE | TO/FROM | SFO | 59 | 30-APRIL-2019 | Tuesday, Thursday, Sunday |