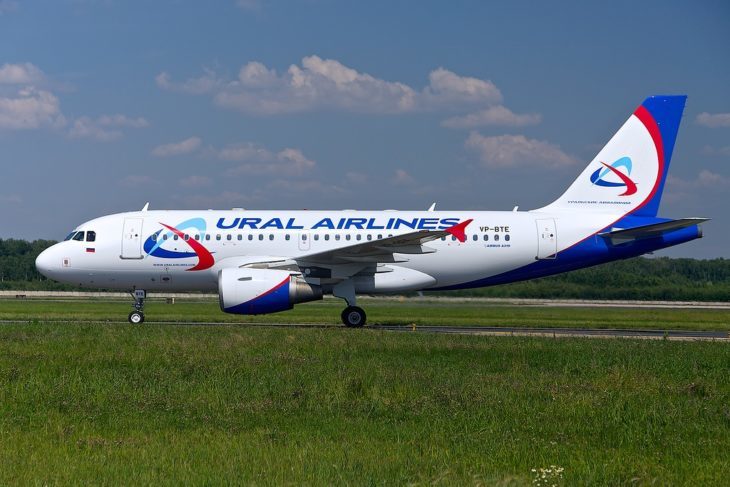 In new summer season URAL AIRLINES offers comfort routes for trips across Russia, CIS and other foreign countries. Most routes remain the same, but the frequency of the most popular ones will increase.
International Flights
This year is a French year in URAL AIRLINES: we open four new flights to this country at once. In summer fly to Broadax and Montpellier from Domodedovo, in April fly to Paris and Nice from Zhukovsky.
The frequency of flights from Ekaterinburg to Prague – one of the most popular destination in Ural region – increased to 6 times per week. In summer season the flights Zhukovsky – Prague and Krasnodar – Prague are also continuing to operate.
Open the land of the rising sun, which beauty and unique culture will amaze even the most sophisticated tastes. Starting from April the frequency of flight to Sapporo increased to three times per week.
in June a new country, India, will appear on our route map. We will launch a new destination Moscow (Domodedovo) – Mumbai. In late April we will launch one more new direct flight from Irkutsk to Beijing.
Except a new flight above, we have many other customary flights to China: to Harbin from Vladivostok, Ekaterinburg, Krasnoyarsk, Novosibirsk; to Beijing from Vladivostok, Ekaterinburg, Irkutsk; to Changchun from Vladivostok; to Ordos from Moscow and Irkutsk; to Hefei from Novosibirsk.
The schedule to Thailand remains the same: to Bangkok from Vladivostok, Ekaterinburg, Novosibirsk, and Irkutsk.
We also have new beach resorts destinations, such as Samara – Tivat, and Rimini from Ekaterinburg, Krasnodar, Rostov-On-Don on Saturdays. And also flights to Rimini from Moscow (Domodedovo). Moreover, we plan to increase the flights frequency to Tel Aviv from Zhukovsky and Sochi.
Our customary international flights remain unchanged: to Venice from Moscow; to Rome and Paris from Zhukovsky and Ekaterinburg; to Barcelona from Moscow, Saint Petersburg and Ekaterinburg; to European sea resorts – Burgas and Heraklion – from Ekaterinburg; to Tivat and Larnaca from Moscow (Domodedovo), including direct flights to Larnaca from Saint Petersburg, Ekaterinburg and Krasnodar.
Flights to CIS Countries
In April we open three new flights from Samara to Tashkent, Baku and Tbilisi.
In a schedule for destination Moscow (Domodedovo) – Kutaisi we have added one more flight (third one) on Sundays. And starting from the 4th of June, flight to Batumi from Ekaterinburg will be resumed for a summer season. You can also fly to Georgian sea resorts from Saint Petersburg and Moscow.
Flights to Erevan from Sochi, Samara, Krasnodar, Saint Petersburg and Ekaterinburg are remaining in the schedule. From Samara and Ekaterinburg, you can fly to Baku. Moreover, now you can fly to Samarkand from Ekaterinburg. Flight from Zhukovsky to Tbilisi remains the same as well.
Staring from April flights to Almaty from Zhukovsky will be regular. In this summer season we launched new comfortable connecting flights via Zhukovsky airport. We offer flight from the capital of Kazakhstan to Prague, Paris, Rome, Tel Aviv, Kaliningrad and Simferopol.
Domestic Flights
In late May flights to Krasnodar from Khabarovsk to Vladivostok will be again in a summer schedule.
Flights frequency from Irkutsk to Moscow is also increased. Staring from the 31st of March additional flights are operating three times per week.
A new flight Ekaterinburg – Magadan will be operating from late May with a stopover.
This summer you can fly to Simferopol from Saint Petersburg, Ekaterinburg, Moscow, Sochi and Chelyabinsk. In this season tourists from Moscow can travel to the Crimea from Domodedovo, Sheremetyevo and Zhukovsky. Flights to Anapa are from Moscow, Ekaterinburg and Samara. Flights to Gelendzhik and Mineralnye Vody are from Moscow and Ekaterinburg. Flights to Sochi are from Ekaterinburg, Moscow, Samara, Simferopol and Chelyabinsk.
Please find more information and available summer tickets at our website uralairlines.com, mobile app UralAirlines, via call center 8-800-7700-260 and at all ticket offices.