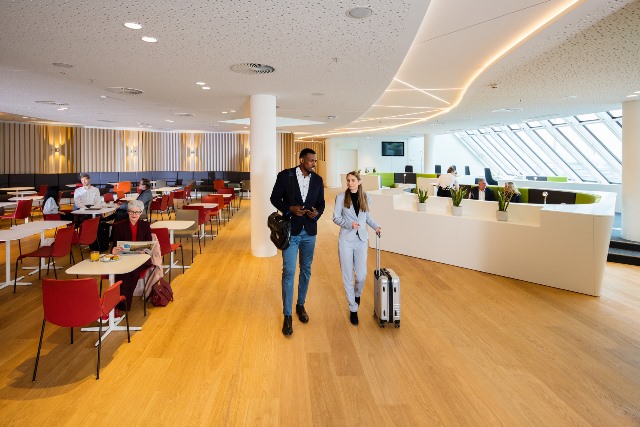 In its recent data-backed study, Upgraded Points revealed the top 10 most kid-friendly airports in the nation, based on points awarded for specific criteria. The report discusses the overall difficulty that parents face in finding kid-friendly airports in the US, while showcasing airports that have worked hard to provide kid-friendly amenities.
There are currently no national guidelines that compel airports to offer kid-friendly facilities, equipment or spaces. So while each airport is free to experiment with new ways to entertain children, these entertainments often vary a great deal. The only mandate exception is the 2018 federal law which requires large and medium-sized airports to provide clean, non-bathroom spaces for nursing mothers — the Friendly Airports for Mothers Act (FAM). Points were not awarded to airports for simply following FAM guidelines, though many airports have chosen to go above-and-beyond the regulations.
Overall, the study looked at the 50 busiest airports in the US ranked by total passengers boarded in 2018. Upgraded Points picked this guiding methodology solely for utility, with the assumption being that more parents and kids are serviced by the largest, most-trafficked airports. It is entirely possible that smaller airports work just as hard to accommodate family passengers, though such airports were not analyzed by this study.
To calculate rankings, points were awarded based on the quality and number of kid-friendly activities offered at each airport, with 10 points overall being a perfect score. Airports with multiple play areas received up to 4.5 points based on quality and number of these designated areas. Other such kid-friendly activities, like scavenger hunts, live music, art exhibits, etc. received up to 3.5 points. Unlimited free access to Wi-Fi was singled out as a special amenity, receiving 1 point, as Wi-Fi is a teen-friendly service. And finally, another point was awarded to airports that offered multiple family-friendly lounge options.
Top Kid-Friendly Airports:
Boston Logan International Airport – Ranked 10/10

Portland

International Airport – Ranked 9.89/10
San Francisco International Airport 9.78/10
O'Hare International Airport 9.56/10
Hartsfield-Jackson International Airport 9.56/10
Detroit Metropolitan Wayne County Airport 9.39/10
Dulles International Airport 8.78/10
Philadelphia International Airport 8.72/10
Norman Y. Mineta San Jose International Airport 8.67/10
Nashville International Airport 8.61/10
"Traveling can be tough for anyone, considering all of the variables involved. But travel is especially difficult for families with babies and small children. That's why it's important to recognize those airports that strive to provide play-relief for all families," said Upgraded Points founder Alex Miller.