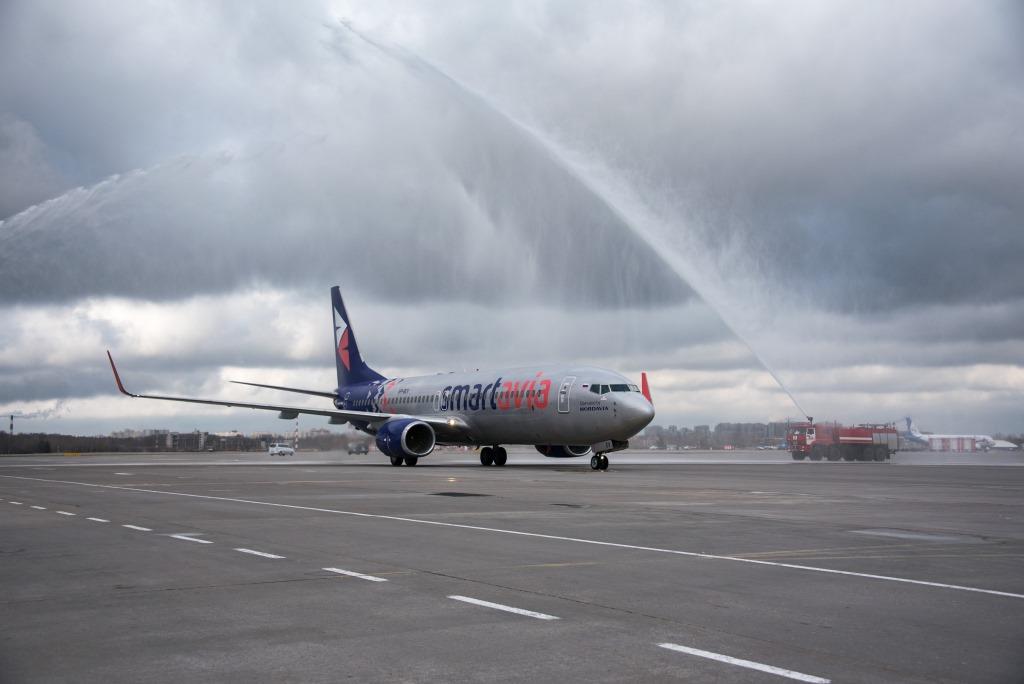 On April 10, 2019, Pulkovo St. Petersburg Airport welcomed the first Boeing 737-800NG of Smartavia, the new Nordavia brand. The aircraft operated the first commercial flight from the northern Russian city of Arkhangelsk to St. Petersburg.
Pulkovo welcomed Smartavia aircraft by a traditional water arch on the ramp. The Boeing 737-800NG Smartavia aircraft is designed to carry 189 passengers in a full-economy class configuration.
The route network of the airline in the summer of 2019 includes 18 destinations at St. Petersburg airport. Among them: the Russian cities of Anapa, Arkhangelsk, Voronezh, Kazan, Murmansk, Naryan-Mar, Samara, Simferopol, Sochi, Syktyvkar, Chelyabinsk, as well as foreign cities: Batumi, Tbilisi (Georgia), and Rimini (Italy, charter). In the current summer season, Smartavia will launch four new destinations at Pulkovo: Rostov-on-Don, Ufa, Baku (Azerbaijan), and Yerevan (Armenia). Additionally, the airline will increase the frequency of flights to the following existing destinations: Anapa, Samara, Sochi, Batumi, Tbilisi.
In 2018, Smartavia was among the top ten largest airlines in terms of passenger traffic at Pulkovo Airport, serving 648 thousand people, which is 35.1% more than in the same period of 2017. In the first quarter of 2019, Smartavia served 165 thousand people at Pulkovo, which represents a 48.7% increase compared with the same period in 2018. In addition to direct flights to Pulkovo, the airline offers passengers many transfer options with convenient connections at St. Petersburg airport.
In March 2019, Nordavia announced the transition to using the new name Smartavia as part of the rebranding. Smartavia is registered in Arkhangelsk and uses Pulkovo as the base airport in addition to the airport of the capital of Pomorie.