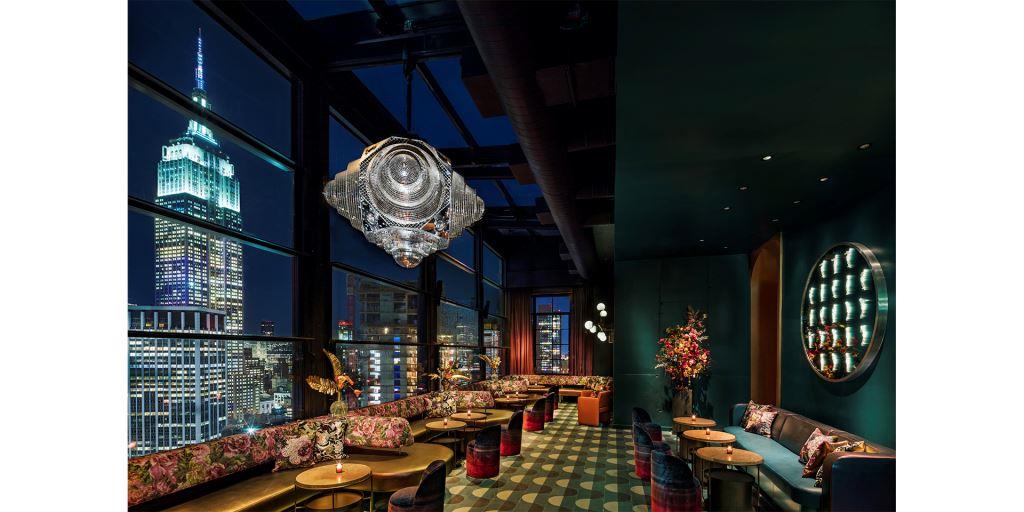 On the heels of Midtown Manhattan's boldest new hotel opening, Moxy NYC Chelsea, Marriott International's experiential Moxy Hotels announced today the launch of A.S.M.R. Bedtime Stories, which will be available exclusively in-room at Moxy Chelsea for one month beginning April 15th. Known as an alternative to guided meditation and a drug-free mental massage, Autonomous Sensory Meridian Response (A.S.M.R.) is a sensory phenomenon where viewers feel pleasurable tingles from specific visual, auditory and haptic triggers.
The limited-edition in-room videos – co-created with noteworthy A.S.M.R. Spa Whisperlodge – are the latest installment of Moxy Hotels' global signature Bedtime Stories program, which features cheeky 60-second stories under the themes "chill out," "go out" or "pass out" for guests at all Moxy Hotels to listen to in their bedroom. This first-of-its-kind hotel feature encourages guests to watch to help them wind down after a day of hustling, partying or pounding the streets of New York. The A.S.M.R. journeys are performed by actress-author-musician Bella Thorne, Dani Thorne, (COM3T) and singer Caroline Vreeland, who each tell a titillating Bedtime Story while interacting with playful props that reflect their personalities – everything from pizza, to candy, to sequins.
To celebrate the new spin on Moxy's signature Bedtime Stories, guests at the opening party for Moxy Chelsea were invited to take part in a one-night interactive A.S.M.R. pop-up in the hotel's Mondo Suite, created in collaboration with Whisperlodge. The immersive experience transported guests on an up-close-and-personal sensual journey that connected them with the hotel and its surroundings. As the doors opened, pink light spilled out into the corridor and ambient garden sounds inspired by the Avant-Garden theme swelled in the room. A mesmerizing back-brushing ritual using florals unfolded before guests. Then, the live storytelling began, with a playful tale about the ultimate girlfriends' birthday staycation at Moxy Chelsea. The intimate performance engulfed guests with brain tingles using fun props that ignited pleasurable sounds – from a hand running over a sequined dress, to the fizz of champagne, the crinkling of cellophane and the strike of a match.
In neighboring bedrooms, guests interacted with the lights, sounds and sensations used in A.S.M.R., such as being blindfolded and feeling a room covered in grass and flowers. Partygoers were also able to create their own shareable A.S.M.R. video with the help of Whisperlodge experts.
"Moxy is a brand known for stimulating guests at our hotels with bold immersive art – from our 'Hotel Heist' theatrical performance in Frankfurt where blindfolded guests were escorted into a bedroom to hear thrilling stories; to our live 'Pink Bear' in Berlin, inspired by artist Paul Robinson's 'The Pink Bear' art series, which is best known for being featured in Cara Delevingne's #Art4Animals campaign," said Toni Stoeckl, Vice President, Distinctive Select Brands for Marriott International, and Global Brand Leader, Moxy Hotels. "This latest installment of our Bedtime Stories series feels undeniably Moxy – pushing the boundaries in a fun, playful way, and giving guests something they won't experience at any other hotel. We're thrilled to be exclusively debuting the videos at Moxy Chelsea, Moxy's new secret garden in the heart of New York City's Chelsea Flower Market."
"Whisperlodge delivers care, relaxation and sensory exploration through carefully-crafted immersive experiences," said Melinda Lauw, Co-creator & Artistic Director of Whisperlodge. "We love Moxy's vibrant. playful energy and we're so excited to partner with Moxy Hotels and Moxy Chelsea to bring our unique blend of art and wellness to guests at Manhattan's most exciting new hotel."
Moxy currently operates 30+ experiential hotels open across North America, Europe and Asia. Moxy is expected to open more than 20 new hotels in 2019, in destinations including Nashville, TN; Boston, MA; and Dublin, Ireland.