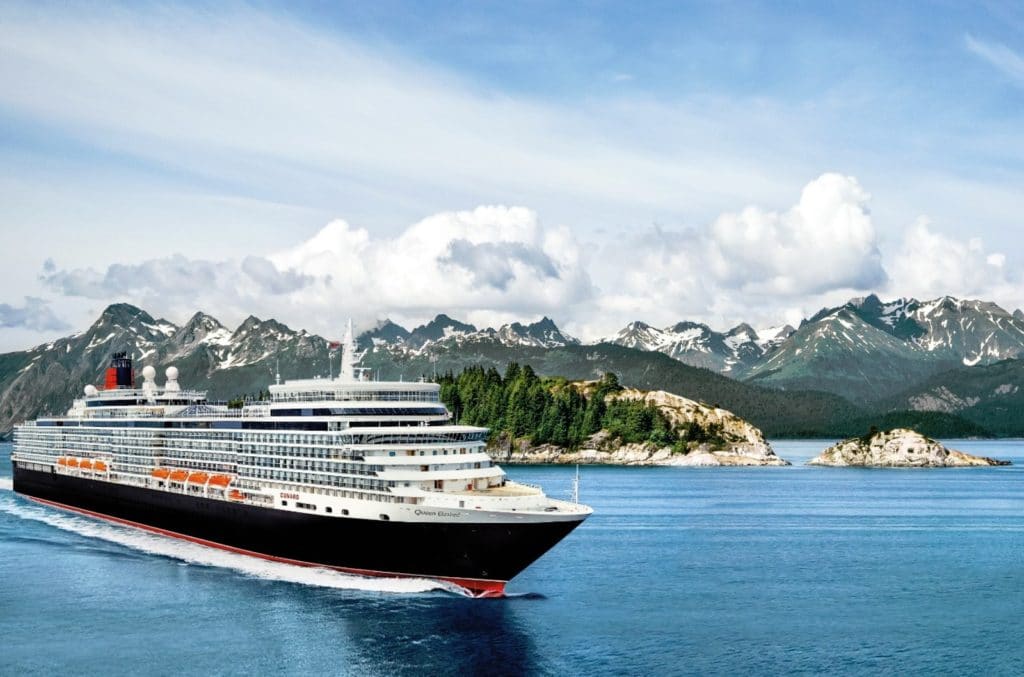 Today at Seatrade Cruise Global in Miami Beach, FL, luxury cruise line Cunard announced new details of the partnership with famed fashion brand Badgley Mischka along with exciting news on the line's 2020 Alaska itineraries.
At today's press conference, designers Mark Badgley and James Mischka spoke to the Cunard press attendees via video to make the announcement that they will be designing a capsule collection exclusively for Cunard. Badgley Mischka is slated to headline Cunard's 2020 Transatlantic Fashion Crossing on flagship liner Queen Mary 2, departing Southampton, England on May 24, 2020. The capsule collection, consisting of formal wear and casual resort wear, will be available to purchase onboard during the voyage. Badgley Mischka will also be debuting their 2021 resort collection in a runway show onboard – the first time a fashion collection has been launched on a Cunard ship.
The annual Transatlantic Fashion Crossing is just one of many special event cruises from Cunard, bringing to life the worlds of fashion, astronomy, genealogy, dance and much more, to guests onboard.
In other exciting news, Cunard announced their youngest ship Queen Elizabeth will visit Glacier Bay as part of the 2020 program in Alaska. In May 2019 Cunard's modern fleet will sail in Alaska for the first time, and due to high demand, the line will spend a full season in the region next year, offering round trip voyages out of Vancouver from June through September 2020.
Josh Leibowitz, SVP Cunard North America, gave an update on the state of business asserting that "Cunard's focus continues to be on increasing North American sourcing on our journey to doubling business from this part of the world. We will be offering more deployment in 2020 for North America and homeporting in Vancouver and New York." On the East Coast, Queen Mary 2 will spend more time in New England and Canada, with departures out of New York, making calls in Boston, Québec City, Newport and more. On the West Coast, Queen Elizabeth will offer departures out of Vancouver and sail down to San Francisco and Los Angeles, offering a rare overnight on July Fourth.
On April 10, Leibowitz, who also holds the position of Chief Strategy Officer at Carnival Corporation, will give a talk on Vacation Advocacy at Seatrade Cruise Global. He will discuss the latest market research and unearth key learnings on vacation habits from around the world. His talk will offer insight as to how to drive demand in the cruise industry which is poised to grow at 7% over the next five years bringing in seven million more guests annually.