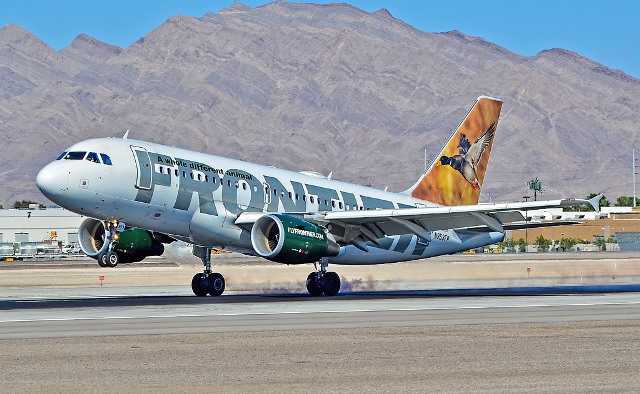 Low-fare carrier Frontier Airlines announced its 100th destination from Denver International Airport (DEN) with non-stop service to Northwest Arkansas Regional Airport (XNA) in Bentonville/Fayetteville, Ark. Service starts June 27, 2019. To celebrate this 100th city, Frontier is offering a sale to all 100 destinations from Denver with fares as low as $39 available now on flyfrontier.com.
"With this announcement, we are the only non-stop carrier on 11 of our routes from Denver. We're offering not only amazing low fares but over 90% of the population in the lower 48 states is within 90 minutes of a Frontier non-stop destination from Denver. This is the latest evidence of our commitment to making air travel more affordable across the United States," said Barry Biffle, President, and CEO at Frontier Airlines. "Our average fare from Denver has dropped 52% in the last five years and our reliable and friendly service that allows customers to customize their travel experience to their needs and budget. This empowers more people than ever to fly. This is what our Low Fares Done Right philosophy is all about."
Frontier Airlines will celebrate its 25th Birthday this summer and has committed to a 10-year lease renewal of its aircraft hangar at DEN.
The addition of Bentonville/Fayetteville follows the recent summer schedule announcements of new service from Denver to Billings, Montana, Boston, Massachusetts, Burlington, Vermont, Green Bay, Wisconsin, Mobile, Alabama, and Tyler, Texas.
Frontier Airlines is committed to families, and what better way to demonstrate that than helping America's kids fly for free. Children 14 years and younger can now fly free when traveling with an adult through the airline's Discount Den travel club on qualifying flights. With more than 100 destinations to choose from, Frontier is removing the obstacles for families to travel together whether it's for a sunny vacation or a visit to grandma's house. It's easy to take advantage of Kids Fly Free. And the math is easy, too – one kid can fly free for every adult who books at flyfrontier.com. Simply select a flight on a date that is qualified for Kids Fly Free which is easy to find as it's marked with a Kids Fly Free logo beneath the Discount Den price. Additional information about Kids Fly Free is available at https://www.flyfrontier.com/kidsflyfree.