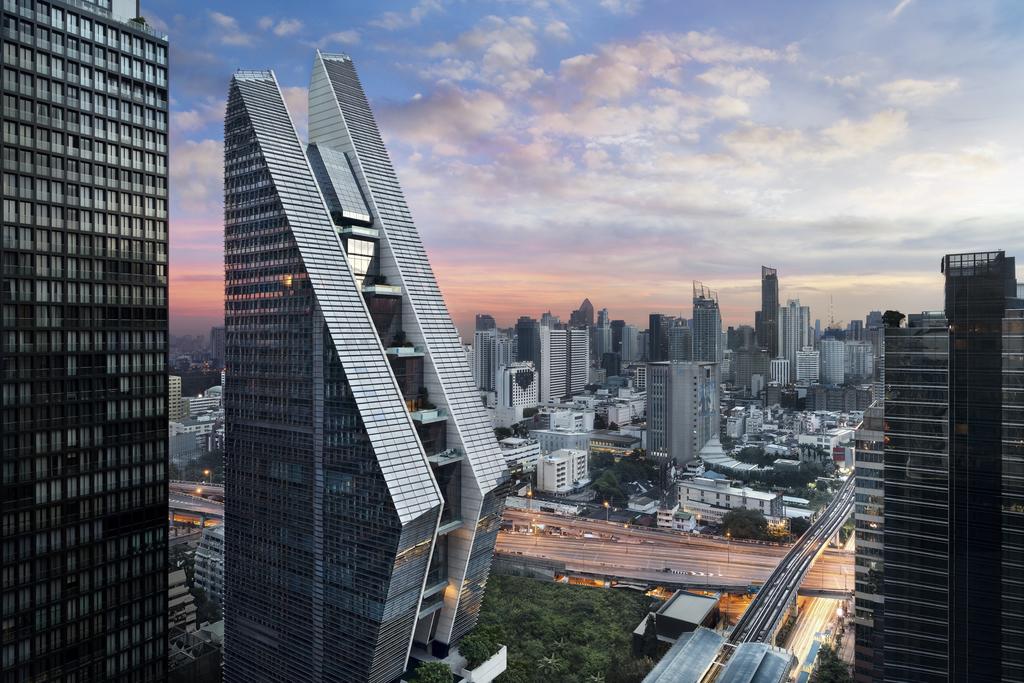 Rosewood Bangkok, a striking new landmark for the capital, has opened as an intimate, ultra-luxury hotel on Ploenchit Road in heart of the city's prime central business and retail district. As the 27th property in the growing global network for Rosewood Hotels & Resorts®, the hotel is the brand's second destination in Thailand and also serves as a gateway to its sister Southeast Asian properties in Phuket; Phnom Penh, Cambodia; and Luang Prabang, Laos. Rosewood's A Sense of Place® philosophy is exuberantly expressed with a design that honors rich Thai culture while celebrating the cutting-edge creativity and contemporary design ethos of the dynamic capital.
"Rosewood Bangkok exemplifies a perfect marriage of destination and Rosewood's core concept of a modern ultra-luxury hotel experience," says Sonia Cheng, chief executive officer of Rosewood Hotel Group. "We are thrilled for travelers and residents to experience the warmth of Thai hospitality and the dynamism and beauty of its culture within such a fresh, exciting and radiant retreat."
The silhouette of the 30-storey standalone property is a dramatic addition to the Bangkok skyline. Two graceful, connected structures have been masterfully combined to create a new icon for the capital. The building's form is inspired by the wai — the charming Thai gesture of hands pressed together in greeting – and is itself an expression of the Thai capital's growing influence as a design, fashion and creative hub in the region.
Rosewood Bangkok is situated within an enclave of embassies and sleek new office towers, surrounded by Thai fashion designer boutiques and is just steps from Central Embassy, the capital's most luxurious upscale shopping mall.
The hotel provides direct access to the Ploenchit BTS Skytrain station, putting Bangkok's major attractions and the city's dining and nightlife districts only minutes away, and its close proximity to the major expressway to Bangkok's two international airports also offers convenient access to all major destinations within the capital.
A Showcase of Modern Bangkok
The team of Kohn Pederson Fox with Tandem Architects as the executive architect, and Celia Chu Design Associates for interior design, set the stage for the contemporary yet timeless, intimate hospitality of an urban manor within the context of both Bangkok's heritage and leading-edge, creative style.
"Thai spirit is infused into every aspect of the Rosewood Bangkok experience," says Thomas Harlander, the hotel's managing director. "Like the capital itself, the hotel is creatively contemporary, multi-layered, richly cultured and warmly welcoming – a fitting springboard for every guest's own personal journey to discover the heart and soul of the city."
In a nod to the Rosewood brand's origins as a modern-day aristocratic manor, visitors arrive into their urban sanctuary via a private driveway signalling their entry to a world seemingly far removed from the bustling din of the city. The hotel's contemporary design ethos is immediately communicated by the entryway's modern metalwork sculpture in the form of wai spelled in ancient Thai alphabet by artist Jiandyin, and the tumbling waterfall hints of the refreshing retreat within.
The hotel has been designed to create a sense of intimacy and privacy throughout the entire guest journey; the brand's signature blend of stylish comfort and inspired design is delivered by a décor of rich materials and finishes in a soothing, neutral color palette.
Throughout the hotel, spacious terraces, abundant natural light and city skyline vistas seamlessly meld with Thai contemporary artworks; local craft and indigenous textiles are translated to elegant, modern interpretations; and subtle tropical accents convey an urban resort sensibility.
In addition to the structure's glossy façade and stunning architecture, water features within the hotel — including a dramatic, indoor 10-story waterfall — are a tribute to Bangkok, a city built on water. The element of water — sacred in Thai culture, featuring in rites and rituals to symbolize peace and harmony — is a pervasive theme throughout the hotel.
The hotel also showcases works of established and emerging Thai artists including significant pieces by Preecha Thaothong, named Thailand's National Artist of the Year 2009; Pinaree Sanpitak, one of the coutnry's most respected female artists of her generation; and Torlarp Larpjaroensook, whose work both challenges and intrigues. The hotel's "Art Connection" quarterly rotating exhibit features the multi-media works of emerging Thai artists, launching with a showcase of oil paintings by Kittaya Poolsawatdi.
Ultra-Luxury Living
Rosewood Bangkok's guestrooms fuse elegantly modern interiors with panoramic views of the metropolis. The hotel features 159 rooms including 34 suites and studios as well as three signature "houses" which also boast their own private pools and terraces.
Deluxe Rooms, starting at 42 square meters, have been thoughtfully designed to include a separate living area, creating a more residential experience; the property's suite collection includes the loft-style Manor Suite, which features floor-to-ceiling and wall-to-wall windows offering an abundance of natural light and an unparalleled perspective on the dramatic Bangkok skyline – the quintessential stylish urban living experience.
The hotel has been designed to mirror the intimacy of the private home of a well-traveled Thai family, and all guest accommodations are enriched by books, art, accessories and personal touches seemingly collected by the family over the course of their travels.
The feel of an urban resort and a modern Thai aesthetic are delivered by tropical accents of rich woods and rattan-inspired patterns, weaves and panels, and pops of turquoise blue and emerald green against a calming backdrop of white, cream, brown and luxurious gold color tones.
The innovative design and architecture of Rosewood Bangkok has allowed the creation of unique rooms and suites throughout the entire property, with no two floors sharing the same configuration. Allowing for maximum flexibility, privacy and intimacy, floorplates range from one to a maximum of 12 rooms per floor, and the property also showcases a number of bespoke signature suites, studios and houses, which boast private meditation areas, terraces, outdoor plunge pools as special amenities.
Dynamic Dining and Stylish Libations
Rosewood Bangkok features four innovative restaurant and bars, including a brasserie, signature Chinese restaurant, top-floor speakeasy bar and the first upscale organic café situated in a Bangkok hotel.
Lakorn European Brasserie is an all-day dining venue where diners can gather indoors amidst an imaginative décor inspired by traditional Thai dance, or choose the outdoor terrace – an escape from the city in a quiet, serene and shady space adorned with greenery. Lakorn's menu features light bites to mains that showcase classic Western dishes and beloved Thai specialties, accompanied by an extensive list of Old and New World wines.
Nan Bei, meaning South and North respectively in Mandarin, is Rosewood Bangkok's landmark restaurant — a buzzy, stylish destination for Chinese dining, offering authentic regional specialties from the two China regions, served both indoors and outdoors. Open kitchens are dedicated to preparation of popular Southern Chinese seafood dishes and world-famous Peking Duck. Nan Bei represents Rosewood's signature flair of establishing contemporary and differentiated dining concepts, with Nan Bei sure to become the "go to" hotspot amidst Bangkok's dynamic restaurant scene.
Fanciful design touches are inspired by the lyrical Chinese folktale of the Weaver Girl and Cowherd. A custom-woven art feature stretches the length of the ceiling, in homage to the Weaver Girl who weaves clouds for the sky. A dazzling light installation of 600 illuminated birds in flight references characters in the tale. Two luxurious VIP private dining rooms complement the story with silk wall panels and mirrors referencing the mystical pond where the Weaver Girl and Cowherd first meet and fall in love.
Nan Bei's bar sets a lavishly seductive mood in dark colors with pops of jewel tones, a lapis lazuli-topped bar, metalwork chandeliers and contemporized Art Deco features. Against this sensual backdrop, cheeky Asian-themed libations include such clever hand-crafted cocktails as Claypot Tea Negroni, Yoghurt Pisco Sour with yoghurt sake and lychee, and My Thai with rum, tropical fruit, chili and curry leaves.
Lennon's, a stylish speakeasy-style bar perched on the 30th and highest floor of Rosewood Bangkok, is home to the largest collection of vinyl records in Asia, with a concept inspired by the notion of a home-recording studio. Guests can choose from a 6,000-vinyl collection of jazz, pop, rock and blues, even buy a long-lost favorite, or just bring their favorite classic LPs from home for the DJ to spin on state-of-the-art sound equipment.
Accessible in true speakeasy style through a hidden entrance amidst the records in the foyer area, the city's newest gathering place features hand-crafted cocktails themed to favorite musical genres of past decades against a backdrop of the glittering Bangkok cityscape. Reaching even further into the liquid past, the Old Time menu revives classic cocktails such as the Alexander, Tuxedo and Martini handcrafted with rare vintage spirits dating from the 1940s to 70s. For ultimate retro immersion, pre-Prohibition era spirits are available for sipping or purchase, and Cuban cigars from the age can be savored in the private cigar lounge.
G&O ("green and organic") is Bangkok's first upscale organic café set within a luxury hotel. Fittingly located just steps away from the outdoor pool, G&O brings the farm-to-table concept to life by offering a variety of creative healthy cuisine options with an emphasis on organic and locally grown and sourced natural ingredients, accompanied by hand and cold-pressed coffees and teas and organic wines.
The Serenity of Sense, A Rosewood Spa
Sense, A Rosewood Spa occupies the entire sixth floor. A welcoming and luxurious retreat for individuals seeking peace and tranquility, it offers a bespoke approach to personal well-being, drawing from the long heritage of Thailand's healing culture.
Exquisite treatments revive ancient Thai beauty rituals and "lost remedies," paired with the latest innovations from skincare lines EviDenS de Beauté and Maison Caulières. Three single and two double treatment rooms offer a getaway of serenity for rejuvenation, relaxation and the pursuit of well-being.
A Pool Oasis in the Heart of the City
The environs of Rosewood Bangkok's indoor-outdoor saltwater lap pool create a zen-like sense of a tropical destination in the heart of the city. The hotel's interior waterfall produces a soothing ambient sound that replaces city noise, a vertical garden wall is further enhanced with surrounding foliage, and a whirlpool overlooks the cityscape beyond.
Exclusive Settings for Special Gatherings
Rosewood Bangkok sets the stage for specially designed celebrations and exclusive meetings. The Pavilion – a Rosewood signature concept – is a 320-square-meter, high-end residential-style venue with show kitchen that can seat up to 200 persons. The 100-square-meter Ploenchit Boardroom is tailor-made for upscale, intimate meetings; flooded with natural light, it offers exhilarating views of the capital's iconic skyline from its 28th-floor vantage point.
Introductory offers, including selections of hotel signature experiences, are available to 30 June 2019. "Redefining Bangkok" rates start from THB9,450 and "Signature Suites Stay" from THB17,550 per night, excluding tax and service charge, based on single or double occupancy and subject to availability.