For more than two decades, Princess Cruises has been taking guests to iconic and off-the-beaten-path global destinations on annual World Cruises, offering the ultimate bucket-list vacation. The cruise line has announced its most robust 2021 World Cruise itinerary ever with more ports and countries than ever before.
The 111-day World Cruise will visit 50 destinations in 32 countries, across six continents, including Africa, Asia, Australia, Europe, South America and North America.
The 111-day roundtrip voyage from Ft. Lauderdale departs on January 3, 2021, and the 111-day roundtrip cruise from Los Angeles departs January 17, 2021. A 97-day World Cruise from Los Angeles to Ft. Lauderdale is also offered, setting sail on January 17, 2021.
There are also several segments in the World Cruise which includes a 45-day cruise from Los Angeles to Singapore.
The 2021 World Cruise marks a significant milestone for Princess Cruises, with it being its most robust itinerary. Guests will sail more than 34,000 nautical miles around the globe. There will be late night calls in Singapore and Langkawi which are the only ones in Asia, among the 14 late night calls.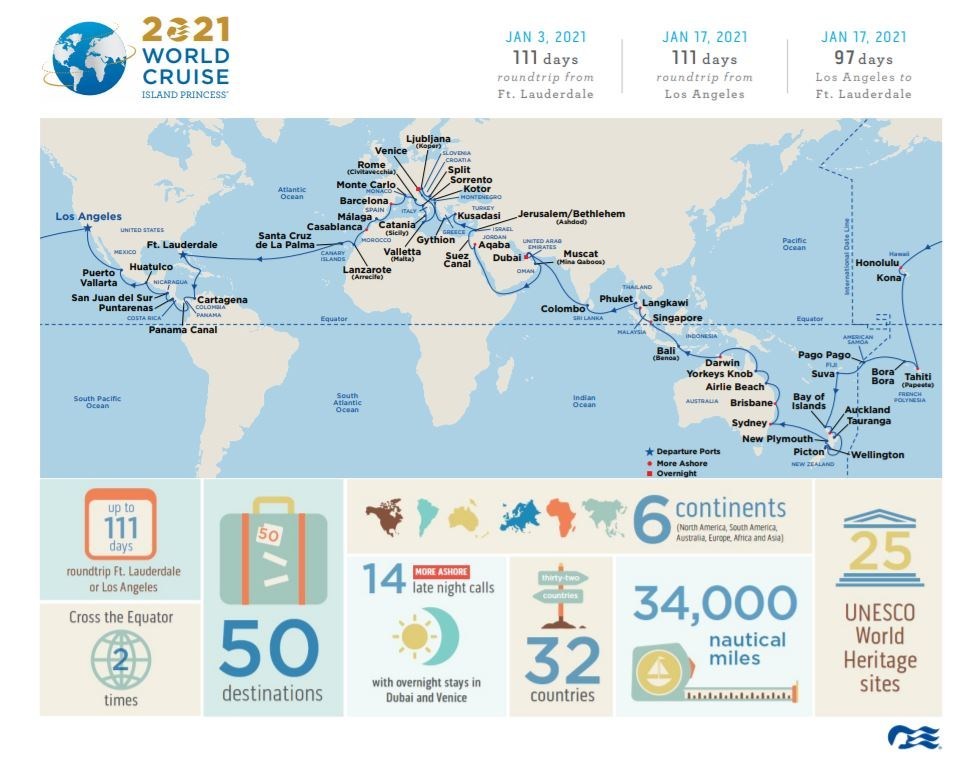 New and interesting details about the 2021 World Cruise include:
Cruise to 50 destinations, 32 countries on six continents.
Visits to 25 UNESCO World Heritage Sites, including the Great Barrier Reef in Australia, the Archaeological City of Petra from Aqaba, the ancient Greek city of Ephesus in Turkey and the historical city of Rabat from Casablanca.
Island Princess will sail 34,000 nautical miles in 111 days.
The World Cruise crosses the Equator two times.
Maiden port calls to the beautiful seaside town of Gynthion, Greece; New Plymouth, New Zealand; and Mindelo, Cape Verde Islands.
An optional overland excursion to Uluru-Kata Tjuta National Park in the Australian Outback, home of the iconic Ayers Rock.
With 14 late-night "More Ashore" stays to maximize time in port, guests can take in a Tahitian sunset or make a toast to the nightlife in Singapore, plus be treated to overnight stays in ultra-modern Dubai and magical Venice.
Island Princess makes her World Cruise debut in 2021, featuring more than 700 balconies, Princess Luxury Bed in each stateroom, more specialty and casual dining options and more entertainment venues for live music and lavish production shows like The Secret Silk by Broadway Legend Stephen Schwartz. World Cruise guests will be treated to Encounters with Discovery speaker series that includes authors, artists, explorers and more, as well as culinary demonstrations, cooking classes, special-themed menus, foreign movies and regional folkloric shows to bring the destinations to life.