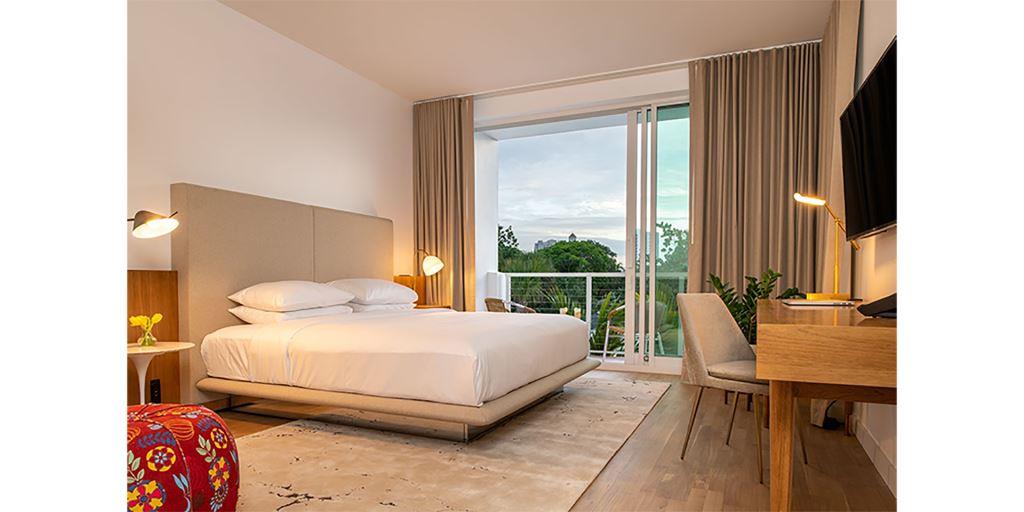 Tribute Portfolio, Marriott International's newest collection brand and growing global family of characterful, independent hotels drawn together by their passion for captivating design and their drive to create vibrant social scenes for guests and locals alike, today announced the opening of The Sarasota Modern.
The Sarasota Modern officially opened its doors today in the heart of downtown Sarasota, within the epicenter of the urban 'Rosemary District.' With European inspired design details, the hotel features 89 guestrooms with indoor and outdoor living features, as well as two aqua pools and a hot spa. Dressed with clean white walls, natural wood detailing, floor-to-ceiling windows, pops of energetic wallpaper, private outdoor clawfoot tubs, all surrounded by lush greenery, The Sarasota Modern creates micro-paradises within a resort-style atmosphere.
The Sarasota Modern was designed in collaboration with Hoyt Architects based in Sarasota, Stephen Chung – a Boston-based architect and architects from the Sarasota School of Architecture movement. Blending European inspiration with the unique climate of Florida's Gulf Coast, the hotel delivers an unexpected yet authentic Sarasota experience.
Showcasing a highly anticipated American cuisine restaurant concept, Rudolph's – named after the famed architect Paul Rudolph – invites guests to indulge in a characterful dining experience, curated by chef Jennifer Salhoff. Overlooking the tropical streets of downtown Sarasota, Rudolph's extends its presence into the soft light of the dimmed lounge, adorned with lavish armchairs, modern romance novels, hand-crafted cocktails, a decorative alligator named "Rudy" and live entertainment.
Guests can enjoy amenities such as the well-appointed fitness facility boasting brand new equipment from Peloton, a yoga room overlooking the bay, and in-room spa services. A custom, vintage Volkswagen Bus provides rides for guests within a three-mile radius, including downtown Sarasota and admired Lido Key Beach.