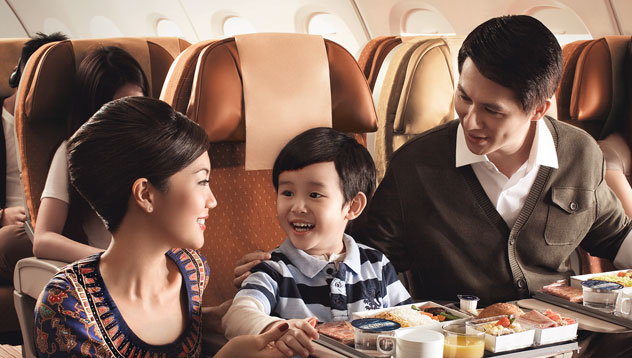 Singapore Airlines' (SIA) acclaimed International Culinary Panel (ICP) will be embarking on a new approach in the year ahead with seasonal menus that are prepared in a lighter cuisine style. The initiative, which was one of many announced at SIA's World Gourmet Forum today, is the latest addition to the Airline's series of in-flight wellness offerings.
SIA's World Gourmet Forum 2019, titled "A Taste of the Future", is a gathering of the Airline's ICP Chefs and Wine Consultants to explore the latest dining trends and showcase new in-flight initiatives. In addition to the new seasonal menus, today's event saw the unveiling of SIA's refreshed beverage programme, which included an extensive selection of artisanal wines being made available in-flight, new initiatives for a more personalised in-flight dining experience, as well as the Airline's push towards greater sustainability on board.
"Customers are increasingly mindful about their diet and the type of ingredients that go into their meals, and using fresh produce that's in season as well as a lighter cuisine style are becoming more important in helping health-conscious customers feel more refreshed after their flights," said SIA's Executive Vice President Commercial, Mr Mak Swee Wah.
"Our International Culinary Panel chefs are on board the wellness movement with their own creations to enable travellers to eat just as healthily in the air as on the ground."
For these seasonal menus, the ICP chefs will focus on designing dishes that use fresh in-season ingredients to achieve bold flavours and textures. Menus will include appetizer, soup, main course as well as dessert. A lighter cuisine style will be adopted, for example substituting cream and butter with olive oil as the base for soups. The chefs will also explore the use of lighter sauces and alternative starches such as farro, millet, bulgar and freekeh. Each ICP chef will create seasonal dishes in their own unique cuisine style.
The ICP chefs at the World Gourmet Forum today presented some of their new dishes, which incorporated seasonal ingredients such as morel mushrooms, firefly squid, and produce such as pea shoots and asparagus. (Please refer to Annex A for the menu featured at the World Gourmet Forum).
The new seasonal menus will be made available to customers travelling in Suites, First Class and Business Class. Customers can expect them to be progressively introduced into service from September 2019.
The seasonal menus are complementary to SIA's in-flight wellness movement that has been rolled out. The Airline continues to work with premiere integrative wellness brand Canyon Ranch on its ultra long haul US flights, and the wellness offerings, specifically the cuisines on board, have been warmly received by customers in helping to make their travels more comfortable. Customers on SIA's upcoming non-stop flights to Seattle from September this year can also enjoy the Canyon Ranch cuisines.
SIA also recently signed a Memorandum of Understanding with homegrown wellness brand COMO Shambhala to introduce wellness cuisines from the second half of this year for selected flights out of Singapore.