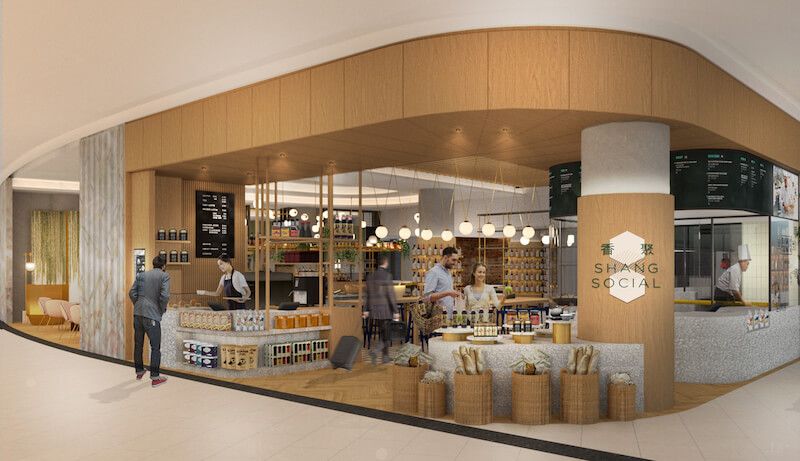 The Shangri-La Group is delighted to announce the launch of its first standalone dining establishment – Shang Social (香聚) – at Jewel Changi Airport (Jewel) this April. Shang Social marks the group's first venture into standalone food and beverage (F&B) outlets outside of a hotel setting and pays tribute to three distinctive Chinese cuisines – Cantonese, Huaiyang, and Sichuan.
Diners at the 220-seater Shang Social will be brought on a culinary journey conceptualised by three of Shangri-La's highly acclaimed master chefs. The extensive menu features traditional and contemporary interpretations of classic Chinese cuisine while staying true to their authentic flavours and roots. Between the formal dining space, the casual MRKT and Bar, Shang Social is specially designed to cater to everyone and for every dining occasion.
"We are excited that our first standalone F&B outlet is at Jewel Changi Airport. Jewel's strategic location at one of the world's busiest airports offers us an ideal opportunity to showcase our many Chinese specialities to a global audience. With Shang Social, we are taking our first steps to bring our collective culinary heritage to a wider community outside of the hotel setting," said Mr. Lim Beng Chee, Shangri-La Group CEO.
"We are honoured that the Shangri-La Group has chosen Jewel for their first standalone dining establishment. Our team has carefully curated a fine selection of dining options to delight even the most well-travelled taste buds, and the addition of Shang Social is testament to our commitment to curate the highest-quality retail and dining offerings for our guests," said Ms Hung Jean, CEO of Jewel Changi Airport Development.
Three Master Chefs, One Unparalleled Gastronomic Experience
The Shang Social menu is carefully curated with inputs from three of Shangri-La's highly acclaimed master chefs, each a master in either Cantonese, Huaiyang or Sichuan cuisine.
Michelin-starred Cantonese Chef Mok Kit Keung, also the executive Chinese chef at Shangri-La Hotel, Singapore, will have two of his signature dishes – Bamboo Noodles with Dark Soya Sauce and Lard and Deep-fried Free-range Chicken Stuffed with Fried Glutinous Rice – featured in the Cantonese selection.
Chef Joe Hou, a protégé of Huaiyang master Zhou Xiaoyan and recognised as China's Huaiyang cuisine global ambassador, will bring his personal Huaiyang favourites to the table. Chef Hou is also the area Chinese executive chef of Jiangnan Wok at Shangri-La Hotel, Nanjing.
Chef Rick Du, executive Chinese chef at Summer Palace, Shangri-La Hotel, Shenyang, completes the Shang Social culinary journey with his Sichuan specialties.
Three Spaces, One Culinary Destination
"DINING"
The 88-seater plush full-service dining space offers diners the best selection of authentic Chinese dishes, re-imagined in vibrant and modern expressions. Those seeking a more exclusive dining experience can opt for the private dining rooms. This includes The Chef's Table, which brings 12 diners up close to the culinary action taking place in the main kitchen. Guests can enjoy personally curated menus from the resident chefs. Meanwhile, The Courtyard provides guests with an immersive dining experience in the surrounds of Jewel's Forest Valley.
"MRKT"
Shang Social will also feature a contemporary Chinese-style marketplace abuzz with diners enjoying casual communal dining. The Shang Social MRKT will showcase exciting seasonal culinary delights from around the region at its pop-up feature kitchen. The retail space within the marketplace offers guests the opportunity to browse a collection of exclusive delicacies and bring home a taste of Shang Social, such as a selection of exclusive Shang Social sauces.
"BAR"
At the heart of Shang Social is the Shang Social Bar, a true hidden gem within Jewel. The 18-seater bar bridges East and West flavours harmoniously, pairing its one-of-a-kind cocktails with modern Chinese tapas.
With close to 100 dishes to choose from, there is something for everyone at Shang Social.
Shang Social will open its doors at the highly anticipated Jewel Changi Airport in April 2019.