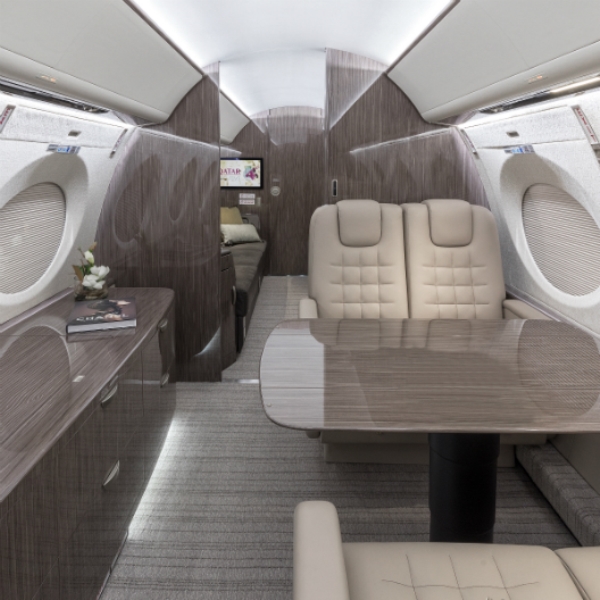 Qatar Executive (QE), the private jet charter division of Qatar Airways Group, can now fly to Samedan, Switzerland; Chambery, France; and Innsbruck, Austria. These destinations have a special designation as they require additional certification, including full flight simulator training, to prepare the flight crew because of the mountainous environment of these destinations.
Executive Vice President of Qatar Executive, Mr. Ettore Rodaro, said: "We are very pleased to announce that Qatar Executive has enhanced its investment in additional crew training for our modern state-of-the-art fleet to serve these unique destinations, offering our highly esteemed VVIP clientele to fly directly into these 'Top of the World' destinations. Our clients deserve the best service, and along with our strong commitment to safety and quality service Qatar Executive is committed to constantly improving its product offering."
Entering service for the first time in December 2018, the G500 jet is one of the fastest and most advanced aircraft types in the Qatar Executive fleet. The state-of-the-art aircraft sets a new industry benchmark by offering one of the quietest cabins, as well as having the best cabin altitude pressure, ensuring unparalleled passenger comfort.
Qatar Executive currently operates a fleet of 15 state-of-the-art private jets, including five Gulfstream G650ERs, two Gulfstream G500s, three Bombardier Challenger 605s, four Global 5000s and one Global XRS. In 2019, Qatar Executive is set to receive an additional five G500s and one G650ER.
Qatar Airways is one of the world's fastest-growing airlines, with a modern fleet of more than 230 aircraft flying to business and leisure destinations across six continents.
Qatar Airways was named 'World's Best Business Class' by the 2018 World Airline Awards, managed by international air transport rating organisation Skytrax. It was also named 'Best Business Class Seat', 'Best Airline in the Middle East' and 'World's Best First Class Airline Lounge'.