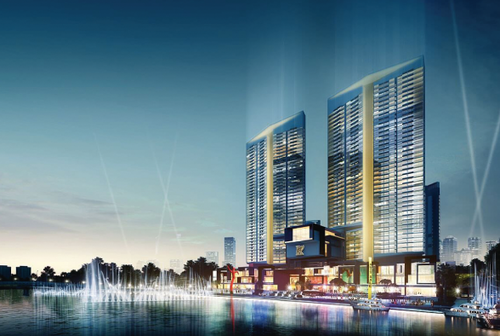 Hyatt Hotels Corporation announced today that a Hyatt affiliate has entered into a management agreement with an affiliate of Ben Thanh Holdings to develop a Hyatt Place hotel in Ho Chi Minh City. The new 200-key Hyatt Place Saigon Phu Nhuan will be the first Hyatt Place hotel in Vietnam.
The Hyatt Place brand is rooted in extensive consumer insights indicating that guests seek stylish, comfortable, seamless experiences that accommodate their lifestyles and familiar routines. To embody this, the brand offers casual hospitality and purposeful service in a smartly designed, high-tech and contemporary environment.
"We are pleased to start our relationship with Ben Thanh Holdings with the introduction of our first select service hotel and the Hyatt Place brand into a fast-developing country like Vietnam," said David Udell, group president, Asia-Pacific, Hyatt Hotels Corporation. "With its thoughtful, intuitive design, Hyatt Place Saigon Phu Nhuan will offer multi-tasking professionals and leisure travelers a comfortable stay equipped with all the essentials to help them get the most out of their stay."
The hotel will reside in the Phu Nhuan district, which is considered the geographical center of Ho Chi Minh City due to its central location and accessibility from all the surrounding areas. Conveniently located within two kilometers from the Tan Son Nhat International Airport and less than five kilometers from the city's Central Business District, Hyatt Place Saigon Phu Nhuan will provide guests with convenient access to financial hubs and local attractions.
"Hyatt Place Saigon Phu Nhuan's close proximity to dynamic business zones and local attractions will help position it as the choice accommodation for value-conscious business professionals and leisure travelers," said Tri Cao Nguyen, Chairman and Chief Executive Officer, Ben Thanh Holdings. "We are excited to collaborate with Hyatt and tap on its wealth of experience in hospitality to introduce guests to Hyatt's first select service hotel in Vietnam."
Hyatt Place Saigon Phu Nhuan will feature 200 guestrooms, a cafe, grab-and-go food market, bar, lobby lounge, outdoor pool, fitness center as well as two meeting rooms totaling more than 255 square meters.