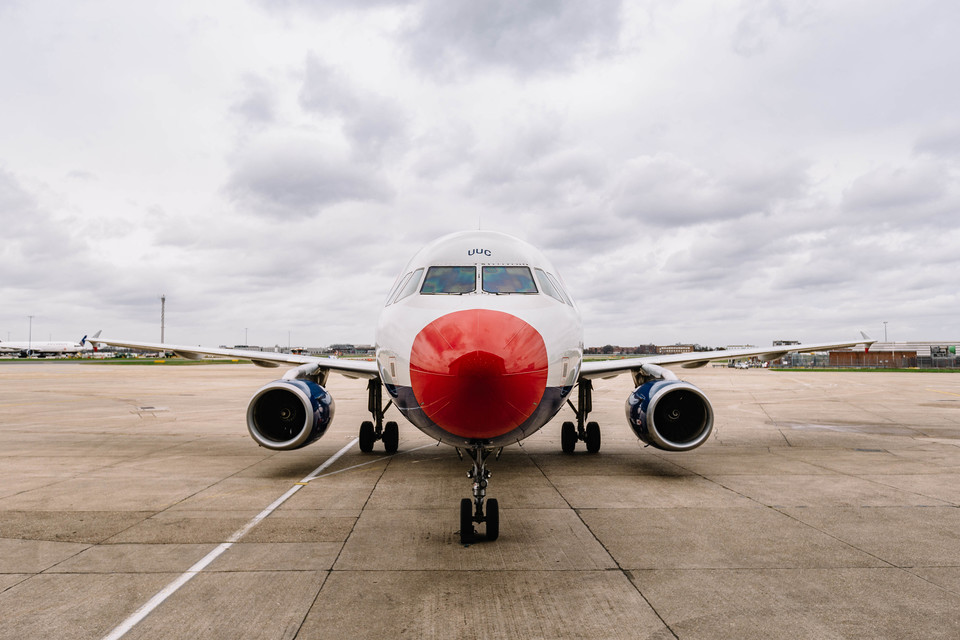 As millions of people across the country don a Red Nose for Comic Relief, British Airways has unveiled an aircraft that will be wearing a Red Nose of its own for the cause. Painted on to an A320, the airline is raising awareness of Red Nose Day as it announces a target to reach £25million for Comic Relief by 2020. The Red Nosed plane will travel to various locations across the UK and Europe.
Through Flying Start, the airline's global charity partnership with Comic Relief, British Airways has been fundraising to help change the lives of vulnerable and disadvantaged people in the UK and around the world.
Red Noses will be handed out in exchange for donations by celebrity look-a-likes at gates in Terminal 5, while Sir Chris Hoy, Gorka Marquez and Anton Du Beke have been hosted on flights and at British Airways sites to boost fundraising among BA customers and colleagues.
British Airways customers and colleagues have raised over £20 million since the Flying Start partnership with Comic Relief began in 2010, reaching the milestone target more than a year ahead of schedule. These vital funds have supported more than 620,000 people in the UK and in some of the world's poorest communities.
The funds raised by British Airways have:
– Provided vaccinations to over 100,000 children in countries across sub Saharan Africa, protecting them from potentially deadly diseases
– Helped to empower young girls through a project in Kenya which aims to raise awareness to address gender-based violence
– Supported community healthcare in South Africa to help prevent the transmission of HIV from expectant mothers to their babies
– Supported over 1,000 children in India forced to live on the streets or in to work by providing healthcare, informal education and vocational training opportunities
– Supported thousands of vulnerable young people in the UK, including over 2,700 young carers, at risk of social exclusion and harmful behaviours, helping to improve wellbeing, confidence and life skills
The airline has announced that it aims to reach £25 million by the end of 2020, supporting projects in communities in the UK and around the world in partnership with Comic Relief. £2million of the funds raised will be specifically invested in projects which focus on early childhood development in communities that British Airways flies to. The airline will continue to support mothers2mothers and enable them to launch new project work. Eight community projects across the UK will also be supported, focusing on early intervention by supporting maternal mental health and wellbeing, in turn supporting positive mental health and attachment into parenthood.
Alex Cruz, British Airways' Chairman and CEO, said "We're proud of our longstanding partnership with Comic Relief and what better way to get involved in Red Nose Day than to fly a giant red nose around the globe on one of our aircraft.
"Comic Relief does fantastic work in the UK and overseas. The funds raised by Flying Start so far are testament to the generosity of our customers, the hard work of our Flying Start team and everyone that supports this work. Let's keep going to £25 million!"
British Airways is encouraging customers who spot the Red Nose Day aircraft to share their images on social media using the hashtag #RedNoseDay.
Liz Warner, CEO at Comic Relief, commented: "British Airways is a fantastic partner that has given us a tremendous level of support since the Flying Start partnership began in 2010. Hitting the £20 million mark a year ahead of schedule is an incredible achievement and something that we at Comic Relief are extremely grateful for."