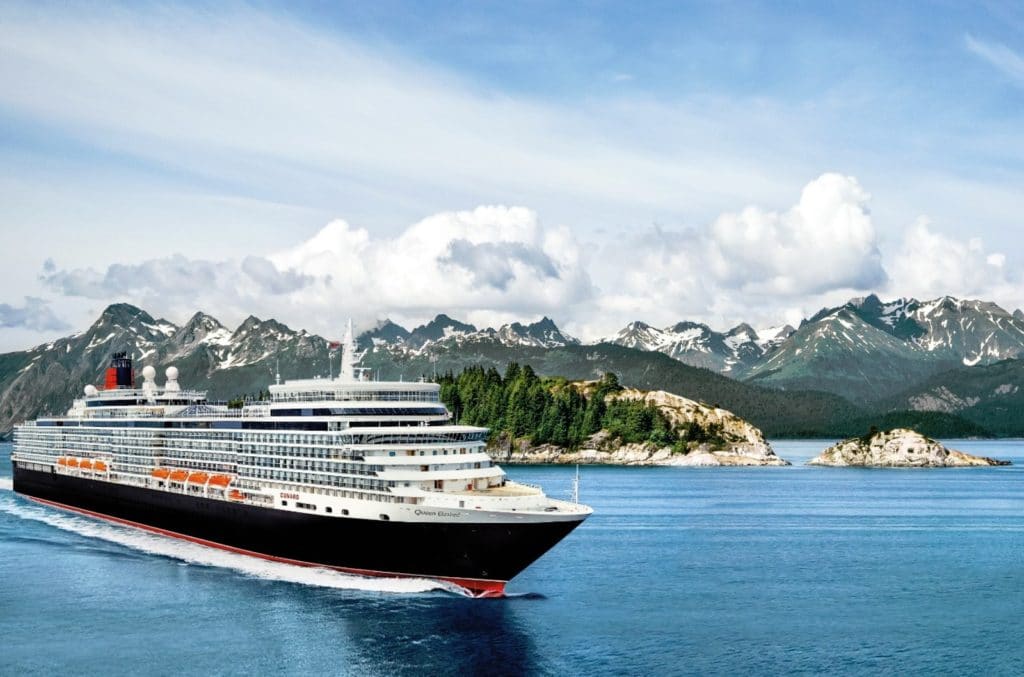 Luxury cruise brand Cunard today unveils their Oceans of Discovery voyage program for November 2020 through May 2021, featuring Full World Voyages and in-depth itineraries in Japan and Australia. The Cunard fleet, including Queen Elizabeth, Queen Victoria, and flagship liner Queen Mary 2, will call at 94 destinations in 38 different countries, including four exciting maiden calls in Japan, Taiwan and New Zealand.
Cunard pioneered the concept of world cruising in 1922 and has since undertaken more world voyages than any other passenger line. In 2021, Cunard will continue the tradition of world cruising by operating Full World Voyages on two ships: Queen Mary 2 will offer the classic East-West voyage to Australia and Asia, Southern Africa, the Indian Ocean, Arabian Gulf and the Mediterranean; Queen Victoria will travel the globe with a westbound circumnavigation via the Panama Canal. Queen Elizabeth will carry out exotic voyages with regionally-focused itineraries in Australia and Japan.
Whether traveling on a two-night short break or a full 113-night world voyage, the Cunard 2021 program will offer a mix of the most celebrated cities along with smaller, off-the-beaten-path but equally charming destinations. Itineraries have been thoughtfully created to offer longer, more enriching days in port as well as plenty of time at sea to enjoy everything Cunard ships have to offer.
"Now is a perfect time to book your winter 2020-2021 journeys on Cunard," said Josh Leibowitz, SVP Cunard North America. "We offer our legendary westbound circumnavigation World Cruise on Queen Victoria, the classic East-West voyage on Queen Mary 2, and exotic sailings on Queen Elizabeth. By far, these voyages represent incredible opportunities to see the world in style, only on Cunard."
Cunard World Club members will be able to book exclusively beginning on March 12, 2019, and booking will open for the public on March 13, 2019.
Queen Mary 2
Queen Mary 2 will undertake her classic East-West World Voyage in 2021 to Australia and Asia, which includes the Mediterranean, Arabian Gulf, Indian Ocean and Southern Africa. The World Cruise can be taken as a roundtrip from either New York (113 nights) or London (99 nights). Shorter voyage options range in length from two to 64 nights and can be combined in many ways allowing guests to create the ideal travel experience to the cities of their choice.
The beginning of the voyage is routed via South Africa and the Indian Ocean to Australia. From there, Queen Mary 2 will head north to Hong Kong and on to Singapore via Vietnam. She will then travel through the Malacca Straights across the Indian Ocean to the Arabian Gulf. The final leg of the voyage is the return to London from Dubai, which is routed via the Suez Canal and Mediterranean Sea. The voyage includes many overnight stays allowing guests to be immersed in the various cultures of these destinations.
Queen Mary 2's 2021 deployment features:
The World Voyage, by Cunard
Grand Voyages, by Cunard and Regions, by Cunard
45 voyage combinations ranging from three to 113 nights
Over 47,000 nautical miles
37 ports in 22 countries
Overnight stays in

Sydney

,

Hong Kong

,

Singapore

,

Dubai

, and a double overnight in

Cape Town

Transit of the Suez Canal
34 UNESCO World Heritage Sites
Queen Victoria
Queen Victoria's World Voyage will be a Westbound circumnavigation through the Panama Canal which can be taken as a roundtrip from either Hamburg (112 nights) or London (108 nights), or a one-way voyage starting in Fort Lauderdaleand ending in London (97 nights). Her voyage will begin by crossing the Atlantic Ocean to Florida via Bermuda, followed by a trans-Panama segment. Queen Victoria will then cross the Pacific Ocean via Hawaii and Samoa to New Zealandand from there she will call in Sydney, Australia's Gold Coast and Great Barrier Reef before traveling to Hong Kong via Darwin and Vietnam. Following her Asia visit, she will return to London via Singapore, the Indian Ocean and South Africa.
Queen Victoria's 2021 deployment features:
The World Voyage, by Cunard
Grand Voyages, by Cunard and Regions, by Cunard
38 voyage combinations ranging from two to 112 nights
Over 41,000 nautical miles
39 ports in 24 countries
Overnight stays in

San Francisco

,

Honolulu

,

Sydney

,

Hong Kong

,

Singapore

and Cape Town
Scenic cruising through the Panama Canal
25 UNESCO World Heritage Sites
Queen Elizabeth
In December 2020 and early 2021, Queen Elizabeth will offer a series of roundtrip voyages from international ports with deeper, richer and more regionally-focused itineraries. In between these deployments will be exotic grand voyages that capture the imagination and spirit of adventure in travel lovers across the world.
Queen Elizabeth will operate four roundtrip voyages from Melbourne and four from Sydney, covering the popular regions of South Australia, Tasmania and New Zealand. New in 2021 is a pair of "open-jaw" New Zealand voyages, traveling from Sydney to Auckland and the reverse.
At the end of the Australian season in March, Queen Elizabeth will travel north to Japan via Southeast Asia. The voyage will include a variety of exciting destinations such as Papua New Guinea, Singapore, Vietnam, Hong Kong, Taiwan and the Philippines.
Queen Elizabeth's Japan deployment, mid-April to mid-May 2021, will consist of four roundtrip voyages out of Tokyo.
Two nine-night voyages will highlight the multi-faceted nature and deep cultural roots of

Japan's

main islands of Honshu and Kyushu and are timed to coincide with the spectacular spring blooms across the region.
The third roundtrip voyage, a seven-night sailing, will coincide with Golden Week, a celebratory time which features several Japanese holidays.
The fourth roundtrip voyage will be a new itinerary, traveling to the

Okinawa

archipelago and

Taiwan

, setting a contrast to the mountainous regions of

Northern Japan

. This voyage will feature a maiden call to the island of Miyakojima and is scheduled to arrive in the archipelago's tropical islands at the start of their peak season.
Queen Elizabeth's 2021 deployment features:
Grand Voyages, by Cunard and Regions, by Cunard.
82 voyage combinations ranging from two to 39 nights
Over 49,000 nautical miles
46 ports in 10 countries
Maiden calls in Lyttleton and New Plymouth,

New Zealand

; Hualien,

Taiwan

; and Miyakojima,

Japan

Overnight stays in

Auckland

,

Wellington

, Hobart,

Singapore

and

Hong Kong

Scenic cruising in Fiordland National Park,

New Zealand

24 UNESCO World Heritage Sites
Additional 2020-2021 Fleet Voyages
In addition to Cunard's 2021 winter program, Cunard is happy to announce additional voyages on Queen Mary 2 and Queen Victoria. These include Queen Mary 2's signature seven-night Transatlantic Crossings departing December 8 and 15, 2020, January 3 and April 19, 2021; and a 12-night Caribbean roundtrip sailing out of New York departing December 22, 2020. In both January and April 2021, Queen Victoria will offer two- and four-night Short Break voyages from Southampton and Hamburg.
World Voyage Benefits
Those booking a full World Voyage on Queen Mary 2 (99 or 113 nights) or Queen Victoria (97, 108 or 112 nights), will receive the following benefits:
Welcome aboard reception
Services of a World Voyage concierge and use of private lounge
Unique commemorative gift
World Voyage cocktail parties
Shoreside Gala event
Complimentary daily gratuities