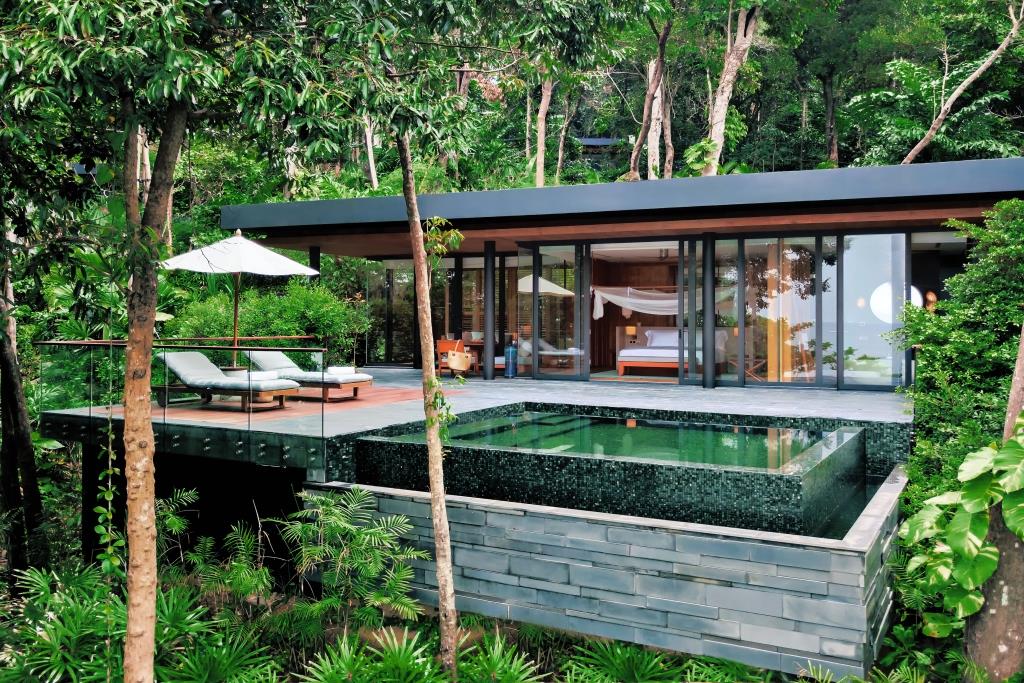 Six Senses Krabey Island has flung open the (sustainably-built) doors of its 40 private pool villas to welcome its first guests as they step off the speedboat to this gem of a tropical island escape.
The landscaped 30-acre (12-hectare) private island with dense tropical jungle and rocky coastline is located 3 miles (5 kilometers) off Ream National Park in southern Cambodia. From Sihanouk International Airport, it is a 10-minute drive to the resort's mainland reception for the short 15-minute crossing to Krabey Island. Remote enough yet not cut off from a country offering abundant culture and history.

With an at-one-with-nature environment such as this, huge care has been taken not to spoil it. The villas are sumptuous, sustainable and thoughtfully-designed, with green living roofs and maximum use of natural daylight. Each has a sundeck for lounging and alfresco dining with infinity-edged plunge pools and rain showers. And because all that relaxation is exhausting, each bedroom offers the groundbreaking Sleep With Six Senses standard for a good night's sleep.

The resort includes two unique restaurants with menus focused on quality local produce and seasonality, much of it grown at the resort's own 40,000 square feet (3,700 square meters) organic market farm and herb gardens. Dishes offer a contemporary twist on traditional Khmer cuisine as well as a creative interpretation of Southeast Asian and international favorites. There is also the Sunset Bar, furnished with comfy sofas, lazy hammock and a generous side order of the sun dipping over the Gulf of Thailand. An ice cream parlor serves up more than 15 flavors daily on a complimentary basis for guests.

Later, possibly sooner, it's hard not to be lured to the expansive Six Senses Spa Krabey Island. Inspired by the sacred Khmer Kbal Spean River, it offers a wide range of holistic rejuvenation and beauty treatments. For those who want to go deeper into their health, the Six Senses Integrated Wellness screening combines different readings to help create a personalized program to boost metabolism (to help with the daily ice cream), energy levels and brain power. The spa also incorporates a comprehensive gym, rooftop yoga pavilion, indoor aerial yoga studio, Crystal Water Room, Meditation Cave and the Alchemy Bar, for blending natural skin care products and essential oils using pure local ingredients.

Sleep restored and chakras rebalanced, there are activities for all ages and energy levels including water sports, fishing, snorkeling, organic farm visits with cooking classes, night sky observatory, horizon lap pool, jungle fitness circuit and the open-air Cinema Paradiso. The Nest kids' club welcomes children between 4 and 12 years of age incorporating Grow With Six Senses for reconnecting with nature through play.

Sustainability initiatives include the resort's own water bottling plant with reusable glass bottles, Earth Lab, coral propagation program and the support of school programs in nearby villages as well as the introduction of sustainable practices within the local Khmer communities.