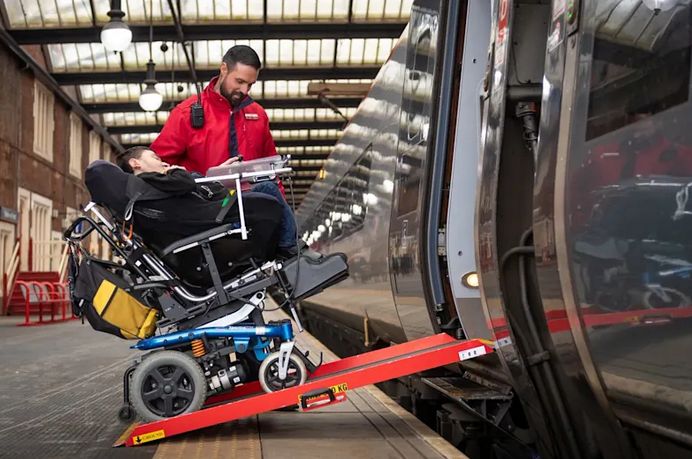 Customers who require travel assistance can now request this in advance with Virgin Trains using basic voice commands on their smart speaker.
After achieving a global first last year by selling train tickets through Alexa, Virgin Trains' new development – in collaboration with Amazon – means that customers can now book JourneyCare via Alexa-enabled devices.
The new JourneyCare feature is now live for anyone requiring assisted travel – catering especially for those with visual impairment or mobility issues.
Normally customers who need to book JourneyCare have to complete a form online or call the helpline after booking. The new technology means customers can book assisted travel immediately after purchasing tickets using simple voice commands. On average the new service takes just two minutes, halving the time needed to complete an online form or call the helpline.
Toby Radcliffe, customer proposition director at Virgin Trains, said: "We are always looking at ways to improve the travelling experience for customers with disabilities and we are really pleased to be introducing this new update to our existing Alexa skill for customers needing to book extra assistance on their journey with us. We want to ensure train travel is accessible to as many people as possible and this is a further innovation in that direction."
Stephen Brookes, rail sector champion for the minister for disabled people, said: "I welcome the new initiative by Virgin Trains, which will give disabled people a better booking experience. "By utilising Alexa in this way, Virgin Trains recognises the importance of disabled people as being a key part of rail industry business, because those who are comfortable with and can access technology will find the system quick and efficient.
Chris Tomson took part in the initial testing of the Alexa skill – he has Osteogenesis imperfecta (brittle bones) and uses a wheelchair on a daily basis. "Using JourneyCare on the Virgin Trains skill for Alexa is a fantastic asset. It does a great job of combining the two processes, making the whole experience much easier. It also comes in handy if I have any pain in my arms and I am unable to use a computer, phone or tablet to book my journey," he said.