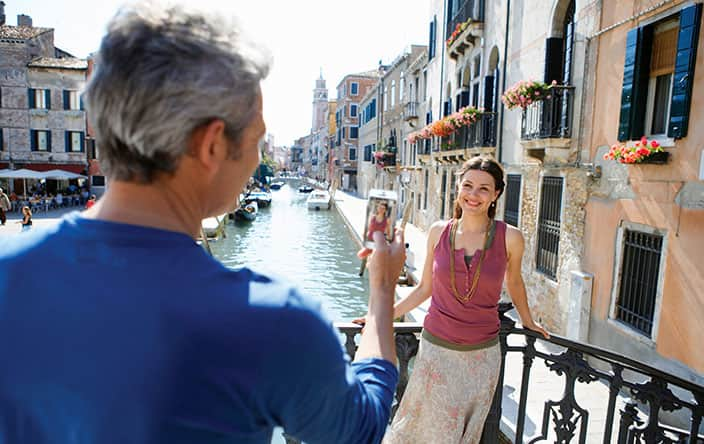 Gourmands and fans of Italy, take note: JW Marriott today announced that the luxury hospitality brand will return to the Veneto region for its second epicurean festival following the success of last year's inaugural event. Taking place at the award-winning JW Marriott Venice Resort & Spa, a private island retreat nestled on Isola delle Rose, Gather by JW will bring together an incredible roster of chefs, wine experts and other culinary talent and include a range of mindfulness experiences. In collaboration with FOOD & WINE, the festival will take over the entire hotel and island from September 26 – 29, 2019. Tickets can be purchased by visiting www.gatherbyjw.com.
The immersive three-day event will celebrate the tantalizing flavors of Italian cuisine through interactive programming, giving guests exclusive access to food world luminaries with live cooking demonstrations, intimate wine tastings, hands-on culinary experiences, exclusive dinners and more. Gather by JW promises to expand on the success from last year by incorporating mindfulness experiences and touting a star-studded lineup featuring top culinary talent, to date including:
James Beard Award winner, Michelin-starred restaurateur, and Chef of JW Marriott Venice's Fiola at Dopolavoro Venezia, Fabio Trabocchi
Chef, Author and Emmy Award-winning television personality, Giada De Laurentiis
James Beard Award-winning chef, Jonathan Waxman
Chef and Owner of two Michelin-starred "Ristorante Duomo" in Ragusa, Sicily, Ciccio Sultano
Chef of Michelin-starred restaurant Murano in London, Angela Hartnett
Chef of Michelin-starred restaurant Signum in Salina, Italy, Martina Caruso
F&W Contributor & Wine expert, Anthony Giglio
F&W Executive Wine Editor, Ray Isle
F&W Editor-in-Chief, Hunter Lewis
JW Marriott Venice's award-winning chef and the mastermind behind Fiola at Dopolavoro Venezia, Fabio Trabocchi, will lead the way with festival programming including 'A Return to Roots,' a dynamic dinner where guests will enjoy the nostalgic flavors of traditional Venetian cuisine prepared with a modern twist. Additional Gather by JW events include 'Essentially Giada,' a gastronomic cooking demonstration for festival attendees hosted by chef, author and television personality Giada De Laurentiis, 'Simple Secrets to Perfect Pasta,' an interactive demonstration hosted by Jonathan Waxman, cooking academies and more. In addition to the best of the culinary world, JW Marriott is working on soon to be announced collaborations with top well-being brands to add an element of wellness and mindfulness to the wining and dining. This will further elevate the Gather by JWprogramming to create a truly immersive and well-rounded festival experience for guests.
Members of Marriott Bonvoy, the company's recently renamed loyalty program, replacing Marriott Rewards, Starwood Preferred Guest and The Ritz-Carlton Rewards, have the opportunity to bid loyalty points for a number of exclusive, VIP Gather by JW Marriott Venice Moments including preview experiences taking place in New York and London. Members can indulge in a celebratory dinner party full of surprise and delights in New York City with Fabio Trabocchi, the chef behind the soon-to-open Fiola at Dopolavoro Venezia at JW Marriott Venice. In London, they can enjoy a hands-on Chef's table experience and decadent dinner with Michelin Star Chef, Angela Hartnett at her restaurant Murano. These exclusive Moments are only available at Marriott Bonvoy Moments. Additional Gather by JW Moments will be available later this spring, including meet & greets, cooking schools with top chefs, and exclusive access to the coveted 'Il Finale: All Star Feast' dinner.